A Collection Of Pinterest Slide Shows and the money button
https://youtu.be/BC_JHSX3Rp8
https://youtu.be/yexMlbpBTyc
https://youtu.be/Ap4FqlYjTz8
https://youtu.be/muc973pK9So
https://youtu.be/5LvjhNdSe0A
https://youtu.be/0j28AnN4fXQ
https://youtu.be/4YFDMMa3i90
https://youtu.be/yw_BB3BtD4E
https://youtu.be/3r7v3g9CR0U
https://youtu.be/lml1Y4sh23U
https://youtu.be/NZGEDAKQaKw
https://youtu.be/5YmB6kWhAlU
Tennessee prison employees used inmates as slave labor for personal profit
Published time: 17 Aug, 2015 21:43
© Muhammad Hamed / Reuters
Inmates in a Tennessee jail are being used as slave labor to benefit the private company belonging to detention center employees, two former prisoners claim. They waited until they were released to speak out, fearing recriminations beforehand.
Larry Stephney and Charles Brew both worked in the building trades department while serving time at the Metro-Davidson County Detention Facility in Nashville, Tennessee. There, they
told AP, they were forced to build items without pay for a company called Stand Firm Designs.
That woodworking company is operated by Rob Hill, a building trades instructor at the Metro-Davidson County Detention Facility; Steven Binkley, a computer instructor who works out of a room adjoining the woodworking shop; and Roy Napper, who formerly worked at the jail, AP reported.
"Stand Firm Designs is composed of retired contractors with over 100 years of combined experience.  We design and construct decks, gazebos and storage sheds to your specifications," a cached version of the company's website said.  "We are a Christian based organization located in the greater Nashville area."
But Stephney and Brew claim that they were the woodworkers building the products the company sold on its website, which has since been taken down, and at the Nashville Flea Market. The two men told AP that they mainly built cornhole games, plaques shaped like footballs, birdhouses and dog beds.
Stephney says he spent 30 hours a week working without pay for the three men behind Stand Firm Designs. He was released in June. Brew worked even more hours in the department each week until he was released in July. They were both tutors for other inmates.
"I've been in that shop at 11 o'clock at night, 1 o'clock in the morning," Brew said.
Metro-Davidson County Detention Facility has a job-training program for inmates designed to help them once they are released. The jail is run by Nashville-based Corrections Corporation of America (CCA), the nation's largest private prison operator.
"Providing inmates with voluntary, high-quality and impactful re-entry programs that help prepare them for success upon release is one of CCA's top priorities,"company spokesman Jonathan Burns told AP.
The building trades class at the facility is voluntary, and inmates can discontinue participation upon giving notice in accordance with established procedures, Burns added.
Stepheny and Brew, however, claim they had no choice but to perform work for Stand Firm Designs.
Stephney said that, if he made a complaint, he was afraid contraband would be planted in his cell, jeopardizing his parole.
"You do anything there as an inmate, you get put in the hole," Stephney said. "If they do something wrong, they should get in trouble too."
Brew also worried something bad would happen to him if he complained.
Tennessee Code §41-2-148(a)
Under Tennessee law, inmates are allowed to work for free if they are performing labor on behalf of a charitable organization or a nonprofit corporation. But Stand Firm Designs is neither. To protest, the men concealed their names under pieces of wood nailed to the backs of items, they told AP. They also wrote the number "412148," which refers to Tennessee Code §41-2-148. That section prohibits the use of prison labor for private profit.
As the two men have come forward with their allegations, Davidson County District Attorney General Glenn Funk requested that the Tennessee Bureau of Investigation look into their claims of misuse of inmate labor at the facility.
The state's lieutenant governor, Ron Ramsey, held a hearing on problems within the Tennessee Department of Corrections on Saturday night. Issues within the state's jails include minimal staffing, low morale and violence inside prison walls. He has scheduled more hearings about the department in September, WATE reported.
Napper, the former CCA employee who helps run Stand Firm Designs, denied any wrongdoing at the Metro Davidson facility.
"All I can tell you is it's really just a bogus thing. There's not really any slave labor going on over there," Napper said. "Since it's under investigation, I can't really tell you anything else."
People or companies convicted of violating the law, specifically subsection (b), can be fined up to $1,000 and imprisoned between 11 and 29 days for the misdemeanor crime. However, it matters how much each inmate is used for private gain.
"Each day inmate labor is used in violation of subsection (b) constitutes a separate offense," the law says.
Space milestone: Rosetta probe witnesses comet's closest approach to sun (PHOTOS)
Published time: 14 Aug, 2015 09:20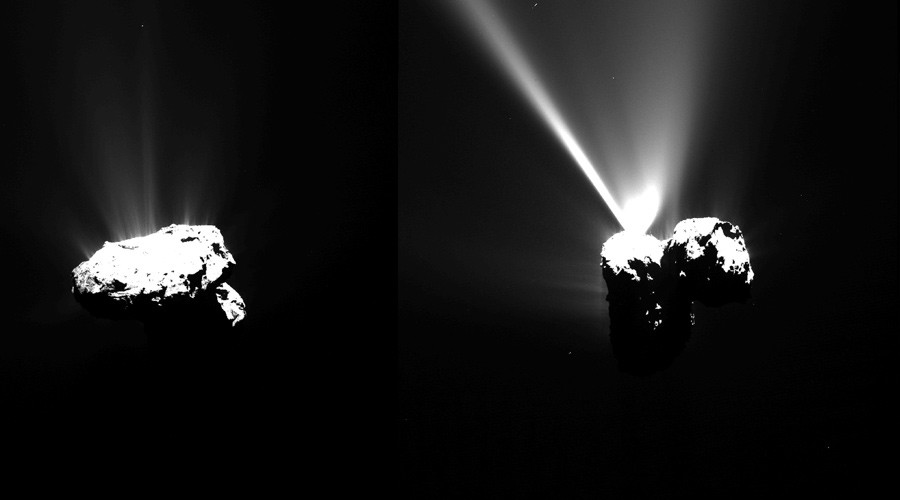 Approaching perihelion © ESA / Rosetta / MPS for OSIRIS Team MPS / UPD / LAM / IAA / SSO / INTA / UPM / DASP / IDA
A big day has come for the already-famous Rosetta space probe, on a historic mission to collect data from Comet 67P/Churyumov–Gerasimenko: it managed to capture the comet making its closest approach to the sun.
The European Space Agency (ESA) reported the event in a press release.
The ESA has also determined the exact moment of the so-called perihelion, the point in the orbit of a space body (in this case the comet) where it's nearest to its star (the sun). The historic event, long-awaited on social media, occurred at 02:03 GMT on Thursday when the comet came within 186 million km of the sun.
"It's exciting to reach the milestone of perihelion, and we look forward to seeing how this amazing comet behaves as we move away from the Sun with it over the coming year," ESA's Rosetta mission manager Patrick Martin said.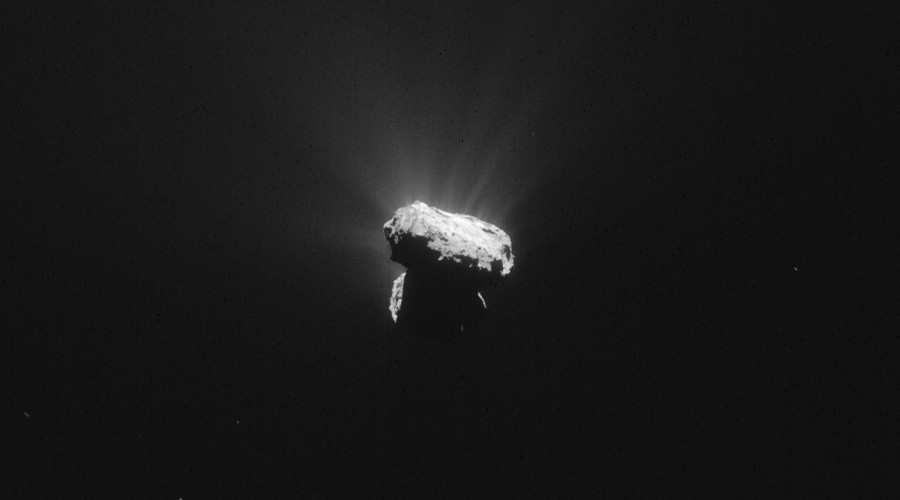 Comet at perihelion © ESA / Rosetta / NAVCAM – CC BY-SA IGO 3.0
READ MORE: Philae comet probe wakes up, reports after 7 months without contact – ESA
The agency says that the activity of the comet, which was named after Soviet astronomers Klim Churyumov and Svetlana Gerasimenko, is clearly seen in the images.
"Activity will remain high like this for many weeks, and we're certainly looking forward to seeing how many more jets and outburst events we catch in the act, as we have already witnessed in the last few weeks," acting Rosetta project scientist Nicolas Altobelli said.
READ MORE: Rosetta's comet 67P now in color… kind of (PHOTO)
According to Rosetta's data, every second the comet is "spewing up to 300kg of water vapor – roughly the equivalent of two bathtubs." ESA says this is "a thousand times more" than was observed by the probe this time in 2014.
Rosetta also recorded "an outflow rate of just 300 grams per second," which, according to the agency is "equivalent to two small glasses of water."

Comet southern hemisphere © ESA / Rosetta / MPS for OSIRIS Team MPS / UPD / LAM / IAA / SSO / INTA / UPM / DASP / IDA
"In recent days, we have been forced to move even further away from the comet. We're currently at a distance of between 325km and 340km this week, in a region where Rosetta's startrackers can operate without being confused by excessive dust levels – without them working properly, Rosetta can't position itself in space," Sylvain Lodiot, ESA's spacecraft operations manager, said.
READ MORE: Home to extraterrestrials? Philae probe could be sitting on comet filled with alien life
However, the nucleus of the comet is "shedding up to 1,000kg of dust per second" which can create dangerous working conditions for the space probe, according to ESA.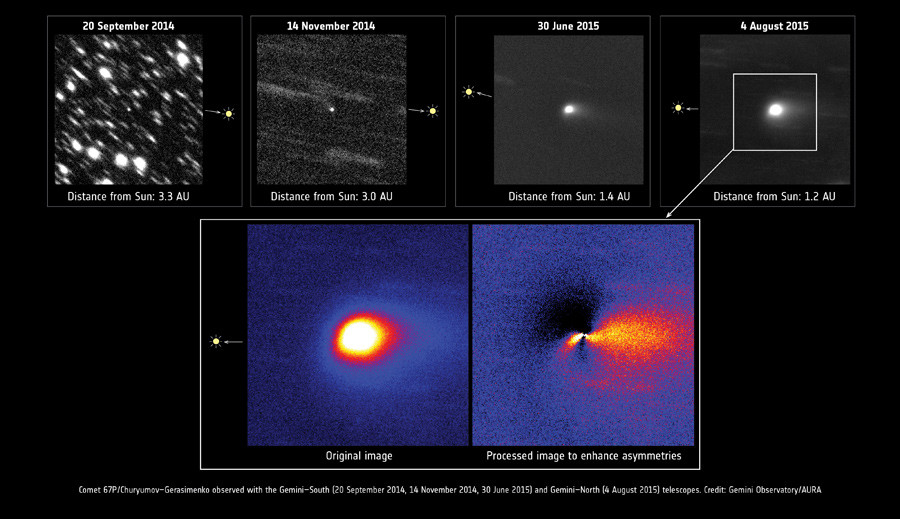 Comet observed from Earth © Gemini Observatory / AURA
Philae probe that accompanied the Rosetta landed on the comet back in November. The accomplishment was sensational, as the European Space Agency (ESA) wowed the world with Philae landing on the target and discovering carbon-based organic molecules before going into hibernation mode to preserve remaining power. In the middle of June, Philae reawakened, after recharging its solar panels, and reported back.
Foreigners claiming NHS healthcare funded by UK taxpayers in home states – investigation
Published time: 10 Aug, 2015 18:02
© Toby Melville / Reuters
Lax legislation allows foreigners who have never paid taxes in Britain to access medical care in their own countries at the expense of the National Health Service (NHS), an investigation has found.
The Daily Mail investigation, which was published on Monday, revealed that foreign nationals who claim to be living in Britain are obtaining free European Health Insurance Cards (EHIC) and charging the NHS in their own countries.
The EHIC cards are intended for British people to use in urgent medical emergencies anywhere in the EU, allowing costs of any treatments to be charged back to the NHS in Britain.
Applicants need to be a resident in the UK to apply for one of these cards.
However, the investigation found that the NHS has been issuing over five million EHICs per year without keeping record of the number distributed to foreigners.
Undercover reporter for the Daily Mail Ani Horvath, who spent less than a day in Britain, managed to obtain an NHS number and EICH card.
One of her fellow reporters posed as a landlord and offered her a fake tenancy agreement to use as proof of address when registering at a GP in London to obtain the NHS number.
The Hungarian reporter, who has never paid tax in Britain, took the card to hospitals in her own country.
She could have used it to get skin treatments and maternity care paid for by British taxpayers.
A maternity clinic staff member told her that a "lot of people" had registered for appointments paid for by the NHS.
The reporter could have also registered for a liver transplant costing £47,000 or maternity care amounting to £9,500 with the card.
Foreigners from Romania, Poland, Lithuania and Slovakia have reportedly gloated online about how they had charged Britain for health treatments in their countries, claiming "no one even blinked."
One woman posted a message on an online forum, saying: "All necessary arrangements to do with the pregnancy and childbirth will be made free".
"I was very surprised that there were not so many run-ins with the authorities."
Another person said: "No one even blinked. Everything was solved with the EHIC card."
Over £721 million has been spent on refunding other European countries for treating people with EHIC cards over the past five years.
The Department of Health (DOH) said they don't know how much money has been claimed by foreigners to get treatment in their home countries.
The government has admitted there are loopholes in the system that need to be tightened. Health Minister Alistair Burt has spoken out on the issue, calling it completely unacceptable.
"It is completely unacceptable that people living outside the UK think they can abuse our NHS," he said in a statement.
"That's why this government has already introduced tough measures to clamp down on migrants using healthcare without making a contribution, to save half a billion pounds within a few years."
Consultant surgeon Meirion Thomas argues the availability of EHIC cards must be restricted.
He told the BBC EHIC cards "shouldn't be given out for five years" and they should be "more difficult to get hold of."
Speaking separately on BBC Radio 4's Today program, he said the foreigners aren't entitled to an EHIC card because "they don't make any contribution to the health systems in their country."
"It's already got around, it's there, it's in the real world. Migrants come into this country and ask for EHIC cards," he said.
"But they all have UK EHIC cards. The reason is they can go back to their own country or travel anywhere in Europe and they have got, basically, health insurance."
Russia hosts Tank Biathlon 2015: 13 nations attending, China brings own tanks
Published time: 26 Jul, 2015 14:53
© Valery Melnikov / RIA Novosti
Tank crews from four continents have flocked to the Alabino firing range near Moscow to take part in the World Championship Tank Biathlon 2015. The contest route is more difficult this year with additional obstacles and new gun practice tests.
All 13 teams but one will use Russian-made T-72B3 tanks. The Chinese, as in 2014, have arrived in Moscow with their own tank, the TYPE 96A.
"Every army should drive vehicles of its own, that is in the inventory," Chinese serviceman Wey Usulin told Moscow 24 TV channel. "Our tanks have a lot in common [with Russian vehicles] so we plan not just to participate in the championship, we aim to win," he said.
READ MORE: China deploys military hardware across Russia ahead of Army Games 2015
© Eugeny Biyatov, RIA Novosti
Two teams, from Nicaragua and Tajikistan, are taking part in the contest for the first time.
Every team gets four armored vehicles: three for the competition and a spare one. According to the rules, the maintenance of the vehicles is the responsibility of the crews themselves.
India's team is optimistic about doing well. After getting their tanks, they bless the machines and do a thorough check of every vehicle to ensure everything is absolute tip-top. During the tank contest, the vehicles are subjected to the kind of extremes they would encounter on a real battlefield.
© Eugeny Biyatov, RIA Novosti
Teams have to draw lots for their tanks. This year the drawing procedure was made using empty cartridges of different colors, which define the color of the armored vehicle the team will operate.
As last year, the Russian team has received red tanks for the initial stage of the contest. In the first round of the championship, the Russian tank men will challenge crews from Angola using blue tanks and Mongolia who have green ones.
This year the obstacles have been made more complex. In addition to the already known tricky traps of counterscarps, a fording site and flame obstacle, some new elements have been added, as well as new types of gunnery exercises.
© Eugeny Biyatov, RIA Novosti
The organizers won't reveal what exactly awaits the competitors in August. But it's known that test rides have shown that instead of last year's 23 minutes needed to complete a run, this year it will take at least 28 minutes, a further five minutes of the utmost exertion for the crews and tanks.
The technical teams have also improved the screening technology of the contest at the firing range, which will bring even more thrilling pictures to TV viewers later on.
READ MORE: Winners of Russian tank biathlon finals get gold figurines of armored vehicles
About 100 cameras will take capture the event, including ones mounted on UAVs, helicopters and hidden under armored hoods next to targets to record at a close range the moment a shell hits the target. There will be 32 cameras doing their job remotely and from behind armored glass.
The first rides of the international battle of the tanks are slated for August 1.
Racial slurs against gypsies allegedly posted on police Facebook group
Published time: 20 Jul, 2015 15:28
© Stefan Wermuth / Reuters
A 3,000-strong private Facebook group named 'I've Met the Met', which is used by serving and former officers, has allegedly been used as a forum for anti-gypsy racism.
One member of the group is said to have posted: "I never knew a pikey could be offended."
Pikey is a derogatory term for ethnic gypsy and traveler people which was once in common usage in the UK and Ireland.
"I thought they were devoid of all normal feelings and thoughts ... just my opinion based on many years of dealing with these despicable people," the same individual added.
"There is not a small minority of criminals from the GT [gipsy and traveler] community – to all intents and purposes they all depend on crime," one post read.
"If you don't live in a caravan, claim dole, have four aliases, convictions for theft of scrap metal, and are an artisan driveway landscaper then sorry chap, you're not a proper Pikey no matter how many teas you've had from a baked bean can," another user said.
Yvonne MacNamara, head of the Traveler Movement charity, told the Daily Mail such commentary from serving and retired police officers "gives us no confidence at all in the Metropolitan Police's ability to both police these communities and to attract and protect its own staff who are from gypsy and traveler backgrounds."
She called for an internal review to be set up to look into the assumption that "all gypsies and travelers are criminals, and that they do not deserve the same quality of service and policing as any other members of our society."
"Racism towards gypsies and travelers is endemic and is part of police culture," Jim Davies, chairman of the Gypsy Roma Traveler Police Association, which represents officers of Roma descent, told the Mail.
"It has been allowed to fester and spread unchallenged for years."
In an official statement, a Met police spokesperson said the issue was first raised in April and was being probed by the police's directorate of professional standards.
"If anyone is aware of behavior in any setting, including online, that they believe falls short of the high standards we set for our officers or police staff we would encourage them to report it to us," the spokesperson added.
BIG LIST of Muslim terror attacks in U.S. since 9/11
Deadly Islamic jihad on American soil still happening at alarming pace
Sept. 11, 2001 – Nineteen al-Qaida terrorists hijacked four American passenger planes in a coordinated attack on U.S. soil. Nearly 200 Americans were murdered by the terrorists who hijacked American Airlines Flight 77 and flew it into the Pentagon, collapsing its western side. Meanwhile, two other planes, American Airlines Flight 11 and United Airlines Flight 175, were flown into the North and South towers of the World Trade Center in New York City. Both 110-story towers collapsed, killing 2,752 people. A fourth plane, United Airlines Flight 93, was flown by terrorists diverting the flight to Washington, D.C. However, passengers fought the hijackers, and the plane crashed in a field near Shanksville, Pennsylvania, killing 40 passengers.
Feb. 16, 2002 – Muslim snipers Lee Boyd Malvo and John Allen Muhammad kill Keenya Cook in Tacoma, Washington. The snipers would kill 21 more people in a crime wave that stretched from coast to coast.
March 19, 2002 – Jerry Ray Taylor, 60, is shot by snipers Lee Boyd Malvo and John Allen Muhammad at a Tucson, Arizona, golf course.
Sept. 5, 2002 – Paul J. LaRuffa, 55, is shot and wounded by snipers Lee Boyd Malvo and John Allen Muhammad in Clinton, Maryland, in the parking lot of his restaurant.
Sept. 14, 2002 – Muslim snipers Lee Boyd Malvo and John Allen Muhammad wound Rupinder "Benny" Oberoi, 22, outside a liquor store in Silver Spring, Maryland.
Sept. 15, 2002 – Snipers Lee Boyd Malvo and John Allen Muhammad would Muhammad Rashid, 32, outside a liquor store in Brandywine, Maryland.
Sept. 21, 2002 – Snipers Lee Boyd Malvo and John Allen Muhammad kill Million A. Woldemariam, 41, outside an Atlanta, Georgia, liquor store. Snipers also kill Claudine Lee Parker, 52, outside a liquor store in Montgomery, Alabama. The snipers shot Kellie Adams, 24, in the neck as she approached a liquor store in Montgomery, Alabama, where she worked.
Sept. 23, 2002 – Snipers kill Hong Im Ballenger, 45, outside a beauty store in Baton Rouge, Louisiana. They also kill James D. Martin, 55, outside a supermarket in Wheaton, Louisiana.
Oct. 3, 2002 – Snipers kill James L "Sonny" Buchanan, 39, while he mows a lawn near a car dealership in White Flint, Maryland. Premkumar A. Walekar, 54, is murdered while he pumps gas at a station in Aspen Hill, Maryland. The snipers kill Sarah Ramos, 34, as she sat outside a shopping center in Silver Spring, Maryland. They also murder Lori Lewis Rivera, 25, while she vacuums her car at a Shell gas station in Kensington, Maryland. While she attempts to cross a street in Northwest Washington, Pascal Charlot, 72, is shot and killed by the snipers.
Oct. 4, 2002 – Snipers wound Caroline Seawell, 43, as loads her car with her purchases in a Fredericksburg, Virginia, store parking lot.
Oct. 7, 2002 – Snipers wound 13-year-old Iran Brown outside a Nejamin Tasker Middle School in Bowie, Maryland.
Oct. 9, 2002 – Snipers kill Vietnam veteran Dean H. Meyers, 53, while he pumps gas in Manassas, Virginia.
Oct. 11, 2002 – Snipers kill Kenneth H. Bridges, 53, as he pumped gas at a station near Massaponax, Virginia.
Oct. 14, 2002 – Snipers kill Linda Franklin, 47, in a Home Depot parking lot in Falls Church, Virginia.
Oct. 19, 2002 – Snipers wound Jeffrey Hopper, 37, while he walks with his wife in a restaurant parking lot in Ashland, Virginia.
Oct. 22, 2002 – Snipers kill Conrad E. Johnson, 35, a bus driver standing in the doorway of his bus in Aspen Hill, Maryland.
Aug., 6, 2003 – The Muslim son of a Saudi millionaire, Mohammed Ali Alayed, 23, slashes the throat of an estranged Jewish friend, Ariel Sellouk, killing and nearly decapitating the man in Houston, Texas.
Dec. 2, 2003 – A Jewish man, Joseph Applebaum, suffers from a swelling of the stomach that is easily diagnosed and treated. He was identified as Jewish on the front of his medical chart. But instead of receiving treatment, he is left to die by his Muslim doctor.
April 15, 2004 – Fearing that his brother had molested his wife and daughter, Muslim man Ismail Peltek killed his wife by bludgeoning her on the head with a hammer and attacked his 22- and 4-year-old daughters with a knife. Peltek, 41, told investigators, "I was afraid that my family's honor was taken." He said he attacked his 4-year-old because he worried that she had been "sullied" by a gynecological exam, according to the Rochester Democrat and Chronicle, which reported that both daughters suffered fractured skulls. Investigators asked him, "if you had the opportunity to kill the family again, would you?" Peltek replied, "My female family, yes. My male family, no."
January 2005 – Somali immigrant Mustafa Mohamed, 30, slashes and injures six people at a retirement home in Alexandria, Virginia. One resident required 200 stitches. Another suffered a broken neck. A judge rules Mohamed is not guilty by reason of insanity.
March 3, 2006 – Mohammed Reza Taheri-azar, an Iranian-American seeking to "avenge the deaths of Muslims worldwide" and "punish" the U.S. government, intentionally runs down and injures nine people with his sport utility vehicle on the campus of the University of North Carolina at Chapel Hill. He pleaded guilty to nine counts of attempted first-degree murder and was sentenced to 33 years in prison.
June 16, 2006 – A 62-year-old Jewish man, Paul Schrum, who had gone to the movies to see "X-Men: The Last Stand" in a heavily Jewish area near Baltimore, Maryland, is shot by Muslim gunman Mujtaba Rabbani Jabbar, 24. Jabbar shot Schrum three times in the upper body, walked into the lobby, placed his gun on a counter and waited for police.
June 25, 2006 – Michael Julius Ford, a 22-year-old convert to Islam, uses a long-barrel handgun to shoot four co-workers and a police officer at a Denver, Colorado, Safeway, claiming the attack was "Allah's choice." One person died in the shooting spree. When Ford fired at police, he was shot and killed.
July 28, 2006 – Muslim Pakistani man Naveed Afzal Haq shot six women, killing one, at the Jewish Federation of Greater Seattle building in Seattle, Washington. Haq grabbed a 14-year-old girl and used her as a hostage during the attack. Officials classified the attack as a "hate crime" rather than terrorism.
Jan. 1, 2008 – Egyptian-born cab driver Yaser Said shoots and kills his two daughters in Irving, Texas, because they were dating non-Muslim boys. The daughters had run away from home a week earlier, fearing their father would kill them.
July 6, 2008 – Muslim Pakistani man Chaudry Rashid, 56, strangled his 25-year-old daughter in Jonesboro, Georgia, after she said she wanted out of an arranged marriage. Police said the daughter, Sandela Kanwal, had argued with her father about the arrangement of her marriage to a man in Chicago. An officer explained, "At some point during the altercation, he ended up killing his daughter."
Feb. 12, 2009 – Pakistani-American Muzzammil Syed Hassan was the CEO of the first American Muslim TV network broadcast in English, Bridge TV. Hassan beheaded his estranged wife, Aasiya Zubair, after she filed for divorce. Her body was found at the TV station. When he was arrested, he said he "felt an incredible amount of relief" after he killed the woman.
April 12, 2009 – Upon learning that they had patronized a strip club, a Muslim man shoots and kills his brother-in-law and another man in Phoenix, Arizona.
June 1, 2009 – In a drive-by shooting, Abdulhakim Mujahid Muhammad – a convert to Islam who had traveled to Yemen and was deported to the U.S. for overstaying his visa – opened fire on U.S. soldiers standing in front of a Little Rock, Arkansas, recruiting office. Muhammad killed one private and injured another. When he was arrested Muhammad explained that he had planned to kill as many soldiers as possible and was given the assignment by Al-Qaeda in the Arab Peninsula.
November 2009 – Iraq-born Muslim man Faleh Hassan Almaleki, 48, intentionally hit his daughter with his car and killed her because she had become "too Westernized." He also attacked the mother of the girl's boyfriend. Police said, "It occurred because [of] her not following traditional family values. He felt she was becoming too westernized, and he didn't like that." His daughter had backed out of an arranged marriage.
Nov. 5, 2009 – Muslim gunman Nidal Malik Hassan, an Army psychiatrist, fatally shoots 13 people and wounds 30 others at Fort Hood, Texas.
Dec. 4, 2009 – A Muslim graduate student from Saudi Arabia, Abdulsalam S. al-Zahrani, stabbed his non-Muslim Islamic studies professor, Richard T. Antoun, to death to avenge "persecuted" Muslims. One of his roommates said, "He was all the time shouting in Arabic, shouting threats, insulting his country for no reason."
April 14, 2010 – A Muslim convert, James A. Larry, 33, became angry that his family would not convert to Islam and shot his mother, pregnant wife, infant son and two nieces in Marquette Park, Illinois. He pleaded guilty to multiple counts of murder, attempted murder and the intentional homicide of an unborn child. "He was upset at his wife and their family — he felt disrespected that they would not join his religion," Assistant State's Attorney Jim McKay said. "It didn't matter if they were young or old, pregnant or not. He wanted them dead." Larry also shot his 13-year-old nephew in the face, but the boy survived. When the man was arrested, he told officers Allah told him to kill his family, according to court records. According to a police report, he said, "I wish I had more bullets. I wish I had more bullets."
April 30, 2011 – Rahim Abdul Alfetlawi, 46, shot his step-daughter in the head at point-blank range in Warren, Michigan, after she refused to strictly adhere to Muslim customs. The family claimed the motive was not religion.
Sept. 11, 2011 – Three Jewish men are discovered in Waltham, Massachusetts, with their throats slit from ear to ear and nearly decapitated. Authorities believed the murders were not random, and thousands of dollars in cash and marijuana were left at the scene. According to reports, authorities believe Boston Marathon bombers Tamerlan Tsarnaev and his younger brother, both Muslims, may have been responsible for the triple homicide.
Jan. 15, 2012 – A Jordanian Muslim man, Ali Mahwood-Awad Irsan, 57, gunned down Iranian medical student, Gelareh Bagherzadeh, a friend of his daughter and a Christian convert who widely denounced Islam. He later killed his Christian son-in-law after his daughter married him without permission. Assistant Harris County District Attorney Tammy Thomas told a district judge, "He said, 'I killed that b–ch, and you're next. No one insults my honor as a Muslim and gets away with it.'"
 Feb. 7, 2013 – Yusuf Ibrahim, 28, shot two Coptic Christians to death and beheaded them in Buena Vista, New Jersey. He also removed their hands before burying their bodies in the backyard of an abandoned house. Quran 8:12 states, "When thy Lord was revealing to the angels, 'I am with you; so confirm the believers. I shall cast into the unbelievers' hearts terror; so smite above the necks, and smite every finger of them!"
March 31, 2013 – Reshad Riddle walked into an Ashtabula, Ohio, church and fatally shot his father after an Easter service. After the shooting, witnesses say, walked through the church holding the gun and shouted that the slaughter was "the will of Allah. This is the will of God."
April 15, 2013 – Muslim Chechen brothers Dzhokhar Tsarnaev and Tamerlan Tsarnaev detonate two pressure cooker bombs during the Boston Marathon, killing three people and injuring an estimated 264 others. After the bombing, they killed an MIT policeman, stole an SUV and exchanged gunfire with police. Tamerlan was shot and his brother drove over him with the stolen SUV. Tamerlan was pronounced dead at the scene. After a manhunt, police found Dzhokhar hiding in a boat in a man's backyard. Dzokhar has been sentenced to death.
Aug. 4, 2013 – A Muslim convert, Daymond Agnew, 34, went to an Ace Hardware store on a "mission from Allah to help people" before he fatally stabbed employee Daniel Joseph Stone 17 times.
March 6, 2014 – Registered sex offender James Cosby, 46, is accused of bludgeoning his lesbian daughter to death and shooting her lover in Port Bolivar, Texas. Police believe he then dumped the bodies near a ferry gate. In his bedroom, Cosby had the Quran open to a page that says homosexuality is a sin, family advocate Quanell X told KHOU-TV. "It's quite unfortunate but he had a real, real warped understanding, in my opinion, of the religion of Islam and its position on the gay lifestyle and what one should do," Quanell X said.
April 27, 2014 – A 30-year-old Muslim man, Ali Muhammad Brown, is accused of shooting to death two men in Seattle and a man in New Jersey. According to local reports, he told police the killings were "vengeance" for U.S. actions in the Mideast. According to court documents, he said they were "just kills" and that he was "just doing my small part" as a self-styled jihadist.
Sept. 25, 2014 – Alton Nolen is accused of beheading a woman in Moore, Oklahoma. Co-workers reported that Nolen had been trying to convert them to Islam. Nolen reportedly used "some Arabic terms" during his attack and had an interest in beheadings. Nolen told a judge, "I'm Muslim. My question is, do you have any Muslims that can represent me as a Muslim?"
May 3, 2015 – In Garland, Texas, Pamela Geller, along with her group the American Freedom Defense Initiative, hosted a "Draw Muhammad" event. Elton Simpson and Nadir Soofi of Phoenix responded to a call to "avenge the prophet" and traveled to Garland, where they were shot and killed by a security guard after opening fire in an apparent attempt to get into the building. The guard was wounded in the attack. Islamic radicals have since called for Geller's head, and vow to kill anyone who "blasphemes" Muhammad.
July 16, 2015 – Four U.S. Marines have been shot dead in an attack, reportedly by a lone Islamic gunman, on U.S. Navy facilities in Chattanooga, Tennessee. Chattanooga Mayor Andy Berke said five people died in all, including the gunman. Two law enforcement sources told CBS News that the shooting suspect was identified as Muhammad Youssef Abdulazeez, 24. Abdulazeez was born in Kuwait and emigrated to the U.S. where he reportedly became a naturalized U.S. citizen.
The FBI is investigating two crime scenes, a Navy recruiting center at a strip mall where the first shots were fired, and a Navy reserve center about 7 miles away. More than 100 rounds were reportedly fired in a shootout with police at the recruitment center parking lot. The shooter then drove to the Navy reserve center and started shooting Marines, four of whom were killed. The Marines would not have been armed at a reserve Navy installation or at a recruitment center, both of which were described as "soft targets."
The four Marines who were fatally shot reportedly were attacked at the Navy Reserve Center on Amnicola Highway. A police officer at the first location was injured and was being treated at a local hospital for a gunshot wound to the ankle. "We are conducting this as an act of domestic terrorism," said Bill Killian, U.S. Attorney for Tennessee at a 3 p.m. press conference. He came back to the podium 15 minutes later and backtracked, telling reporters "I would encourage you not to get caught up in labels…whether it was an act of terrorism or a crime."
Singularity News is out! Edition of 24 June 2015
Cocktail of chemicals may trigger cancer
| | |
| --- | --- |
|   | www­.kurzweilai­.net - A global task force of 174 scientists from leading research centers in 28 countries has studied the link between mixtures of commonly encountered chemicals and the development of cancer. The open-a... |
Multi-year research project aims to give a measure of independence to paralyzed people
FULL STORY
---
From his hospital bed, a disabled patient is capable of controlling a telepresence robot and interacting with people he meets over Skype.
Credit: Alain Herzog / EPFL
For someone suffering from paralysis or limited mobility, visiting with other people is extremely difficult. A team of researchers at the Defitech Foundation Chair in Brain-Machine Interface (CNBI), headed by José del R. Millán, has however been working on a revolutionary brain-machine approach in order to restore a sense of independence to the disabled. The idea is to remotely control a robot from home with one's thoughts. The research, involving numerous subjects located in different countries, produced excellent results in both human and technical terms. The conclusions are discussed in the June special edition ofProceedings of the IEEE, dedicated to brain-machine interfaces.
19 people tested, 100% success rate
Nine disabled people and ten healthy people in Italy, Germany and Switzerland took part in the task of piloting a robot with their thoughts. For several weeks, each of the subjects put on an electrode-studded hat capable of analysing their brain signals. They then instructed the robot to move, transmitting their instructions in real time via internet from their home country. By virtue of its video camera, screen and wheels, the robot, located in a laboratory of Ecole polytechnique fédérale de Lausanne (EPFL, Switzerland), was able to film as it moved while displaying the face of the remote pilot via Skype. The person at the controls, as if moving in place of the robot, was able to interact with whoever the robot crossed paths with. "Each of the 9 subjects with disabilities managed to remotely control the robot with ease after less than 10 days of training," said Professor Millán.
Shared control between human and machine
The brain-machine interface developed by the researchers goes even further. The robot is able to avoid obstacles by itself, even when it is not told to. To avoid getting overly tired, the pilot can also take a break from giving indications. If it doesn't receive more indications, the robot will continue on the indicated path until it receives the order to stop. In this way, control over the robot is shared between the human and the computer, allowing the pilot to rest while navigating.
No difference between healthy and disabled subjects
In the end, the tests revealed no difference in piloting ability between healthy and disabled subjects. In the second part of the tests, the disabled people with residual mobility were asked to pilot the robot with the movements they were still capable of doing, for example by simply pressing the side of their head on buttons placed nearby. They piloted the robot just as if they were uniquely using their thoughts, further proof of the effectiveness of the system.
Mature technology available
The positive results of this research bring to a close the European project called TOBI (Tools for Brain-Computer Interaction), which began in 2008. Will robots soon become a fact of daily life for people suffering from a disability? Too soon to say, according to Professor Millán. "For this to happen, insurance companies will have to help finance these technologies."
See a video here: https://www.youtube.com/watch?v=OI6WbcXEWgI
Pinterest Pin These News Articles
660 x 440
615 x 409
620 x 372
545 x 365
640 x 360
618 x 349
898 x 347
620 x 349
590 x 350
620 x 348
617 x 344
600 x 341
485 x 340
600 x 338
600 x 335
600 x 325
609 x 314
460 x 307
460 x 307
600 x 275
250 x 308
485 x 273
485 x 273
460 x 259
460 x 259
460 x 259
460 x 259
460 x 259
460 x 259
460 x 259
460 x 259
460 x 259
460 x 259
460 x 259
460 x 259
460 x 259
460 x 259
460 x 259
296 x 240
235 x 188