Watch RT Live On Air
'Porn trolls': Lawyers charged with extorting $6mn from unwitting downloaders
Published time: 18 Dec, 2016 18:51
ProNewsOnLine
© Carlos Barria / Reuters
Attorneys from a "porn trolling collective" have been charged for their roles in a multimillion-dollar scheme in which they served fraudulent copyright violation notices on internet users who illegally downloaded pornography.
The Department of Justice said in a statement that Paul R. Hansmeier from Minnesota and John L. Steele of Florida were charged in an 18-count indictment for conspiracy to commit wire fraud and mail fraud, substantive wire fraud and mail fraud, concealment money laundering and conspiracy to commit and suborn perjury.
Both lawyers were key figures in Chicago-based firm Prenda Law, which they used to pursue these bogus lawsuits. The firm was described as a "porno-trolling collective" during a 2013 court ruling in California where sanctions were imposed against the defendants.
It's alleged that between 2011 and 2014, Hansmeier and Steele fraudulently obtained a total of $6 million by threatening copyright lawsuits against individuals who supposedly downloaded pornographic movies from file-sharing websites such as Pirate Bay.
The attorneys, who reportedly met at the University of Minnesota, created a number of sham entities to obtain copyrights to pornographic movies that they uploaded to file-sharing websites. They then allegedly filed bogus copyright infringement lawsuits in order to access the subscriber information associated with the IP addresses used to download the porn.
The pair would then attempt to extort money out of the victims by threatening them with enormous financial penalties and public embarrassment unless they agreed to pay a $4,000 settlement fee, according to the indictment.
"The defendants in this case are charged with devising a scheme that casts doubt on the integrity of our profession," said prosecuting Attorney Andrew Luger. "The conduct of these defendants was outrageous – they used deceptive lawsuits and unsuspecting judges to extort millions from vulnerable defendants."
When a number of courts began to restrict the lawyers' ability to sue several individuals in the same copyright lawsuit, they allegedly changed their tactics and began filing lawsuits falsely claiming that computer systems belonging to their sham clients had been hacked.
READ MORE: KickassTorrents offline: Suspected boss of world's biggest illegal movie website arrested 
These sham clients were those who had been caught downloading porn and were offered waived settlement fees for going along with the ruse.
While copyright to most videos were were obtained through shell companies, the men also reportedly produced their own pornos as part of the complex scheme.
Hansmeier was suspended from practising law in the state of Minnesota last September for professional misconduct, while Steele was disciplined by the Illinois Attorney Registration and Disciplinary Commission in 2015 for his role in the scheme.
Over 40 migrants found stuffed in van hospitalized in Croatia
Published time: 18 Dec, 2016 16:30
ProNewsOnLine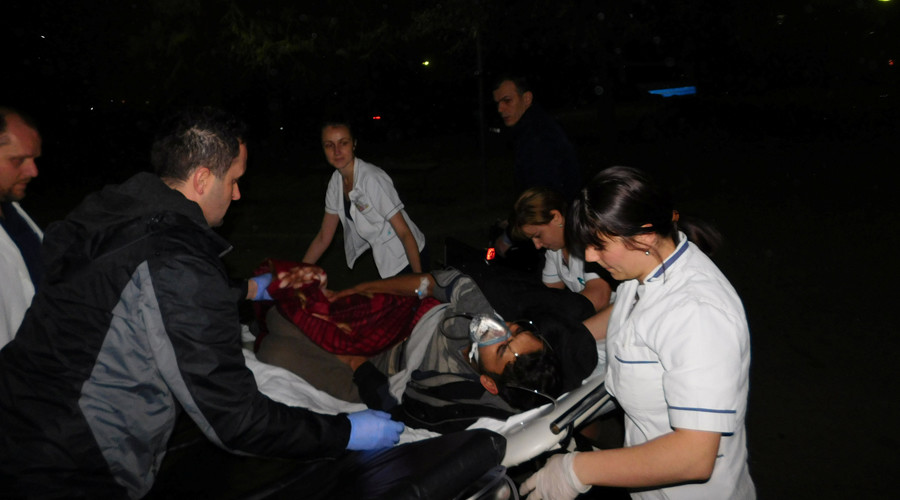 Medical staff help a migrant in front of a hospital after police stopped a van carrying 67 people, and arrested two Bulgarian citizens suspected of human trafficking, in Nova Gradiska, Croatia, December 17, 2016. © Radio Nova Gradiska / Reuters
A van intercepted in Croatia on Saturday was found to be carrying 62 migrants, many of whom were suffering from carbon monoxide poisoning. A few had lost consciousness and required immediate hospitalization, local media reports.
The van, which had British license plates, was pulled over on the Belgrade-Zagreb highway near the Bosnian border after police noticed strange smoke coming out of it. Inside, the officers found 62 asylum seekers from Pakistan and Afghanistan who had apparently had nothing to eat for five days. Several migrants had lost consciousness due to carbon monoxide poisoning after spending hours in the cargo area of the van, the head of Croatian emergency medical care, Grba Buljevic, told HRT. Forty-two of the migrants had to be immediate hospitalized due to carbon monoxide poisoning and hypothermia, according to broadcaster HTV.
Since there are no hospitals near Novska, the sick migrants were taken to Nova Gradiška, Zagred, Sisak, and Pakrac. 
"They brought us 16 people, of which four were seriously poisoned by carbon monoxide. We have put them in the intensive care unit, which is where they are now. The others are in separate hospital wards, and there were also three children. All the others were young men. So far, none of them are in life-threatening condition," said Josip Kolodziej, director of the Nova Gradiška hospital, as quoted by N1.
All the medical staff on standby in Nova Gradiška was called in to help. Doctors worked all night to treat the asylum seekers, conversing with them mainly in English, but also in Arabic, as one doctor was originally from Syria. Health Minister Milan Kujundzic was also on the scene to help coordinate the rescue and care of the victims.
"This once again demonstrated the importance of this hospital, which is located near the motorway and which almost daily receives injured people. I am proud of our employees who have done their jobs very professionally," said Kolodziej.
While all of the migrants are now thought to be in stable condition, it may have been a different story had they not been discovered. Police say that the van most likely crossed into Croatia from Serbia, with a plan to continue on to Slovenia and, then, Austria and Germany. 
Two other men found in the van, both Bulgarians, have been arrested on suspicion of crossing the border illegally and people smuggling. The driver, who is also suspected of people smuggling, escaped.
The Balkan route is a popular with asylum seekers crossing from the Middle East into Europe. Although the number of migrants and refugees passing through has dropped since 2015, people smugglers still operate in the region, charging thousands of euros for the potentially dangerous trip into the EU. 
On August 27, 2015, a truck was found near the Austrian-Hungarian border with 71 dead migrants inside, mainly from Iraq, Syria, and Afghanistan. The victims, including a baby girl, had suffocated to death when the smugglers refused to open the doors of the truck for fear of being seen by the police.
Hostage situation with foreign tourists reported in Jordan's Crusader castle, 1 Canadian dead
Published time: 18 Dec, 2016 14:52Edited time: 18 Dec, 2016 15:11
ProNewsOnLine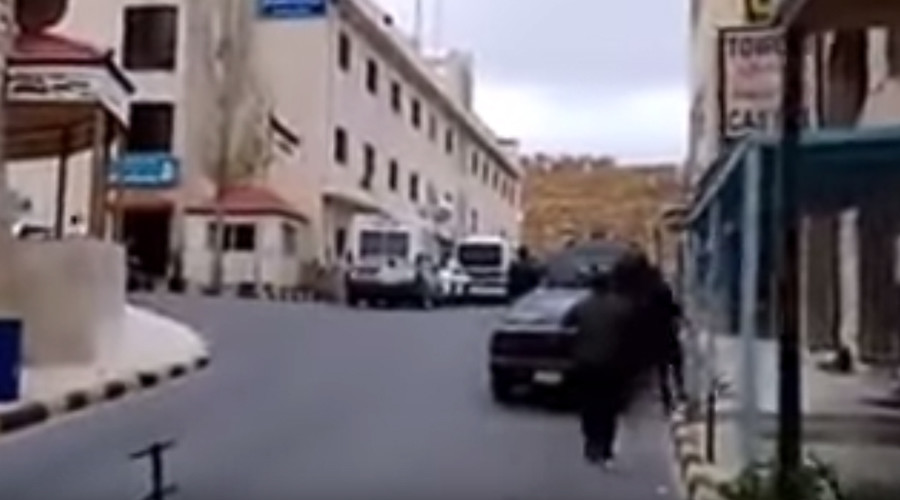 A group of armed masked men attacked security forces before barricading themselves in a medieval Crusader-era castle in the Jordanian city of Karak. Foreign tourists are believed to be trapped inside the historic site, and a security operation is ongoing.
At least five people were killed and nine others wounded in the attack in southern Jordan, AFP reported, citing security sources.
Fourteen people, including a tourist from Malaysia, are among the hostages, local media say.
A foreign tourist and another civilian were among those killed in the Sunday afternoon shootout, local Al Ghad newspaper reported. Four policemen also died and a number of bystanders were wounded, some seriously, it added.
Reuters reported that a Canadian woman was among the dead, citing police.
Unidentified gunmen in cars opened fire on security forces in the area where the 12th century Karak Crusader castle, one of the largest in the eastern Mediterranean, is located.
A number of gunmen managed to entrench themselves in the castle, security sources told Reuters. A militant attack has not been ruled out, the source added.
More law enforcement and aircraft have been deployed at the scene, as the operation is ongoing.
There have been unconfirmed reports on Twitter saying that Islamic State (IS, formerly ISIS/ISIL) is celebrating the news, claiming at least 20 casualties.
Iran says US sanctions violate nuclear deal, demands meeting of world powers
Published time: 18 Dec, 2016 14:02
ProNewsOnLine
Iranian Foreign Minister Mohammad Javad Zarif © Greg Baker / Reuters
Iran has called Washington's recent decision to prolong sanctions against it a violation of the nuclear deal that it struck with world powers in 2015 and has requested a meeting of the commission that oversees the implementation of the agreement.
On Saturday, Iranian Foreign Minister Mohammad Javad Zarif asked for "a meeting of the joint commission outlined in the nuclear deal […] regarding the recent actions of the United States" in an official letter to European Union foreign policy chief Federica Mogherini, AFP reported, citing Iranian state news agency IRNA.
Mogherini coordinates the work of the commission that includes Iran and the states that, in July of 2015, reached a long-sought deal regarding Iran's nuclear program known as the Joint Comprehensive Plan of Action (JCPOA). Among these states are France, Germany, the United Kingdom, Russia, China, and the United States. Under the deal, Iran agreed to limit its nuclear program and, in return, those powers agreed to lift the international sanctions they had imposed on it.
In the letter, Iran's foreign minister said that, though his country remains committed to its obligations under the deal, all sides need to fulfil their commitments, as the JCPOA is a multilateral agreement.
"Maintaining the JCPOA integrity and coherence as well as its sustainability requires that all parties pay attention to (their commitments to) implement its provisions," Zarif wrote, as cited by IANS news agency. The foreign minister expressly questioned the latest measure passed by US lawmakers to prolong sanctions against Iran and called on the commission to determine if it violates the JCPOA. 
On December 1, the US Senate voted to extend the Iran Sanctions Act (ISA) for another 10 years. This act, which would re-impose sanctions on Iran that mostly limit its oil and gas trade, was first adopted in 1996 to punish investment in the Islamic Republic because of its nuclear program and support for anti-Israeli resistance groups.
On Wednesday, outgoing US President Barack Obama refused to put his signature on the bill, stating that renewing the act was pointless. However, the next day, the White House said that the bill will still come into force, as it had been passed by both chambers of the US Congress, and the president, while not signing it, will not veto it either. 
Washington is convinced that the legislation does not violate the JCPOA, but Iran's leadership, including its supreme leader, Ayatollah Ali Khamenei, and President Hassan Rouhani, does not agree.
Earlier this week, Rouhani ordered the Atomic Energy Organization of Iran (AEOI) to begin developing propulsion capability for nuclear-powered marine vessels as a response to the prolongation of the US sanctions. 
Ayatollah Ali Khamenei had warned that Tehran would retaliate if the US renews sanctions last month. 
"So far, the current US government has committed several violations with regard to the nuclear agreement. The most recent of them is the 10-year extension of the sanctions. If these sanctions are extended, it will surely constitute a violation of the JCPOA and [the US] should know that the Islamic Republic will definitely react to it," Khamenei said on November 23. Iran's nuclear energy chief, Ali Akbar Salehi, has also recently said that the extension would be a "clear violation" of the JCPOA if implemented.
READ MORE: Netanyahu has 'about 5' ideas for Trump to undo Iran nuclear deal
The US lawmakers' latest move against Iran is expected to further exacerbate tensions between the Islamic Republic and Washington. Relations between the two countries have already come under increased strain recently due to US President-elect Donald Trump's repeated promises to scrap the nuclear deal, which he has called "disaster" and "the worst deal ever negotiated." 
According to the deal, Iran agreed to reduce the number of its centrifuges by two-thirds, cap its uranium enrichment below the level needed for bomb-grade material, reduce its enriched uranium stockpile from around 10,000 kilograms to 300 for 15 years, and allow international inspectors to access its nuclear facilities. In response, Western countries agreed to lift nuclear-related international sanctions from Iran.
The head of the United Nations atomic energy watchdog, IAEA, said on Sunday that Iran has demonstrated its commitment to upholding the deal.
"We are satisfied with the implementation of the [agreement] and hope that this process will continue," IAEA Director General Yukiya Amano was quoted as telling reporters in Tehran by the Iranian state IRNA news agency after meeting Iran's nuclear energy chief, Ali Akbar Salehi.
"Iran has been committed to its engagement so far and this is important," Amano added.
The deal has been hailed by President Obama as the best way to keep Iran from developing nuclear weapons, but, so far, Iran has seen limited economic benefits from it. Although it has managed to increase oil exports, the Islamic Republic has been having a hard time rejoining the international financial system, because Washington has kept a number of its non-nuclear sanctions in place, which prevents major Western banks from returning to Iran.
5 militants that attacked police in Chechen capital killed in special op – Kadyrov
Published time: 18 Dec, 2016 13:20Edited time: 18 Dec, 2016 13:25
ProNewsOnLine
Published time: 18 Dec, 2016 13:20Edited time: 18 Dec, 2016 13:48
FILE PHOTO © Said Tsarnaev / Sputnik
In a special operation, police have killed five gunmen from a group that had attacked police in the city of Grozny earlier, the head of the Chechen Republic, Ramzan Kadyrov, told reporters.
On Saturday, a group of militants attacked a police officer and seized his car, after which they sought another police officer at his home to no avail.
Police were later engaged in a shootout with some of the suspects in the downtown Grozny after officers tried to pull over their vehicle. The tense standoff was caught on camera by witnesses, with police forces seen raining fire upon the gunmen.
According to an earlier statement by Ramzan Kadyrov, four gunmen were killed in Saturday night's operation, while three more were injured and taken to the hospital after being caught by law enforcement, RIA notes.
Luckily, no civilians were hurt in the incident, for which Kadyrov praised the prompt response of the police. He said that only one traffic officer, who was run over by the gunmen's car during the chase, had been injured.
According to Kadyrov, the last five remaining attackers were killed in a special operation just a couple of kilometers from the Chechen capital, Grozny, on Sunday. 
Witnesses told RIA that they had seen "police cars" and heard "explosions and gun salvos."
According to an RIA source, the last remaining attackers could be Islamic State (ISIS/ISIL) members, though there has been no official confirmation of that so far.
"There is information that they [the remaining attackers] are part of an Islamic State cell that is banned in Russia," the source said.
Following the Sunday's special operation, Kadyrov announced that the entire group of militants has now been completely eliminated.
The History The US Government HOPES You Never Learn!
---
THOUGHT FOR THE DAY!
"The U.S. can destroy Iraq's highways, but not build its own; create the conditions for epidemic in Iraq, but not offer health care to millions of Americans. It can excoriate Iraqi treatment of the Kurdish minority, but not deal with domestic race relations; create homelessness abroad but not solve it here; keep a half million troops drug free as part of a war, but refuse to fund the treatment of millions of drug addicts at home... We shall lose the war after we have won it." -- Marilyn Young, historian, talking about US government values and priorities
YOUR RANDOM DHS MONITORED PHRASE OF THE DAY
Federal Aviation Administration (FAA)
Paid advertising at What Really Happened may not represent the views and opinions of this website and its contributors. No endorsement of products and services advertised is either expressed or implied.
December 17, 2016
The leftist heretic and popular scourge of religion Christopher Hitchens wrote in his superb Bill Clinton takedown, No One Left to Lie To, that the essence of American politics is "the manipulation of populism by elitism." Unfortunately, this tactic didn't work so well for the Clintons in November, as the reviled populists had the last irrational, racist, sexist, brutish and barbaric word on the matter (according to assembled liberal punditry). But the statement still rings true. This is, after all, the job description of corporate media. As The Intercept's Glenn Greenwald says, the "supreme religion of the U.S. press corps is reverence for power." Their priesthood is a cabal of anonymous sources; their catechism is war everlasting. And so, the vulgar philistines on the plains, who foolishly prefer peaceful relations, steady work, and free healthcare to profiteering wars abroad, must be endlessly misled.
Tags:
Satellite images seen by a separate anonymous NASA whistleblower are believed to show Putin in the cockpit of the spy plane alongside his co-pilot Boris, a lifelike robotic bear which has been under secret development in the depths of Siberia and has been programmed to attack Putin's enemies on command using a variety of lethal methods.
The NASA whistleblower did not provide journalists with photographic evidence, but the editors had a chat about it in their morning meeting and concluded that it's probably still true.
Tags:
In Georgia and Idaho, the threats have been so extreme that the secretaries of state both released statements calling for the harassment to end. But the federal law enforcement agency that should be acting to stop these threats — the U.S. Department of Justice — has not done a thing.
Section 11b of the Voting Rights Act (52 U.S.C. §10307) makes it a crime for anyone to "intimidate, threaten, or coerce, or attempt to intimidate, threaten, or coerce any person for voting or attempting to vote." While this has been applied in the past to ordinary, everyday voters in federal elections, the language does not limit it only to such voters.
"We are Liberalologists! We are ABOVE the laws of man!"
Former Massachusetts Gov. Mitt Romney's refusal to walk back critical remarks he made about Donald Trump earlier this year might have cost him the country's top diplomatic position, according to a report.
By: blackbird9
Tags:
Here is the latest round of Saturday Cartoons from Snippits. Enjoy!!!
By: malterwitty
Tags:
FIREARMS and ammo sales in the US continue to rise with 17,850 tonnes of ammunition bought in the past 12 months.
Around "2,865 tonnes of bullets" were purchased in November alone as demand for firearms skyrockets to unprecedented levels.
---
---
By: malterwitty
Tags:
Increasing tensions in Europe prompted the US to send a huge array of military equipment to Europe in a bid to "deter" Russia.
By: malterwitty
Tags:
UN says 10,000 people killed in war, a huge rise on previous estimate of 6,000, and warns actual figure is much higher.
By Derrick Broze
The corporate owned media and their partners in government are working overtime to spread the fake news meme. This meme is designed to limit, and ultimately destroy, the independent and alternative media by censoring anti-establishment viewpoints.
Behind almost every liberal crusade of the past several decades, from the blocking of voter ID laws to the Syrian refugee crisis, there has been one man quietly pulling the puppet strings from the background: George Soros. So imagine our complete shock when we discovered Soros to be the financing source behind Facebook's "third-party fact checking" organization retained to flag, and thus eliminate, "fake news."
Just yesterday, Facebook posted the following press release to their website detailing their plans to use a "third-party fact checking organization," known as The Poynter Institute, to flag "fake news." The role of the "fact checkers" will be to review news stories and flag anything they deem to be "fake" so that it can be deprioritized on Facebook's news feed.
---
---
With president-elect Trump walking into a house of cards teetering on the verge of collapse, what are the trade offs he faces if he triggers a reset of the US Dollar?
The accusation that Russia is behind the leak of Podesta and DNC emails/data stems from "unnamed intelligence sources" relayed "by unnamed government officials".
---
---
Shortly after president-elect Trump's "unprecedented action" tweet, Chinese authorities responded via their mouthpiece The China People's Daily:
People's Daily,China
People's Daily,China –
Verified account ?@PDChina
#Update: China will return equipment identified as US underwater drone, and regrets the US publicly hyping the incident: Ministry of Defense https://t.co/zj86I1rn0l
https://twitter.com/PDChina/status/810136074752237568
Looks like 'The Don' has a grip on how to handle the Chinese. He's not even president yet and is calling the shots on US international relations
China Sea to ensure the "safe navigation of passing ships," in one of the most serious incidents between the two militaries in years.
Chinese Defense Ministry spokesman Yang Yujun issued a statement late Saturday saying that a Chinese navy lifeboat discovered an unknown device in the South China Sea on Thursday. "In order to prevent this device from posing a danger to the safe navigation of passing ships and personnel, the Chinese lifeboat adopted a professional and responsible attitude in investigating and verifying the device," Yang said.
The statement said that after verifying that the device was an American unmanned submerged device, "China decided to transfer it to the U.S. through appropriate means."
The statement also accused the U.S. of long deploying ships "in China's presence" to conduct "military surveying."
This appears to be yet another US provocation of China, in a long line of provocations of China.
The good news is, that China has committed to returning the drone.
I hope Trump will be a great deal better for US/China relations than has President Obama.
President Obama blamed talk radio and other "domestic propagandists" for the rise of "fake news," including fictional news items published by state-sponsored actors.
"If fake news that's being released by some foreign government is almost identical to reports that are being issued through partisan news venues, then it's not surprising that that foreign propaganda will have a greater effect," Obama said. "It doesn't seem that farfetched compared to some of the other stuff folks are hearing from domestic propagandists."
Translation: "We can't lie effectively with so many people out there telling the truth on us!"
That is the whole point, Barry. Nowhere in the Constitution is the government authorized to lie to the people.
Deal with it!
---
Fox News reported today that a bipartisan U.S. Senate committee with subpoena powers is investigating the possibility the Obama administration may have aided efforts to defeat Prime Minister Benjamin Netanyahu in this Tuesday's elections.
Twenty years ago, TIME Magazine exclusively reported on the feats of American political consultants who'd managed — much to the joy of the United States government — to ensure Boris Yeltsin won re-election to the Russian presidency.
"Yeah, but it's okay when we do it because we're the GOOD guys!" -- Official White Horse Souse.
Tags:
A Pakistani school bus driver was killed and several children were wounded on Friday in Indian firing along the frontier in the disputed Kashmir region, Pakistan said.
"A shell landed near a school bus in Mohra village of Nakyal sector, leaving the driver dead and eight children wounded," official Sardar Zeeshan Nisar told Reuters by telephone from the area.
The firing was a violation of a 2003 ceasefire, the Pakistani army's media wing said in a statement.
"Pakistani troops effectively responded and targeted Indian posts from where fire was coming," it said.
The Indian army had no immediate comment on the Pakistani report but a spokesman said Pakistani forces had fired across the Line of Control - the de facto border - and the Indian side had given a "befitting reply".
A memo to the Indian military; the injuring of innocent children is NOT a "...befitting reply" to Pakistani fire.
---
Outgoing United Nations chief Ban Ki-moon on Friday urged Israeli lawmakers to reconsider a bill to legalize Israeli settlement homes on private Palestinian land as Arab states mull putting forward a Security Council resolution on settlements.
The Palestinians want an independent state in the West Bank, Gaza and East Jerusalem, areas Israel captured in a 1967 war. Most countries and the United Nations view Israeli West Bank settlements as illegal and an obstacle to peace.
"I strongly urge legislators to reconsider advancing this bill, which will have negative legal consequences for Israel and substantially diminish the chances for Arab-Israeli peace," Ban told a U.N. Security Council briefing on the Middle East.
Israeli officials are concerned the bill could provide grounds for prosecution by the International Criminal Court in The Hague.
Good luck with that, Secretary Ban Ki Moon!!
The State of Israel will not rest until all Palestinians are either deported outside of Gaza, the West Bank and East Jerusalem, or slaughtered outright.
This is why the BDS movement must be successful; financial pain is the only thing the Israeli nation, and its leadership understand, in order to change their behaviour.
The total cost of decommissioning the stricken nuclear power plant at Fukushima and providing compensation to victims has nearly doubled, with a new estimate placing the cost at $250 billion. Five and a half years after the nuclear disaster, the painstaking work of cleaning up the radioactive disaster zone is progressing very slowly. Workers on the site have just finished a two-year project to remove a temporary building that was encasing the number 1 reactor.
I do not understand why the birth certificate issue is being given so much attention. It has been known for quite some time that the Birth Certificate provided by the White House listing Barack Obama Sr. as his father is not Obama's original birth certificate. But the explanation behind that is rather banal!
Indian authorities call the shotgun shells filled with hundreds of small metal pellets a "non-lethal" weapon for crowd control, but that does not make them harmless. They've inflicted a permanent toll on hundreds of Kashmiris hit by them.
Their faces are scarred. Their eyes are damaged or simply gone, replaced with prosthetics. And their psychological wounds run deeper still.
"What I miss most is being able to read the holy Quran," says Firdous Ahmad Dar, 25, a Kashmiri man who lost vision in both eyes after being shot with the pellets during an anti-India protest in the troubled Himalayan region.
If any of India's military chain of command are ordering their soldiers to do this, they should be bloody court martialed, and right the heck now.
India could well have a Kashmiri revolution on their hands, if they don't stop this horrific violence against protesters.
Apple has been ordered to cut a $2 million check for denying some of its retail workers meal breaks.
The lawsuit was first filed in 2011 by four Apple employees in San Diego. They alleged that the company failed to give them meal and rest breaks, and didn't pay them in a timely manner, among other complaints.
Buried deep in the heart of one of the most barren deserts in Saudi Arabia, and the entire planet for that matter, a commercial satellite happened upon what appears to be a very modern airport that suddenly appeared out of thin air from one year to the next. What makes the airport even more mysterious is the fact that there are no planes on site and no government claims ownership of the facility. So, is this airport a mere "Border Guard" facility, as Google Maps would suggest, or did this satellite just happen to reveal the location of a secret U.S. military airport used to conduct drone operations in Yemen?
And it does seem somewhat odd that such a massive airport, with 3 large hangars, would be required to conduct "border operations."
While we may never know the true owner/function of this mysterious facility, we're almost certain that Russia hackers are behind the leak of it's location.
Way what you will about Tyler Durden at zerohedge.com; the man does have a wicked sense of humour!!
---
---
Tags:
President-elect Donald Trump plans to nominate David Friedman, an Orthodox Jewish lawyer with highly conservative views on Israel, as the next U.S. ambassador to the tiny Jewish-majority state.
Friedman helped advise Trump during the campaign and has assisted him in bankruptcy proceedings in the past. He is a supporter of Israeli settlement construction, has downplayed the need for a Palestinian state, and is considered a key force behind the incoming president's relatively hard-line pro-Israel positions, including supporting moving the U.S. Embassy from Tel Aviv to Jerusalem.
"The bond between Israel and the United States runs deep, and I will ensure there is no daylight between us when I'm President," Trump said in a statement Thursday evening. "As the United States' ambassador to Israel, David Friedman will maintain the special relationship between our two countries. He has been a longtime friend and trusted adviser to me."
I am somewhat disappointed, but hardly surprised by Trump's pick here.
Buried deep in the heart of one of the most barren deserts in Saudi Arabia, and the entire planet for that matter, a commercial satellite happened upon what appears to be a very modern airport that suddenly appeared out of thin air from one year to the next. What makes the airport even more mysterious is the fact that there are no planes on site and no government claims ownership of the facility. So, is this airport a mere "Border Guard" facility, as Google Maps would suggest, or did this satellite just happen to reveal the location of a secret U.S. military airport used to conduct drone operations in Yemen?
Tags:
---
---
Firebrand CNN political commentator Angela Rye was subjected to a humiliating body search while trying to board a plane to New York City on Wednesday night.
She posted the video to Twitter and alleged that the TSA employee who searched her twice touched her inappropriately.
Rye said she was singled out for a random search and that she had not set off any metal detector alarms. The TSA called a police officer when Rye asked why she was being singled out. Officials told her she could cooperate or be escorted from the airport by police.
Rye agreed, finally, to submit to the search, which covered every inch of her body, including an uncomfortable-to-watch probing of her genital area.
By the end of the search, Rye was shedding humiliated tears.
"I asked the police officer to film this so I can send to @TSA," she wrote. "I'm hoping my humiliation will fix the system. #TSAVaginaMonologues"
Welcome to the world of the "average traveler", at the mercy of TSA, my dear!!
In his last press conference of 2016 on Friday, the outgoing president scolded the media, especially conservative outlets, and the nation's partisan establishment, whom he blamed for paving the way for Donald Trump's upset victory over Hillary Clinton.
Talk about lack of gratitude! The corporate media were on Hillary's side all along. FOX was more balanced, but was anti-Trump during the primaries!
National Security Agency (NSA) inspector general George Ellard, an outspoken critic of whistleblower Edward Snowden, personally retaliated against another NSA whistleblower, Adam Zagorin reported at the Project on Government Oversight (POGO) on Thursday.
An intelligence community panel earlier this year found that Ellard had retaliated against a whistleblower, Zagorin writes, in a judgment that has still not been made public.
The finding is remarkable because Ellard first made headlines two years ago when he publicly condemned Snowden for leaking information about the NSA's mass surveillance of private citizens, wherein Ellard claimed that Snowden should have raised concerns through internal channels. The agency would have protected him from any retaliation, Ellard said at the time.
I love the smells of hypocrisy and irony so early in the morning!!
He was holding a crucifix, not a gun
Five bullets struck a 73-year-old California man, killing him, during a fatal encounter with police earlier this week, authorities said.
---
---
In a recent demonstration, waterborne robots collaborated to identify, surround, and harass an enemy vessel.
The U.S. Navy's swarm boats can identify a potential enemy vessel and execute more complex operations to defeat a wider variety of threats, the Office of Naval Research, or ONR, announced on Wednesday.
What if the sensing devices make a mistake here?!?
Can the commanding human over-ride?!?
Not having that capability would make me very nervous, were I a CO here.
Tags:
A new deal is being negotiated to complete the evacuation of rebel-held areas of Syria's east Aleppo which ground to a halt Friday after demands from pro-government forces that people also be moved out of two villages besieged by insurgents.
---
Every Milestone in History Selected for You
Public Domain
---
Tags:
According to Voltaire.net the UN Security Council had a closed door session yesterday to discuss the arrest just yesterday morning of NATO officers by Syrian special forces in east Aleppo.
And you won't see this in the corporate media!
I am amazed at how much President-Elect Trump has already accomplished leading up to his inauguration. He is cordial and open with everyone he has invited to Trump Tower. Trump really is a one-of-a-kind human being.
We delve into the world of Reality Television meets Home Flipping for a business venture, and how these reality shows often glamorize and gloss over the inherent risks involved in home flipping.
A seven-year-old girl wearing an explosives-laden belt blew herself up inside a police station in Damascus on Friday, Syrian state media reported. The explosion in the bustling Midan neighbourhood in south-east Damascus wounded three police officers, said the Al-Watan daily, which is close to the Bashir al-Assad government. "A seven-year-old girl entered the police station, carrying a belt that was detonated from afar," the paper posted on its Facebook page.
This is along that same fault line at the southwest edge of the Pacific plate where there have been several major quakes in recent week,s including the 7.8 in the Solomon Islands.
There is no tsunami threat to Hawaii.
Out of the ashes of conquered Germany, a hero has risen.
A German politician has warned that the country is losing control of its streets, and has called for mass deportation of migrants.
Markus Söder, finance and home minister in Bavaria, made the comments following the murder of teenager Maria Ladenburger, and nearly a year since hundreds of sex assaults in Cologne.
By: alexmark
Tags:
A bitter war of words is raging between the manufacturers of vaccine DTaP and whistleblowers over vaccines. Critics believe there is a causal link to autism and even death.
By: cyberknight
Tags:
It seems Russia is now voicing what we are all thinking about this ridiculous fake news narrative which claims that the Russians hacked the U.S. election.
The Kremlin said on Friday that the United States should either prove accusations that Russia interfered in the U.S. presidential election by hacking Democratic Party organizations or drop the issue entirely.
This evening ABC News announced on TV that FBI Director Comey now agrees with the conclusion of the CIA that Russia interfered in the 2016 Election to help Donald Trump.
National Security Agency (NSA) inspector general George Ellard, an outspoken critic of whistleblower Edward Snowden, personally retaliated against another NSA whistleblower, Adam Zagorin reported at the Project on Government Oversight (POGO) on Thursday.
The battle of Aleppo is slowly drawing to a close after almost four and a half years of brutal fighting. A ceasefire agreement was recently reached allowing people to leave besieged areas of the city and travel to rebel-held areas in Idlib province, and pro-government forces, who have taken nearly all rebel-held districts in the city, are in the process of evacuating civilians and rebel fighters.
Mr. Friedman is unqualified for the position, but more important, he holds extreme views on the very issues that he will need to manage as a diplomat. Mr. Friedman would be representing not the American people but a small, extreme minority of Americans who have in mind the interests of a small, extreme minority in Israel.
»
Scientists have confirmed that sea-ice levels across Antarctica have reached record highs since records began, bringing the man-made global warming theory into disrepute.
By: MTJ
Tags:
Russia is not the first country to be branded the main adversary in cyber space – just a couple of years ago the same words were said about China.
Unless you've been living under a rock, or if you haven't had any access to television, radio, or the Internet, then by now you've certainly heard all the fuss liberals and the mainstream media are making about what they are calling "fake news." All we've heard about since Hillary's shocking loss, is how "fake news" cannot be allowed to spread.
Just so there's no confusion, reporting that "Michael Brown had his hands up in the international signal for surrender when he was shot" was NOT fake news. Also, just to be clear, it was NOT "fake news" to report that a YouTube video was the catalyst responsible for the deadly attacks on Benghazi.
»
By: MTJ
Tags:
An outspoken Newsweek reporter went on Fox News to discuss his coverage of President-elect Donald Trump. The nine minutes of personal attacks and avoiding answers quickly went viral as the face of 2016 political coverage in America.
UK forces have arrived in the Middle East to help train moderate Syrian rebels engaged in the fight against ISIS.
The US government has said a major aid package to the Philippines worth hundreds of millions of dollars may not be renewed, due to concerns over the leadership of President Rodrigo Duterte.
The US embassy to the Philippines said there were "significant concerns" about civil liberties infringements in the country and confirmed a board of experts had deferred its renewal of the Millennium Challenge Grant for a further five years.
Bloodletting in one of the most conservative investments.
By: MTJ
Tags:
An "expert" from the George Soros-funded and founded European Council on Foreign Relations (ECFR) claims intelligence agencies in Russia and Syria could set migrant sex mobs on German women in order to swing the country's federal election.
Bild, Germany's largest tabloid, carries the claim in a piece which asserts that Russia intends to "sabotage the outcome" of the Bundestag election next year by causing a "radical reshaping of public opinion".
December 15, 2016 – It's one of the many ideas and practices that Craig Fugate, the agency's outgoing leader, hopes the Trump administration will adopt. Among the others: rescuing pets......
But it wasn't just pets that were treated as an afterthought when Fugate first came to FEMA.
The majority of UK terrorism arrests result in no charges or convictions, according to new Home Office figures.
The statistics show that the vast majority of suspects arrested in relation to terrorism over the last decade and a half are eventually released without charge.
Tags:
The Detroit News cut more newsroom staff this week, including personal finance columnist Brian O'Connor.
Other journalists exiting, according to a memo from Detroit News Publisher and Editor Jon Wolman and Managing Editor Gary Miles:
In what follows, we draw on decades of senior-level experience – with emphasis on cyber-intelligence and security – to cut through uninformed, largely partisan fog. Far from hiding behind anonymity, we are proud to speak out with the hope of gaining an audience appropriate to what we merit – given our long labors in government and other areas of technology. And corny though it may sound these days, our ethos as intelligence professionals remains, simply, to tell it like it is – without fear or favor.
We have gone through the various claims about hacking. For us, it is child's play to dismiss them. The email disclosures in question are the result of a leak, not a hack. Here's the difference between leaking and hacking:
By: MTJ
Tags:
The leftist heretic and popular scourge of religion Christopher Hitchens wrote in his superb Bill Clinton takedown, No One Left to Lie To, that the essence of American politics is "the manipulation of populism by elitism." Unfortunately, this tactic didn't work so well for the Clintons in November, as the reviled populists had the last irrational, racist, sexist, brutish and barbaric word on the matter (according to assembled liberal punditry).
The Russians knew!!...
In a wonderfully ironic and perfectly consipiratorial result, Statista's Dyfed Loesche notes that, it turns out that the Russian were best at predicting who would win the U.S. presidential elections. According to research by Ipsos, only two other countries, or rather a majority of respective citizens, were giving Trump the thumps-up before the race for the White House had started. The rest of the world was convinced that Hillary Clinton would win.
...
You will find more statistics at Statista
See - this proves Putin did it... and he told all the Russian people too!!!
Summer Snows in both Chile and Australia are not normal, this follows records snows in Sapporo and record cold across the Northern Hemisphere. TAllest waves ever recorded and more gigantic volcanic eruptions in Russia's far east.
Hold the presses!! All the media (and Obama) needs to quit spreading lies about Donald Trump not doing intelligence briefings RIGHT NOW!!
By: MTJ
Tags:
"THERE IS NO THERE THERE."

– GERTRUDE STEIN
The study of history has long been an enjoyable activity for me. A conclusion I have drawn from it has been that civilizations are created by individuals; they are destroyed by collectives. One can see such dynamics at work in what has been taking place in recent decades in the collapse of a once life-sustaining Western Civilization.
Billionaire Clinton donor George Soros is among a line-up of wealthy liberal figures who will fund Facebook's fake news fact checker.
The 86-year-old Hungarian financier's Open Foundation Societies is listed among organizations which are backing The International Fact Checking Network, the body tasked with flagging bogus news stories to social media users, on its website.
By: MTJ
Tags:
Former US Vice President Dick Cheney is reportedly lobbying on behalf of Rex Tillerson, Republican President-elect Donald Trump's nominee for secretary of state.
The "death of the dollar" will have to be rescheduled.
Left-leaning PolitiFact is on the newly revealed list of "fact checking" organizations Facebook will reportedly use to label "fake news" stories as they appear on the social media platform.
"We'll use the reports from our community, along with other signals, to send stories to these organizations," Facebook VP Adam Mosseri wrote in the Facebook news blog. "If the fact checking organizations identify a story as fake, it will get flagged as disputed and there will be a link to the corresponding article explaining why."
By: alexmark
Tags:
Chris Suprun is one of 38 Texas electors. He recently went public with his decision to go against the will of the people of Texas; he will not be honoring his pledge to vote for President Elect, Donald Trump.
More details are emerging on the alleged sexual abuse of dozens of children at a care home in London, as survivors publish their own 129-page report after losing faith in the official inquiry.
Tags:
Light snow will continue tonight into Friday, with generally 1-4? of additional accumulation on top of the 3-6? that has already fallen. The mountains will see up to 10? of additional accumulation by about noon on Friday. Travelling is extremely difficult, and there have been numerous accidents across the area. Snow from this storm and previous storms is really piling up, and plowing/removal of the snow will take time. If you can, avoid travelling over the next couple of days.
Between the slippery roads and the dangerous cold, it would be prudent to limit the chances of getting in an accident. Temperatures tonight will fall below zero, with wind chill values down to -20 to -30.
Tags:
By now, American people must be accustomed to the humiliating fact that their foreign affairs are shaped by the Israeli lobby. Americans must have also learned to cope with the idea that despite the poverty and deprivation in Detroit, Newark, Baltimore and Oakland their government is sending billions of dollars of military aid to the Jewish State. I guess the Americans must be used to the fact that their presidential campaigns are now totally funded by Jewish oligarchs such as Saban, Soros and Adelson. Whether America likes it or not, it has been reduced into an Israeli colony.
Thus, the sickening idea that The Times Of Israel, an ultra right wing news outlet, terrorizes a church or tells a NYC Jazz club who not to book shouldn't be a big surprise.
By: MTJ
Tags:
White House Press Secretary Josh Earnest has had a tough week. Just days after a press briefing blunder, Donald Trump has now slammed Earnest, calling him a "foolish guy" who makes everything "sound bad."
The president-elect made the comments on Thursday during an appearance in Hershey, Pennsylvania as part of his 'Thank You' tour.
President Obama said Russia "in fact" had "hacked into the DNC," adding that the White House was just trying to "let people know" what was going on, and the media interpreted the reasons.
His administration allowed the public "to make an assessment" by letting people know that "the Russians were responsible for hacking the DNC," Obama said.
The intelligence community did its job "without political influence," he added, saying that no questions had been raised in the first place "about the integrity of the elections."
Obama just backed down. He is still saying the Russians hacked the DNC, but says the actual election was okay (which throws Hillary under the bus). The "response" to Russia's alleged hack of the DNC will be hidden, meaning nothing will really be done because Obama knows it wasn't the Russians who hacked the DNC.
The alarming part of his speech was pushing the Syria issue, saying the war isn't over and there needs to be US troops on the ground, which is tantamount to declaring war against Russia and Syria.
Since the "fake" and "real" news wars ignited (by the way, David Brock, creator of Media Matters, instigated the attack on Alternative Media) it seems every day is an all out fight in defense of our right to speak out. This attack on Alt-Media is an intentional attack to destroy us and to stop our investigative abilities. You all know what I mean.
By: MTJ
Tags:
Well, apart from the Gulf states – thanks in large part to coming from such a low base that even subcontinental coolies are an improvement over the natives.
Otherwise, the cognitive impact of immigration – at least as proxied by the differences in performance on the PISA tests between the national average, which includes immigrant children, versus only native children – is almost entirely negative for its supposed beneficiaries across the entire world.
The US has started moving tanks to a storage facility in the Netherlands in a bid to "deter" Russia, amid the biggest NATO buildup in Europe since the Cold War.
A total of 1,600 vehicles are due to be stored at a six-warehouse complex in the southeastern village of Eygelshoven, near the Belgian and German borders. The Eygelshoven facility was originally opened in 1985 during the Cold War, when it was used by US troops to practice drills in case of a possible Soviet attack.
Read more
An intercontinental ballistic missile Russia to continue developing nuclear forces in 2017 to deter any aggression – General Staff
Abrams Tanks, Bradley Fighting Vehicles and Paladin artillery have already started arriving in what is part of a $3.4 billion Congress-approved scheme to increase NATO military capability in Europe. Storage sites are also planned to be reopened in Poland, Belgium and Germany.
I would like to politely point out to General Middendorp, the Nato High Command, the US Pentagon, and State Department, that the "Ukrainian crisis" was generated by elements of the US government, Soros Organisations, and the IMF to throw the duly elected Ukrainian President Yanukovich under a bus, and "anoint" the more Western-centric Poroshenko as President in 2014..
And BTW, before this writer goes to the false, "Russia annexed Crimea" story, let us remember that when the Crimean people realised that there was no legitimate government in Kiev, they first did a referendum of their people, to ask if they wanted to remain with Ukraine, or petition the Russian Federation to accept Crimean membership in that organisation. The people voted yes; the petition was accepted by the Russian Federation, and the Crimeans decided upon peaceful self-determination, in their break with Ukraine.
Of course, because Crimea had been the industrial powerhouse of Ukraine, but now it was about to become the industrial powerhouse of Russia, Ukraine and the US got mad enough to lie that Russia had simply annexed Crimea, when nothing could possibly be further from the truth.
The aggression here has been coming from NATO and the US, in the pre-positioning of weapons and military assets in such a way as to be encircling Russia.
It comes after months of warnings from experts – including top military brasses – that massive economic issues, mass immigration, and terrorism will lead to a full-scale crisis.
They have predicted this will affect the entire continent, eventually leading to civil war on the streets.
It seems that Switzerland's Lieutenant General and Chief of the Armed Forces, André Blattmann, has foreseen what is to come. He warned last year:
[T]he combination of hybrid wars, the economy, and the refugee crisis would have "unforeseen dimensions".
He then claimed social unrest was something Europe's leaders and armies had to be prepared for.
The Swiss might be historically neutral, but they aren't blind to the upheaval that could threaten stability both at home in their independent nation, and surrounding them on the rest of the European continent.
That no one in the EU could see this negative response coming to the effects of massive immigration from countries which do not accept the European mindset on anything, boggles the mind.
They are truly dealing with a "clash of civilizations" in Europe which could well engender a real civil war in EU member countries.
Remember when The NYT reported that its ad hoc campaign to boost revenue by selling subscriptions in response to the vicious back and forth with Donald Trump, was said to be a smashing success? Perhaps it was subscriptions for the crossword puzzle because it appears the monetary success was not smashing enough, and according to a just released note from executives Arthur Sulzberger and Mark Thompson, the newspaper will vacate at least eight floors in its iconic building, allowing it to "generate significant rental income" because it is "frankly, too expensive to occupy this many floors when we don't truly need them."
Maybe the lesson here is that when the newspaper business model no longer works, one can just pivot into a REIT?
The remaining staff will be consolidated on the remaining, redesigned floors in a "more dynamic, modern and open workplace, one that is better suited to the moment."
Sorry, NYT: the independent media did this to you; our bad! :-)
According to Velez, employment of reporters and correspondents is projected to decline 8 percent, while employment of broadcast news analysts is projected to decline 13 percent from 2014 to 2024.
The reason? "Declining advertising revenue in radio, newspapers and television will negatively impact the employment growth for these occupations," Velez says.
Former Democratic presidential nominee Hillary Clinton on Thursday made her first public statements about Russia's cyberattacks on Democrats during the US election, saying Russian President Vladimir Putin attempted to "undermine our democracy" because of his "personal beef" with her.
"We're learning more every day about the Russians' unprecedented plot to swing the election," she told a group of campaign donors at Manhattan's Plaza Hotel on Thursday night, according to audio obtained by The New York Times.
"Putin personally directed these attacks ... apparently because he has a personal beef against me," Clinton said. "He is determined not only to score a point against me, which he did, but also to undermine our democracy. ... It's part of a long-term [Russian] strategy to cause us to doubt ourselves."
Globalist liberals have begun conditioning the public for an impending Trump assassination, subtly hinting to the American public that Trump will suffer a similar fate to JFK.
A group of retired senior intelligence officials, including the NSA whistleblower William Binney (former Technical Director, World Geopolitical & Military Analysis, NSA), have posted an open letter on consortiumnews.com that destroys the Obama administration's "Russian hacking" narrative. Within the letter, Binney argues that, thanks to the NSA's "extensive domestic data-collection network," any data removed remotely from Hillary Clinton or DNC servers would have passed over fiber networks and therefore would have been captured by the NSA who could have then analyzed packet data to determine the origination point and destination address of those packets. As Binney further notes, the only way the leaks could have avoided NSA detection is if they were never passed over fiber networks but rather downloaded to a thumb drive by someone with internal access to servers.
"nuff said, Mr. President?!?!?
Sometimes it's the small examples that show just how dishonest and agenda-driven media has become.
The issue extends even to restaurant reviews like the one written this week in Vanity Fair on a Donald Trump-owned restaurant in Manhattan titled, "TRUMP GRILL COULD BE THE WORST RESTAURANT IN AMERICA; And it reveals everything you need to know about our next president."
OK, so who's the food writer of this review?
Does said writer have any agenda or bias that can be found in her archive and/or Twitter feed?
The answer to the latter question is not only yes, but an argument can be made that author Tina Nguyen is one of the most biased, anti-Trump members of the media member in America, and that's really saying something.
Tags:
In Boston Harbor, a group of Massachusetts colonists disguised as Mohawk Indians board three British tea ships and dump 342 chests of tea into the harbor.
It wasn't widely reported during the debate of the 2017 National Defense Authorization Act (NDAA), nor indeed was it mentioned in either the House or Senate versions of the bill, but the NDAA has a provision within it that would allow the US to send shoulder-fired anti-aircraft missiles to rebel factions in Syria.
The provision was slipped into the conference report by Rep. Ted Yoho (R – FL) during the conference to reconcile the House and Senate versions, and would allow such arms shipments so long as Congressional committees approve of the move.
Incredibly, Rep. Yoho had previously successfully put an amendment into the House version which forbade the US from sending any anti-aircraft missiles to the rebels at all. There was no amendment at all in the Senate bill, and Yoho presented the the new version as a "compromise" that would ensure Congress at least had some say on the secret weapons smuggling program.
I am having an industrial strength, palm to forehead moment right now, at warp speed.
Apparently, Representative Yoho is unaware that the US government has been doing this for 4 years in Syria, in an effort to effect "regime change", and such efforts have gone spectacularly badly for the US.
He also appears to have forgotten that one of the classic definitions of insanity is doing the same thing, in precisely the same way, yet expecting a different outcome.
While the world is transfixed on the epic tragedy unfolding in Syria, another tragedy – a hidden one – has been consuming the children of Yemen. Battered by the twin evils of war and hunger, every ten minutes a child in Yemen is now dying from malnutrition, diarrhea and respiratory-tract infections. A new UNICEF report shows over 400,000 Yemeni children suffering from severe acute malnutrition. Without immediate medical attention, these children will die. The situation is so dire that over half of the entire nation's 25 million people lack sufficient food.
The US government, through its enabling of the Saudi government, has become complicit in its war crimes against the people of Yemen.
This is what life looks like through the eyes of a starving to death Yemeni child:
Images: wounded, starving, and dead children, courtesy of Saudi Bombing Raids
Still proud to be an American, understanding that your government is complicit in the genocide of Yemini kids, after seeing these images?!?
When I was a kid growing up, I would never have imagined that my country would wind up a proud partner in war crimes.

And yet, at this point in its history, sadly, it has become one, regarding the humanitarian catastrophe Yemen has become, courtesy of American governmental assistance.
By: malterwitty
Tags:
For a metrics powered company, Facebook is pretty bad at metrics. The company just announced its third metrics-related issue in the past two months with today's reveal that it also experienced problems providing accurate numbers to publishers on its Instant Articles platform.
...
According to a report from The WSJ, the error impacted less than 1% of the traffic for the majority of the affected publishers. But it was more of a concern for larger publishers, as some saw their traffic undercounted by as much as 10% to 20%. One site even saw traffic off by around 30%, a source told The WSJ.
The Russian Foreign Ministry has issued a statement today criticizing the US extension of the Iran Sanctions Act, saying they are "disappointed" in the US move, and fear it could jeopardize the entire P5+1 nuclear deal between the international community and Iran.
The bill which extends the act became law today, without President Obama's signature. The overwhelming majority of both houses of Congress passed the bill, presumably veto-proofing it, but Obama still didn't want to have his signature on the matter.
Despite Iran's warnings about the bill, and the new concerns from Russia, the extension doesn't technically violate the P5+1 nuclear deal itself, as it imposes no new sanctions on Iran. Rather, the bill makes it more straightforward for future presidents to impose such sanctions on Iran, nominally in the case of a violation by Iran.
A short memo to Sergei Lavrov: the point of this legislation, sir, IS to destroy the P5+1 Agreement with Iran, as a prelude to war against it!
A Chinese Navy warship has seized an underwater drone deployed by an American oceanographic vessel in international waters in the South China Sea, triggering a formal diplomatic protest
from the United States and a demand for its return, a U.S. defense official told Reuters on Friday.
The incident, the first of its kind in recent memory, took place on Dec. 15 northwest of Subic Bay off the Philippines just as the USNS Bowditch, an oceanographic survey ship, was about to retrieve the unmanned, underwater vehicle (UUV), the official said, speaking on condition of anonymity.
"The UUV was lawfully conducting a military survey in the waters of the South China Sea," the official said.
"It's a sovereign immune vessel, clearly marked in English not to be removed from the water - that it was U.S. property."
The first, logical question which must be asked is, was the drone actually in international waters, or did it somehow stray into territory the Chinese claims as theirs?!?
Was this a deliberate attempt by the US military to spook China's military by the use of this ocean-going drone, and was it being deployed for other than pure oceanographic research?!?
We certainly have more questions than answers right now.
The absence of such hard evidence opens the door to what is called "confirmation bias" or analytical "group think" in which the CIA's institutional animosity toward Russia and Trump could influence how analysts read otherwise innocent developments.
For instance, Russian news agencies RT or Sputnik reported critically at times about Democratic nominee Hillary Clinton, a complaint that has been raised repeatedly in U.S. press accounts arguing that Russia interfered in the U.S. election. But that charge assumes two things: that Clinton did not deserve critical coverage and that Americans – in any significant numbers – watch Russian networks.
Wall Street banks are about $70 billion short in building up funds the Federal Reserve says they'll need to tap following a collapse, down by almost half from the central bank's earlier estimates.
The claims that the Russian government hacked US voting machines are absurd. Voting machines are not connected to the Internet. To hack a voting machine you have to be physically in proximity to the machine and use a hand held device. The machines can be programmed to throw the vote count to one candidate or the other, and there are other ways to interfere with elections. Possibly if a foreign power had server presence in the US, some precinct reports of results could be intercepted and altered, although a voice check over the telephone is an easy way to verify the electronic transmission. What is clear is that Russia cannot hack the voting machines.
A Texas city began warning residents on Thursday that their water supply is contaminated and that they should avoid using the tap water in any form, including boiling, until an investigation is completed.
If you take a look at the Material Safety Data Sheet, supplied by the company which manufactures it, this stuff is nasty:
Material Safety Data Sheet
INDULIN® AA-86
But someone had to be "asleep at the switch" at Valero's asphalt plant, if this happened the way Valero's damage control group says it happened.
Again, when safety standards are abandoned, bad things happen; with this event having happened to the local Corpus Christi water supply, it looks like it might be a while before the situation is brought totally under control.
By: MTJ
Tags:
Even in an election year as shot through with conspiracy theories as this one, it would have been hard to imagine a bigger bombshell than Russia intervening to help Donald Trump. But that's exactly what the CIA believes happened, or so unnamed "officials brief on the matter" told the Washington Post.
French police are investigating a fire that broke out in a migrant workers' center near Paris that left one person dead, a dozen injured and forced the evacuation of 300 people.
Investigators have yet to determine the cause, but France's presidency issued a statement saying the incident had "a criminal origin."
And so we are likely learning the Kochs via Soros are now integrated with larger, leftist/Ukraine/US technocratic/fascist elements ... It makes sense that PropOrNot draws resources (or inspiration) from an array of monied influences. The website itself is incredibly bold, a real statement of mighty intent.
The CIA is involved, as is obvious. And the CIA has relationships with such groups as the Institute of Modern Russia. The Boiling Frogs article excerpted at the beginning of this analysis explains that PropOrNot "has all the hallmarks of an intelligence operation."
In fact, the strategy out of which PropOrNot was developed reportedly may stem from an article written in early 2008 by Cass Sunstein and colleague Adrian Vermeule titled simply "Conspiracy Theories."
Sunstein and Vermeule argue the existence of conspiracy theories "may create serious risks, including risks of violence, and the existence of such theories raises significant challenges for policy and law."
I think the Independent Media smeared by the Washington Post based on ProporNot have a great defamation lawsuit on their hands, and with a link to the various billionaires, the potential win for a greedy lawyer in a class action lawsuit will be huge. Many of us in the Independent Media have worked for decades building our reputations, and the harm from the Washington Post's smear job is in calculable; worth many millions per website named!
Any lawyers interested in taking the case?
Tags:
We're no doctors, and we're also not trying to suggest that Lesin wasn't sick, but what's particularly odd about the mainstream media's coverage of this story (and by the way, this applies to the Russian media as well), is that no one seems to think it's strange that a Russian media mogul died in a DC hotel room from an apparent "heart attack" just as relations between Washington and Moscow have deteriorated to a post-Cold War low and just as sites like RT and Sputnik are becoming increasingly prominent among Western readers amid The Kremlin's air campaign in Syria. And to top it all off, no one knows why Lesin was in the city in the first place. Nope, nothing strange about any of that.
President Obama said on Thursday that the United States would retaliate for Russia's efforts to influence the presidential election, asserting that "we need to take action," and "we will."
The comments, in an interview with NPR, indicate that Mr. Obama, in his remaining weeks in office, will pursue either economic sanctions against Russia or perhaps some kind of response in cyberspace.
Mr. Obama spoke as President-elect Donald J. Trump on Thursday again refused to accept Moscow's culpability, asking on Twitter why the administration had waited "so long to act" if Russia "or some other entity" had carried out cyberattacks.
The president discussed the potential for American retaliation with Steve Inskeep of NPR for an interview to air on Friday morning. "I think there is no doubt that when any foreign government tries to impact the integrity of our election," Mr. Obama said, "we need to take action. And we will — at the time and place of our choosing."
A polite, but strong, word of caution to President Obama; to accuse any foreign government of hacking the American election process, without any incontrovertible proof that such a thing actually happened, puts you on extraordinarily thin geopolitical ice, Mr. President.
And to double down with this accusation, and threat of retaliation, when your own Attorney General, Attorney General Lynch stated publicly, yesterday, that there was no evidence of 'technical interference' from Russia in this last election cycle?
Attorney General Lynch: No 'Technical Interference' From Russia During The Election?
Why is she making this statement, in the wake of your accusation and threat against Russia, sir?!?
Because the reality is, you cannot both be right.
NSA, FBI, and ODNI also say the CIA claim lacks foundation.
Ever since Trump was elected in November, President Obama, the Democrats, and Clinton, bruised by their stinging defeat, have been trying, desperately, to find something or someone to blame; fake news; anti-Clinton propaganda; and now, Russian hacking.
Your party bears the responsibility for this failure, first, by not allowing the candidate who could have beaten Trump, Bernie Sanders, to receive the the nomination.
The DNC party machinery used every possible trick in the book to keep this from happening, as the many lawsuits addressing this issue, will most probably prove.
And secondly, at the end of the day, Mr. President, you and your party must, inevitably, take responsibility for running such a deeply flawed candidate, whose history, health situation, and temperament, made her totally unfit for the White House.
So what do you, and the DNC, do now, and who do you groom for 2020?!?
If you and the DNC were smart, you would be looking for a candidate among your ranks who is bright, and relatively young, untainted by the kind of baggage and corruption which swirled at Clinton's feet like a cesspool when she was Secretary of State.
Her name...is House Representative Tulsi Gabbard, from Hawaii; she is a lady for whom I have a great deal of respect, although I am not, myself, a Democrat.
If the Democratic party wants to be perceived as having any shred of credibility whatsoever in the next election cycles, it must re-invent itself by returning to its roots as a fighter for justice for the underdogs in this country.
Because right now, the Democratic Party is perceived as an arrogant tool of the monied and entitled classes which has thoroughly abandoned those it allegedly represents, and has completely forgotten its history.
Footage shared on social media shows the awkward moment UK Prime Minister Theresa May appears to be shunned by her European counterparts at an EU Summit.
The PM was left in no doubt as to Britain's new place in the EU on Thursday, when European leaders looked like they were snubbing her after a key meeting.
The Internal Revenue Service announced on December 1 the launch of a new online tool that will allow taxpayers to view and pay their account balances online.
Before using the tool, taxpayers must authenticate their identities through a Secure Access process. This is a two-step authentication process, which means returning users must have their credentials (username and password) plus a security code sent as a text to their mobile phones.
This comes after the news of IRS employees jeopardizing sensitive taxpayer information.
Congressman Peter King (R-NY), a member of the Homeland Security Committee and the Permanent Select Committee on Intelligence is interviewed regarding the contrived story of a Russian hack attempting to help Donald Trump win the election. King has his own questions regarding the leaks from the CIA and their refusal to testify before Congress on the matter. Is it that part about being under oath that is leading to the resistance?
By: MTJ
Tags:
This week, President Obama signed the 21st Century Cures Act, touting the bipartisan mental health measure as "bringing to reality the possibility of new breakthroughs to some of the greatest health-care challenges of our time." However, the reality behind this legislation is not quite what it appears to be.
Investing is often a game of timing, and right now seems like a terrible time to buy stocks. The world is undergoing major shifts that will potentially wipeout large percentages of stock valuations. This article will look at 5 reasons why it is one of the most dangerous times in history to be investing in stocks.
Hillary Clinton hosted a party in New York to thank your millionaire and billionaire donors in New York City last night at the Plaza Hotel. She was described as "depressed" and "glum" and people noticed her drastic appearance change.
And reporters who once loved taking their pictures with their Clintons now hid their face
In an op-ed for the New York Times, Christopher Suprun, a Republican member of the Electoral College, vowed to NOT cast his vote for President-elect Trump.
In doing so, he told a story about being a fireman who responded to the devastating terror attacks on 9/11.
"Fifteen years ago, as a firefighter, I was part of the response to the Sept. 11 attacks against our nation," Suprun wrote. "That attack and this year's election may seem unrelated, but for me the relationship becomes clearer every day."
A new report suggests that there are a couple of problems with his story – one, his fire company is not listed as having responded on 9/11, and two, Suprun allegedly became a firefighter in October of that year.
Some fifteen years ago, when I lived in Hanoi, I used to come very often to the rooftop bar at the Meritus Hotel for an evening drink, just to feel the gentle breeze and to spot ancient cargo boats majestically sailing on the surface of the Red River. Sometimes the river could be clearly visible, but often it was covered by fog, like in an old Vietnamese painting.
It is, of course, worth knowing what involvement any other country might have had in the US election, but elite media's consumption with the Russia-did-it storyline so far is discouraging to say the least.
Tags:
Russia's Investigative Committee has launched criminal cases against Ukrainian Defense Ministry and General Staff officials over the genocide of Russian-speakers in the self-proclaimed Donetsk republic.
For Minnesotans, coming next is meant literally. In order to keep insurers from fleeing the Mnsure ObamaCare exchange, Commerce Commissioner Mark Rothman and Governor Mark Dayton had to agree to massive rate increases across the board, which have garnered most of the headlines and discussion in this state and around the nation. Another less-discussed concession, though, might have even worse portents for the unaffordable Affordable Care Act. Rothman and Dayton have allowed insurers to cap enrollments in order to limit their losses — an act of rationing that may set precedent for negotiations in other states.
A US oceanographic vessel Thursday had its underwater drone stolen by a Chinese warship literally right in front of the eyes of the American crew, a US defense official told CNN Friday.
In the latest encounter in international waters in the South China Sea region, the USNS Bowditch was sailing about 100 miles off the port at Subic Bay when the incident occurred, according to the official.
On the last Tuesday of every month The Conference Board publishes the Consumer Confidence Index, which is used to gauge consumers' feelings about the economy.
Some of the independent news websites included in GoodGopher:
NaturalNews.com
NewsTarget.com
TruthStreamMedia.com
ActivistPost.com
TruthWiki.org
TheBlaze.com
Twitchy.com
LewRockwell.com
PoliticalTracker.com
OffGridSurvival.com
TenthAmendmentCenter.com
TheEconomicCollapseBlog.com
Breitbart.com
Infowars.com
Trump.news
WashingtonTimes.com
GrassrootsLiberty.com
FreedomWorks.org
TheLibertyBeacon.com
IntelliHub.com
SurvivalBlog.com
TheDailySheeple.com
TrueActivist.com
WesternJournalism.com
ProNewsOnLine
DrudgeReport.com
FukushimaWatch.com
GovtSlaves.info
TheSleuthJournal.com
EyeOpening.info
LibertyBlitzkrieg.com
NoMoreFakeNews.com
NutritionalAnarchy.com
RightSideNews.com
WhatReallyHappened.com
Good Gopher is the only search engine that completely bypasses the systematic censorship of the truth that's currently undertaken by Google, Facebook, Wikipedia and other sources of corporate-controlled disinformation. It's the premier tool for finding independent information and news on liberty, natural healing, central banks, food freedom, advanced science and a multitude of other vital topics

.