Watch RT Live On Air
Russia-NATO relations at worst point since Cold War – Moscow
Published time: 26 May, 2017 15:36
ProNewsOnLine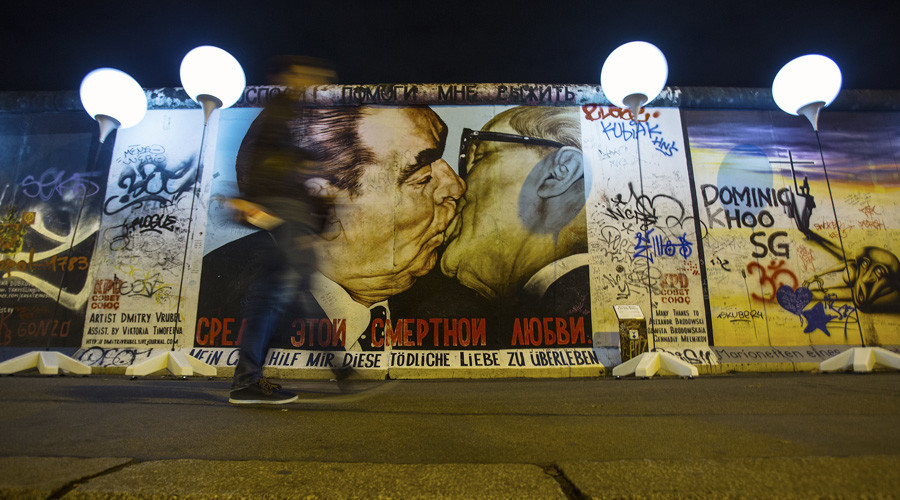 © Hannibal Hanschke / Reuters
Russia and NATO are facing the deepest crisis in relations since the Cold War, the Russian Foreign Ministry said. Moscow believes the alliance's ongoing military buildup could fuel a dangerous arms race.
"We have to admit that at this stage, Russia-NATO relations are in the deepest crisis since the end of the Cold War," the Russian Foreign Ministry said in a statement dedicated to the 20th anniversary of establishing cooperation with the alliance.
On May 27, 1997, Russia and NATO signed the 'Founding Act on Mutual Relations, Cooperation and Security,' aimed at establishing "lasting and inclusive peace in the Euro-Atlantic area" and bringing an end to earlier confrontation. The ministry said that NATO "unilaterally froze" cooperation projects and chose "NATO-centered security architecture." This is evidenced by the military and political deterrence of Russia, and could lead to the worsening of tensions in the Euro-Atlantic region, it added.
Strengthening NATO's "eastern flank" through the military buildup near Russian borders and a constant military presence waters down the main bilateral agreements, the statement says. The ministry added that such actions are "dangerous and contradictory to the interests of NATO member states."
"We see this as the desire of the alliance to legitimize its military preparations near Russian borders, which together with the military activity of particular countries of the block are changing the balance of power in Europe and lead to a dangerous arms race," the Foreign Ministry said.
While NATO tries to prove its importance by exaggerating "the threat from the East," many states lack the will to combat common security threats as European and international security depends on Russia-NATO relations, the statement adds.
The ministry stressed that "the growing negative tendencies are not Russia's choice," but are rather the direct result of a longstanding and destructive NATO policy, aimed at the bloc's "political and military domination in European and international issues."
The statement adds, however, that there is still a chance to re-establish cooperation, as was seen between nations in the past, even during times of open confrontation.
"And until it is not too late, it is necessary to stop trying to build relations with our country in the spirit of the schemes and mechanisms of an era of confrontation," the Russian Foreign Ministry stated.
READ MORE: Trump wants to 'get along' with Russia but says NATO 'no longer obsolete'
Relations were also touched upon by world leaders during the latest meeting of NATO members in the Belgian capital, Brussels. During his speech at the summit, US President Donald Trump said that the alliance must focus on "threats from Russia, and on NATO's eastern and southern borders" among other issues.
However, during the informal talks the so-called "Russian threat" caused some disagreement. EU Council President Donald Tusk said that he was not absolutely sure that he and Trump shared a common position and opinion about Russia.
Back in April, the US leader said "it would be wonderful if we could get along" with Russia. Earlier in May, Russian diplomats met Trump in Washington and discussed mutual cooperation issues, including the resolution of the Syrian crisis.
Russia-NATO relations have soured since the beginning of the crisis in Ukraine in 2014, with the alliance suspending all practical cooperation, including meetings of the NATO-Russia Council (NRC).
The History The US Government HOPES You Never Learn!
---
THOUGHT FOR THE DAY!
"Politicians are people who, when they see light at the end of the tunnel, go out and buy some more tunnel." -- John Quinton, American actor/writer
YOUR RANDOM DHS MONITORED PHRASE OF THE DAY
DITSA
---
May 26, 2017
Faced with being forced to testify before Congress, the head of the Education Department's student financial aid office resigned Tuesday night, irking House Republicans who had been planning to grill him.
James Runcie, chief operating officer of the Office of Federal Student Aid and a holdover from the Obama administration, "submitted his resignation to the department last night," the Education Department said in a press release.
During meetings with EU leaders, US President Donald Trump threatened to curb the sale of millions of German cars in the US. In comments leaked to German press he said Germany was acting in a bad way.
Wow! So, making a good product that people want to buy, then selling it... is BAD?!?
Virginia Roberts, 33, who claims she slept with the Duke of York three times in the early 2000s, agreed to settle a libel action she had brought against British socialite Ghislaine Maxwell.
Ms Roberts alleged she had been recruited by Ms Maxwell, daughter of the late tycoon Robert Maxwell, as an underage "sex slave" for billionaire Jeffrey Epstein, a convicted paedophile and former friend of Andrew.
When Ms Maxwell insisted it was all lies, Ms Roberts sued for libel.
The trial, which had been due to start yesterday in New York, was expected to deal with sensational allegations that Ms Roberts slept with Prince Andrew when she was 17.
By: alexmark
Tags:
If you want to understand why we're fragmenting as a society, start by looking at the asymmetric burdens imposed by inflation.
In our household, we measure real-world inflation with the Burrito Index: How much has the cost of a regular burrito at our favorite taco truck gone up?
The hashtag #BoycottUSAA is exploding on Twitter. Sean Hannity will be returning to his Fox show after an extended weekend thanks to Memorial Day, but will USAA be returning as well?
They can claim that they're pulling their advertisements because they don't advertise on opinion shows – but it's not just the timing in question. Turn on MSNBC and you'll find USAA advertising there.
Tags:
President Donald Trump has put son-in-law Jared Kushner in charge of several very important initiatives, including bringing peace to the Middle East, ending the opioid crisis, and completely reorganizing the entire executive branch of the federal government.
However, Politico notes that one former Kushner employee believes that he's not qualified to hold any kind of job, let alone a job with so many potentially world-changing responsibilities.
The Spanish Health Ministry and the Catholic Church have finally handed over documents relating to thousands of babies which were stolen from hospitals in Spain over many decades. A British MEP led a fact-finding mission after being alerted about a case from 1992.
But the secret network of nuns, doctors and midwives is believed to have been operating the "ninos robados"(stolen babies) ring since the era of General Franco.
---
---
By: suman
Tags:
We've all been punished for something we didn't do. Especially during our schools days, when collective punishments were the norm. But why punish everyone for the actions of a minority? That's exactly what Mason Cross' 11-year-old daughter thought when she was writing feedback to her teacher at the end of the school year.
Tags:
Polish Europe Minister Konrad Szymanski said EU plans to disperse 160,000 migrants around Europe are "not implementable" and has threatened to take the EU to court if it tries to impose sanctions against Poland for refusing to take any.
Richard Ferrand, general secretary of Macron's La République En Marche! party and minister for territorial cohesion, found himself the subject of a story published in satirical French paper Le Canard Enchaîné on Wednesday.
The newspaper -- the same one responsible for exposing the scandal that possibly ruined François Fillion's shot at the presidency -- reported that that Ferrand used his position as director of a health insurance company, Mutuelles de Bretagne, to benefit his family.
Naturally the French press have picked up the story and run with it, while pointing out that so far there is no proof that anything illegal was done.
By: suman
Tags:
A Georgia middle school teacher and her aide will be fired after brawling with each other in front of a classroom full of students May 19 — a knock-down, drag-out incident recorded on cellephone video by a student.
---
---
Funding for the Savannah River Site MOX facility would vanish under President Donald Trump's 2018 budget request, drawing criticism from fellow Republican lawmakers.
Trump's budget was released Tuesday. It proposes ceasing altogether last year's annual baseline funding of $340 million a year for construction. Instead, it calls for spending $270 million to terminate MOX, and another $9 million to pursue downblending, an alternative plutonium disposition method, according to Trump's budget request.
"The Budget proposes to terminate the Mixed Oxide (MOX) Fuel Fabrication Facility (MFFF) project and to pursue an alternative disposition method that will achieve significant long-term savings," the budget states.
After over a year of deliberation and an independent satellite analysis commissioned by the RSPO, the Complaints Panel concurred with the complaint filed in December 2015 by the Shipibo community of Santa Clara de Uchunya that PdP had deforested over 5000 hectares of forests, including primary forests.
In so doing, it had failed to comply with RSPO's restrictions on the conversion of primary forests to plantations, measures to address risks to forests considered of High Conservation Value (HCV) and requirements to disclose all information about planting and conversion plans to the RSPO and affected communities.
Tags:
Opponents of the new measures argue that the government will now be able to prosecute those who have nothing to do with terrorism or serious crime enterprises. Critics further fear the legislation could equate such offenses as sit-in protests and violations of copyrights to "serious crimes."
---
At this difficult time, Britain is faced with some hard questions the people charged with protecting us are going to have to answer sooner or later.
The Manchester suicide bomber Salman Abedi was known to the authorities.
He is believed to have travelled to the Middle East and become radicalised before returning to the UK to cause carnage at a gig in the city where he was born just days later.
As his father and brother were arrested in Libya, security force sources there said the father had links to Al Qaeda and another source claimed the brother 'was aware of all the details' of attack plans.
Yet he was allowed to walk back to the UK unchallenged.
"If past performance is an indicator of future success, another $110 billion worth of weapons will neither reduce 'the burden' on the American military nor support 'the long-term security of Saudi Arabia'," Zarif said in an article in the New York Times on Friday.
He added that Saudis provided billions to the former Iraqi dictator Saddam Hussein to arm his war of aggression against Iran in the 1980s, saying, "Look what that bought them and the world."
US-led airstrikes in Syria's oil-rich eastern province of Dayr al-Zawr have killed at least 117 civilians, mostly women and children, a monitoring group says.
According to the so-called Syrian Observatory for Human Rights, the strikes which began late on Thursday and continued through early Friday, targeted a series of residential buildings in the town of Mayadin.
If it's the so-called Syrian Observatory for Human Rights, I suspect the real number is much higher.
By: suman
Tags:
Local civil rights organizations in Birmingham, Ala., accused four white high school girls of committing a "hate crime" for allegedly posting photos of themselves in "blackface" and want to see the students sent to therapy. But according to one parent, it's all a misunderstanding.
---
---
By: malterwitty
Tags:
A FORMER Metropolitan Police officer has said Britain would have had armed police on the streets even without Monday's attack in Manchester.
Michael Smith, who is a former policeman-turned-activist, told Talk Radio that armed officers on the streets of the UK will become a fact of life.
March 1, 2017
Retired Marine General James Mattis, a man who has served over forty years in the Marine Corps, was sworn in as the US Secretary of Defense in January 2017. Before his confirmation, he was under public scrutiny—for instance, for his controversial comments on "political Islam" at the Heritage Foundation in 2015—but, Dahr Jamail reports, the bigger concern is that Mattis "is clearly responsible for carrying out and/or aiding and abetting in several war crimes."
The November 2005 Haditha massacre was well documented and received international attention, even if Mattis's role in it has been largely forgotten. After a roadside bomb attack on a Marine convoy, a group of American soldiers rounded up 24 unarmed Iraqi civilians—including women, children, and elderly people—and shot them numerous times at close range. When the Marines were brought to trial, Mattis was the authority that dismissed the charges against them.
In recent weeks, the U.S. Senate Banking Committee, Senate Intelligence Committee and the House of Representatives Financial Services Committee have all shown an interest in what FinCEN might have in its database that would shed sunshine on involvement of the Trump business empire or Trump campaign and Russian money inflows.
Tags:
Egypt's Coptic Christians once again find themselves under attack from radical Islamists.
Today, at least 26 were killed and over 26 were injured when terrorists shot at Christians on a pilgrimage to the Anba Samuel Monastery near the city of Minya.
Between 8 and 10 heavily armed terrorists surrounded the bus in trucks before opening fire and slaughtering the unarmed Christian martyrs.
Tags:
South Korea will allow a civic group to contact North Korea over help in fighting malaria, the first government approval on cross-border civilian exchanges since North Korea's fourth nuclear test in January 2016, officials said Friday.
The announcement is a sign that the liberal government led by new President Moon Jae-in is trying to restart stalled civilian aid and exchange programs as a way to improve strained ties with the rival North. Moon's conservative predecessor, Park Geun-hye, hadn't endorsed any civilian contacts since the North's fourth nuclear test.
Seoul's Unification Ministry said the Seoul-based Korean Sharing Movement would be allowed to communicate with North Korea to discuss how to deal with malaria in North Korea.
Unfortunately indicative of the government's misplaced, draconian priorities, the continued federal prohibition of cannabis has created tragic and heartbreaking consequences for vets using the plant to treat PTSD — and Lewandowski is a living example of the State's tyranny.
After realizing that the meds were killing his liver, Lewandowski decided that it would be a good idea try marijuana as a treatment. He began growing 6 plants for his personal use.
In June of 2014, Lewandowski had a PTSD episode. His wife grabbed the kids and took them to the neighbor's house where she called the police to get her husband some help.
However, as is the case in so many countless other incidents, police did anything but help.
Voat was designed as a substitute for Reddit: At time when Reddit is getting criticized for scrubbing "problematic" comments and conversations, Voat was supposed to a freer-speech alternative.
But now it may be shutting down because of financial difficulties. The site racked up $6,600 in hosting costs in April. Donations, advertisements and merchandise "only put a dent" in the costs, and the company doesn't feel comfortable running a donation campaign to help. Voat has been unable to secure outside funding and struggles with accepting donations after PayPal cut it off for hosting "obscene" content.
Those of you with long memories might remember one of the more amusing (or perhaps annoying) bugs of the Windows 95 and 98 era: certain specially crafted filenames could make the operating system crash. Malicious users could use this to attack other people's machines by using one of the special filenames as an image source; the browser would try to access the bad file, and Windows would promptly fall over.
It turns out that Windows 7 and 8.1 (and Windows Vista, but that's out of support anyway) have a similar kind of bug. They can be taken advantage of in the same kind of way: certain bad filenames make the system lock up or occasionally crash with a blue screen of death, and malicious webpages can embed those filenames by using them as image sources. If you visit such a page (in any browser), your PC will hang shortly after and possibly crash outright.
Again, in case you're just joining us, requiring that internet companies "break their own security so that messages can be read by intelligence agencies" is the nice way of saying "kill real encryption." It means that these companies will be deliberately forced to leave vulnerabilities in encryption that will be a goldmine for hackers of all kinds, from foreign surveillance to online criminals.
And, so far, there is zero evidence that the Manchester attack had anything to do with encryption. And, even if it did, so what? If the UK forced companies to break encryption, people planning terrorist attacks would just switch to other encryption products that don't have corporate entities in the UK. Or they'd come up with other ways to communicate. It will do basically nothing to stop terrorist attacks, but will instead make it much, much easier for all sorts of people with nefarious intent to hack into the private communications of everyone.
Researchers have discovered a new attack, dubbed 'Cloak and Dagger', that works against all versions of Android, up to version 7.1.2.
Cloak and Dagger attack allows hackers to silently take full control of your device and steal private data, including keystrokes, chats, device PIN, online account passwords, OTP passcode, and contacts.
The attack doesn't exploit any vulnerability in Android ecosystem; instead, it abuses a pair of legitimate app permissions that is being widely used in popular applications to access certain features on an Android device.
Researchers at Georgia Institute of Technology have discovered this attack, who successfully performed it on 20 people and none of them were able to detect any malicious activity.