CROOKED HILLARY SPENDING MILLIONS USING ONLINE 'ASTROTURF' TROLLS TO CREATE FALSE NARRATIVES AND DEFEND HER
#PodestaEmails13: WikiLeaks releases new batch from Clinton campaign chief
Published time: 20 Oct, 2016 12:11Edited time: 20 Oct, 2016 12:19
ProNewsOnLine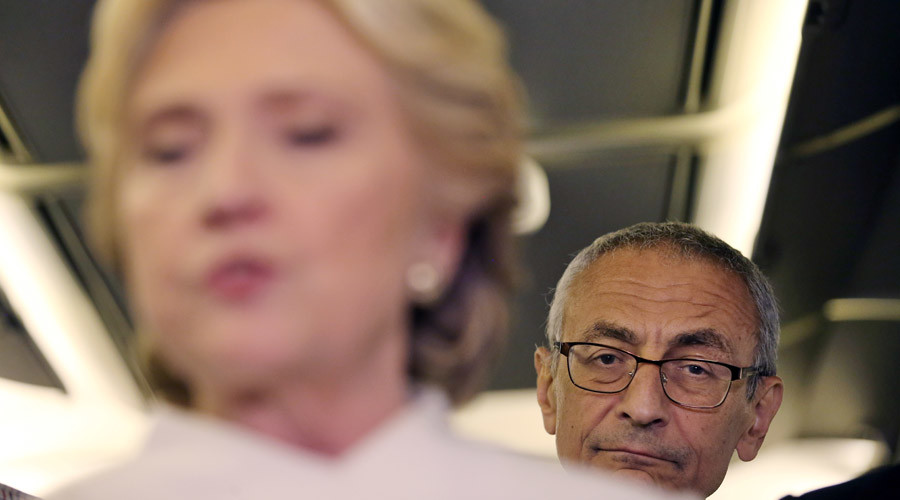 © Carlos Barria / Reuters
WikiLeaks has released yet another batch of emails from Hillary Clinton's campaign chair John Podesta. This is the 13th time the whistleblowing site has released such communications from his account.
This brings the total number of emails leaked to more than 23,000.
WikiLeaks has said there are around 50,000 emails to be released in total and that this will be completed before the presidential election is held on November 8.
Previous releases have included damning examples of collusion between the campaign and the media, disparaging comments about former Democratic presidential candidate Bernie Sanders, among others, and copies of speeches given to Wall Street bankers, including Goldman Sachs.
READ MORE: 'What planet is she on?': Clinton adviser mocks Hillary in latest #PodestaEmails
DETAILS TO FOLLOW.
The History The US Government HOPES You Never Learn!
---
THOUGHT FOR THE DAY!
"Gold is the money of kings, silver is the money of gentlemen, barter is the money of peasants - but debt is the money of slaves." -- Norm Franz, Money and Wealth in the New Millenium
YOUR RANDOM DHS MONITORED PHRASE OF THE DAY
bullion
"The notion that somehow if Mr. Trump loses Florida, it's because of those people that you have to watch out for, that is both irresponsible and, by the way, doesn't really show the kind of leadership and toughness that you want out of a president," Obama said in response to a reporter's question. "If you start whining before the game's even over, if whenever things are going badly for you and you lose, you start blaming somebody else, then you don't have what it takes to be in this job because there are a lot of times when things don't go our way or my way.
However, a rally at Kent State in Ohio in 2008, then-Democratic presidential candidate Sen. Barack Obama (D-IL) had a much different response to a similar question. After boasting that his Democratic Party were "in charge" of the voting machines, Obama admitted both sides had historically "monkeyed around with elections" to "tilt things in their direction."
The White House on Wednesday cast doubt on the authenticity of new undercover videos that suggest Democratic operatives hired people to incite violence at Donald Trump's campaign rallies.
Press secretary Josh Earnest said the videos from conservative activist James O'Keefe should be taken with "a whole packet of salt" because of what he said is his penchant for selectively editing footage to cast subjects in an unflattering light.
I strongly suggest people watch the videos and make up their own minds. Editing has nothing to do with it. These are known Democratic operatives actually making these statements about stealing the election.
This statement from the White House smacks of desperation; similar to trying to scare people away from the WikiLeaks dumps by claiming it is illegal to read them!
Judicial Watch today released new State Department documents, which were uncovered by the FBI in its investigation of Clinton and her use of the clintonemail.com system. The emails reveal direct communications between former Secretary of State Hillary Clinton and her top IT specialist, Bryan Pagliano, about clintonemail.com management problems. Last week, Clinton claimed under oath to Judicial Watch that she "does not recall having communications" with Pagliano relating to the email system. Clinton's emails to Pagliano, who installed and maintained the clintonemail.com computer system in the Clinton's New York home, relate to email management problems with Clinton's BlackBerry. The FBI recovered these new emails from those not turned over by Hillary Clinton. These new emails are government documents and not personal emails as Hillary Clinton claims in defending her decision to not turn over 30,000 emails sent or received by her as Secretary of State.
---
---
By: malterwitty
Tags:
What Hillary told the FBI: "Clinton stated she was also unaware of the March 2015 e-mail deletions by PRN."
Private talking points in latest Wikileaks Emails: "As I said in March, I chose not to keep the personal ones. I asked that they be deleted."
By: MTJ
Tags:
A Conservative MP's aide has been arrested on suspicion of rape inside his Parliamentary office.
Sam Armstrong, chief of staff to South Thanet MP Craig Mackinlay, was remanded in custody last week by police investigating an allegation of rape.
Fire and smoke have engulfed the premises belonging to German company BASF, the world's largest chemicals manufacturer, in the town of Lampertheim.
---
---
It sure seems like an odd time to be provoking a war with Russia. As I write this, we stand just a little bit more than three weeks away from one of the most pivotal elections in U.S. history, and Barack Obama has chosen this moment to strongly threaten the Russians. As I wrote about on Friday, Reuters is reporting that Obama is contemplating "direct U.S. military action" against Syrian military targets, and the Russians have already indicated that any assault on Syrian forces would be considered an attack on themselves. The rapidly deteriorating crisis in Syria has already caused tensions with Russia to rise to the highest level since the end of the Cold War, but now Obama is adding fuel to the fire by publicly considering "an unprecedented cyber covert action against Russia". Apparently Obama believes that Russian hackers are interfering in the election and so he wants payback.
Pop star Madonna got raunchy while introducing comedian Amy Schumer at a performance in New York City Tuesday night, promising the crowd sexual favors in exchange for their support of Democratic presidential candidate Hillary Clinton.
"If you vote for Hillary Clinton, I will give you a blowjob. OK?" the 58-year-old Rebel Heart singer told an audience at New York's Madison Square Garden Tuesday night. "I'm really good. I'm not a douche, and I'm not a tool. I take my time, I have a lot of eye contact, and I do swallow."
Supposedly these links will identify shadowbanning. If don't see any posts from the users in either of these queries after clicking the link, please post the results in the comments section below.
Shadowban results for Scott Adams: @ScottAdamsSays
Shadowban results for Michael Rivero: @WRH_Mike_Rivero
Shadowban results for CyberDurden @CyberDurden
Is Twitter Shadowbanning You?
---
---
By: MTJ
Tags:
Neill Franklin and Adam Eidinger discuss the link between drug policy and the DOJ report on the Baltimore Police Department.
With just hours to go before the final US presidential debate, Hillary Clinton's camp has again decided to play the Russian card. But this time it's not only Moscow that's behind the leak of DNC and Podesta emails – somehow RT is also involved, Clinton's team claims.
"RUSSIA! RUSSIA! RUSSIA! RUSSIA! RUSSIA! RUSSIA! RUSSIA! RUSSIA! RUSSIA! RUSSIA! RUSSIA! RUSSIA! RUSSIA! RUSSIA! RUSSIA! RUSSIA! RUSSIA! RUSSIA! RUSSIA! RUSSIA! RUSSIA! RUSSIA! RUSSIA! RUSSIA! RUSSIA! RUSSIA! RUSSIA! RUSSIA! RUSSIA! RUSSIA! RUSSIA! RUSSIA! RUSSIA! RUSSIA! RUSSIA! RUSSIA! RUSSIA! RUSSIA! RUSSIA! RUSSIA! RUSSIA! RUSSIA! RUSSIA! RUSSIA! RUSSIA! RUSSIA! RUSSIA! RUSSIA! RUSSIA! RUSSIA! RUSSIA!!!!!!!!!!" -- Hitlery
By: MTJ
Tags:
US Secretary of State John Kerry has described the situation in Aleppo as "the worst humanitarian disaster since World War Two."
The more the disconnected old-prunes, the Clintons, thumb their noses at each revelation of their criminal cover-ups, the more they and their corruption resemble a modern Nicolae and Elena Ceausescu — deposed and executed during the Romanian Revolution in 1989.
---
---
We speak with Cody Hall of the Cheyenne River Sioux Tribe, who had a warrant issued for his arrest for two misdemeanor.
Syria's army and Hezbollah and Iranian allies are preparing for a massive invasion by thousands of Isis fighters who will be driven out of Iraq when Mosul falls. The real purpose behind the much-trumpeted US-planned "liberation" of the Iraqi city, the Syrian military suspect, is to swamp Syria with the hordes of Isis fighters who will flee their Iraqi capital in favour of their "mini-capital" of Raqqa inside Syria itself.
By: MTJ
Tags:
The House of Commons Home Affairs Select Committee has just issued its report 'Antisemitism in the UK' in response to concerns about "an increase in prejudice and violence against Jewish communities" and "an increase in far-right extremist activity". It was also prompted by allegations of antisemitism in political parties and university campuses.
By Brandon Turbeville
No longer content to lead from behind with the occasional drone bomb, the United States has now resorted to launching missiles from battleships off the Yemeni coast into the embattled nation. Having launched attacks at several Houthi "command and control" centers allegedly housing radar, the U.S. is once again only entrenching its position as a great force for evil and destruction the world over.
Per usual, the U.S. justification for the attack is questionable at best, and, in the end, an example of just how arrogant and aggressive U.S. foreign policy is toward the rest of the world and, in particular, those nations and forces who do not capitulate to U.S. interests...
Here's a little thought experiment for you:
If a friend said he could see a pink elephant in the room, standing right in front of you, but you don't see it, which one of you is hallucinating?
Answer: The one who sees the pink elephant is hallucinating.
---
By: ChrisMenahan
Tags:
In an astonishing email, Politico chief White House political correspondent and senior staff writer Glenn Thrush ran his latest article by Hillary Clinton campaign Chairman John Podesta to make sure nothing offended the Clinton henchman.
"Please don't share or tell anyone I did this".
Tags:
Serena Shim was killed two years ago on October 19, 2014, in Turkey while reporting on the intense battle for the Syrian border city of Kobani which was the focus of international media attention. She was 29 when she died.
---
Jonathan Cook looks at the latest instance of cheap Israeli propaganda which seeks to turn the truth of the conflict over Palestine on its head by portraying the Jewish colonists as normal folk and the Palestinian victims as barbarians.
Aaron Black, the deputy rapid response director for the DNC is caught on camera bragging about his involvement with the Chicago Trump protest that turned violent in March. In this video he schemes about getting men to bully women at a Trump rally, saying "That is what I'm going to do. That is the hit."
So many of the "foods" we consume are processed to the point that they don't nourish our bodies in the ways that food should. In fact, many of them contain artificial ingredients that can be quite harmful. Here are a few that you might want to stay away from.
Two days before the Obama administration formally accused the Russian government of hacking Democrats, NYTimes reports that a man identified as a "Russian hacker suspected of pursuing targets in the United States" was arrested in the Czech Republic. While the arrest was made on Oct 5th, officials stated that "we postponed the announcement for tactical reasons," which makes one wonder whether this is the debate-day-distraction Hillary needs?
Is this all the artillary that Hillary has in her arsenal?
Tags:
Earlier today, it was reported that those close to Assange, including staffers Kristinn Hrafnsson and Sarah Harrison, have gone silent while the Ecuadorian embassy is refusing to provide any updates on Assange's fate.
While it is unclear if it was done on purpose or by mistake, moments ago a folder within the Wikileaks server has opened at the addresshttps://file.wikileaks.org/file/ which provides a glimpse into thousands of doc, pdf, wav, jpg and various other files, as well as dozens of subdirectories including Videos, Syria-files, Collateral Murder, Japan Bribery Affair, and many others.
It is unclear what the basis of this disclosure is, although some are speculating that it may be the release of one of Wikileaks' so-called insurance files, which in light of today's speculation about the fate of Assange, may indicate that things are about to get to a climax vis-a-visthe trove of information in Wikileaks' possession.
If there is any cause that is sure to generate profit, and stir people's emotions, cancer is it. The quest for a cure has become a multi-billion dollar industry, a pursuit that can raise nearly inexhaustible resources whenever and wherever it is brought up.
But medical professionals, pharmaceutical labs, and chemists from around the world have failed repeatedly, year after year to find the antidote they've been looking for.
Recently, holistic doctors discovered a protein called Globulin component Macrophage Activating Factor (GcMAF) that was observed to eradicate cancer cells. It is a natural compound that empowers the body to cure itself.
This breakthrough discovery could have vast implications for the future of cancer treatment.
But nearly as soon as the news broke, controversy struck, and mystery shrouded what would have otherwise been huge news, internationally, and would have threatened to put the cancer industry in very choppy waters.
Tags:
---
---
By: MTJ
Tags:
UK arms firm QinetiQ has been contracted to crash civilian drones into things so that the government can accurately quantify the danger the technology poses to flights and infrastructure.
The UK's Civil Aviation Authority (CAA) will provide technical support for the tests, which will examine the damage a drone can cause when it comes into collision with an airframe.
By: MTJ
Tags:
At the Morton County Courthouse in North Dakota on Monday, authorities dropped or rejected multiple felony and misdemeanor charges against water protectors involved in the ongoing resistance to the $3.8 billion Dakota Access pipeline, including a felony charge against Marcus Frejo Little Eagle, known by his artist name Quese IMC.
Check out what Hillary was claimed to have shouted at her staff just after leaving the stage of the forum, as she used and abused her presstitute media relations and her lapdog advisors shaping her entire ascent to power.
According to State of the Nation, who in turn received an anonymous email from who they believe to be an insider at NBC:
Behind the scenes, NBC technicians and cameramen at the Wednesday night, Commander-in-Chief Forum (Sept 7) report that Hillary Clinton was so angry and incensed that she had been 'blind-sided' by one question she was not prepared for and had not approved in advance.
IF, in fact, this report is true, you need to ask yourself: are these the characteristics of a Commander in Chief we really want?!?
I would suggest, absolutely not.
There is absolutely no real constraint here, no taking of any responsibility of any kind, but totally blaming her staff for having had the temerity of allowing a real question to be asked by Matt Lauer.
The fall of 2008 was a hectic time, when in the aftermath of the Lehman failure, the entire financial system was on the verge of collapse and only the biggest Fed/taxpayer-backed bailout in history avoided an all out depression. Today, as a result of the latest, 12th Podesta leak, we find that then president-elect Barack Obama was also being intimately briefed with unfolding events.
This US government no longer represents We the People, nor has it for some time; it has transmogrified into a government of the corporations; by the corporations; and for the corporations.
We have become ...irrelevant in its governing, period, end of discussion.
---
On This Day
Every Milestone in History Selected for You
DariuszSankowski
---
Members of UCLA's "Revolution Club" disrupted a guest lecture event by Sabine Durden, an anti-illegal immigration activist.
Durden's lecture focused on the death of her son, who was killed at the hands of an illegal immigrant. She is also a passionate supporter of Donald Trump, due to his strong support for national security and securing the border.
UCLA students, who had a strong reaction to Breitbart Senior Editor Milo Yiannopoulos' recent visit to campus, crashed Durden's event by rushing into the auditorium and attempting to shout the speaker down.
All the shouting down in the world will not make this woman's son, killed by an illegal immigrant, come back to life; apparently, the demonstrators simply couldn't manage to get their collective heads around that reality.
FOIA requests involving Democratic candidate Hillary Clinton and the 2012 attacks on Benghazi while she was secretary of state were not conducted through normal procedures, according to FBI documents.
An unnamed female State Department Office of the Inspector General employee with deep familiarity with how Clinton and her staff interacted with career professionals at the department's Freedom of Information Act requests told the FBI that Under Secretary of State for Management Patrick Kennedy was central to the narrative.
Kennedy supervised the department's Office of Information Programs and Services, which handled FOIA requests. It was Kennedy, in August 2014, who sent out the memorandum to all State Department employees telling them they were not allowed to use personal emails for official business.
The interview offered insights into internal dynamics of how the department worked–or did not work.
The IG employee told the FBI:
Imagine my (absolute absence) over the way the Benghazi files were treated.
Hillary's likely ascension to power next year risks belligerent confrontation with Russia, possible nuclear war. Putin earlier warned of "being pulled in an irreversible direction."
His warning remains unheeded. Hillary's anti-Russia hostility risks the unthinkable. Trump's worldview could save humanity from crossing a catastrophic red line of no return, on Monday saying:
The New York Times is so determined to generate hate against Russia that it has lost all journalistic perspective, even portraying Russia's military decoys – like those used in World War II.
If the dangers weren't so great – a possible nuclear war that could exterminate life on the planet – The New York Times over-the-top denunciation of all things Russian would be almost funny, like the recent front-page story finding something uniquely sinister about Russia using inflatable decoys of military weapons to confuse adversaries.
The Oct. 13 article, entitled "Decoys in Service of an Inflated Russian Might," was described as part of a series called "DARK ARTS … How Russia projects power covertly," suggesting that the nefarious Russians aren't to be trusted in anything even in the case of "one of Russia's lesser-known military threats: a growing arsenal of inflatable tanks, jets and missile launchers."
The ramp-up of this kind of propaganda, indicates that its purveyors haven't quite realized that we're now in the 21st century, with a truly independent 21st century media, as opposed to the 1950s, when all government propaganda was taken as gospel by the American people.
And secondly, in the age of Wickileaks, the American people know, without any question, that they are consistently lied to by their government; therefore, they cannot believe anything any presstitutional outlets, like the New York Times, or Times, has to say about anything anymore.
James O'Keefe of Project Veritas has released undercover, button-camera video that outlines the process of bird-dogging and how it is being used to rig the 2016 Presidential election of the United States in favor of Hillary Clinton and the Democrat Party. The central focus of the video, which is a collection of various undercover videos with commentary, is the process of "bird-dogging" which refers to essentially hiring people to behave as the equivalent to crisis actors. Except for the fact that there is no actual crisis, and these people are used to simply incite violence, among other things, to goad the media into giving Donald Trump's campaign negative coverage.
Two items of interest have tickled the airwaves and triggered some commentary over the last few days. The first was an ABC Four Corners program covering the fate of refugees in the detention facility on Nauru, known euphemistically as a "processing centre" costing $35.3 million a year to the Australian tax payer.
The Four Corners program was, in turn, informed by a significant Amnesty International report, aptly titled Island of Despair, which was released on Monday night.[1] That report examined the rather ghoulish extent the Australian government, with its Nauru satraps, has been going about the business of "processing" boat arrivals.
In the sobering words of the report, Australia's government had furthered "a policy to deter people arriving by boat" calculated to inflict "intolerable cruelty and the destruction of the physical and mental integrity of hundreds of children, men and children," an approach "chosen as a tool of government policy."
OK, as a native Californian, I get why illegal immigration is such an horrific problem, on so many levels.
So, Prime Minister Turnbull, repatriate the parents: fine.
But what about the children, who really didn't make the choice to come on such a perilous journey; what about them, sir?!?
Can the country of Australia not partner with some universal adoption agencies which could treat these kids kindly and humanely, and give them a shot at getting adopted by loving families which provide them with the kind of love and structure necessary for leading productive lives?!?
And why this compassionate alternative is not at all being considered by the Australian Parliament just baffles me.
I've been to Sidney when Mike worked there for a couple of projects; the people I met were kind-hearted, bright, and very outspoken.
I cannot believe that Sidneysiders, and the rest of Australia, would have a hard time with such an approach for these kids.
VOTERS WARNED: You've already lost America... this election is about taking it back in the last non-violent way possible: At the voting booth.
If you're not following the flurry of email dumps now being released every 24 hours by Wikileaks, you're missing out on the most damning revelations of systemic government corruption in the history of this nation.
The emails reveal unprecedented criminal collusion between the State Dept., the Clinton Foundation, the Obama White House, the FBI, the DNC, the leftist media and the Hillary Clinton presidential campaign.
In essence, they are all conspiring to rig everything:
This is a video of several excerpts of a whistleblower presentation given today on the steps of City Hall in Portland, OR. Laz, AKA Lazaro Ecenarro, and Shawna Cox presented documents laying out the ties of corruption between the Hammond, Bundy and Malheur lands and all levels of State and Federal agencies and agents. The entire presentation is an hour long, so here's a few of the hot points. THIS is why they have come down so hard on the Hammonds and the Bundys and the other brave Americans standing and being persecuted for the rights of all of us.
New Wikileaks emails expand on the connections to the Clintons, Uranium 1 and Russia and China. Judge Anna Brown is shown to have relationships with investments that profit from the transactions related to the land grabs and sell offs in Oregon and the Western states.
Tens of thousands of Florida voters are also registered to vote in a second state, and more than 1,600 may have cast ballots in Florida and one of two other states in recent elections, taking advantage of an absence of safeguards to prevent illegal double voting.
An Orlando Sentinel examination of voting records from Florida, Georgia and North Carolina found more than 68,000 cases in which voters with the same names and dates of birth were registered in two states. In 1,650 cases, records indicate those voters cast ballots in Florida and another state in the 2000 or 2002 elections.
The study focused on Georgia and North Carolina because, among states with voting databases that are public record, they have the largest populations of Florida-registered voters.
In the first page, an unidentified FBI employee says he was "pressured" to change the classification of an email to render it unclassified. This pressure came from someone within the FBI, who said he had been contacted by Undersecretary of State Patrick Kennedy, who "had asked his assistance in altering the email's classification in exchange for a 'quid pro quo.'" The quid pro quo was that, if the FBI would say the email was unclassified, the State Department would allow the FBI to "place more Agents in countries where they are presently forbidden."
Chelsea Clinton accused some of her father's closest aides of taking 'significant sums of money' from her parents – among other allegations – in an email to members of the Clintons' inner circle.
In the Nov. 4, 2011 conversation released Monday by Wikileaks, the former first daughter pointed fingers at Bill Clinton's aides Doug Band, Justin Cooper and Hannah Rickert and articulated a number of transgressions, which Chelsea Clinton labeled 'very sad.'
For decades, the US Navy, by its own admission, has been conducting war game exercises in US waters using bombs, missiles, sonobuoys (sonar buoys), high explosives, bullets and other materials that contain toxic chemicals -- including lead and mercury -- that are harmful to both humans and wildlife.
The Navy's 2015 Northwest Training and Testing environmental impact statement (EIS) states that in the thousands of warfare "testing and training events" it conducts each year, 200,000 "stressors" from the use of missiles, torpedoes, guns and other explosive firings in US waters happen biennially.
"Children?!? Simply collateral damage for these tests! And if their parents had any brains, they wouldn't be raising them where these kinds of tests are conducted in the first place!!" - Official White House Souse.
In the second video of James O'Keefe's new explosive series on the DNC and Hillary Clinton campaign, Democratic party operatives tell us how to successfully commit voter fraud on a massive scale. Scott Foval, who has since been fired, admits that the Democrats have been rigging elections for fifty years.
For all of those who are shaking your heads, and collectively saying, "This can't happen HERE", this powerful video is proof positive that vote fraud is, unfortunately, as American as apple pie, and has been going on for a very long time.
Sen. Marco Rubio tells ABC News that Republicans are making a mistake by jumping on allegedly hacked emails released by WikiLeaks to criticize Hillary Clinton. In fact, he says he won't talk about the hacked emails at all.
"PLEASE DON'T LOOK AT THE CORRUPTION! PLEASE DON'T LOOK AT THE CORRUPTION! PLEASE DEAR GAWD DON'T LOOK AT THE CORRUPTION!!!" -- ABCNNBCBSFOX
A recommendable New York Times piece looks at the mostly hidden way the U.S. is now waging wars. The example is Somalia, where the U.S. has been at war with the people of that country for over 25 years. But, as the authors note, the same modus operandi applies elsewhere.
The Obama administration has intensified a clandestine war in Somalia over the past year, using Special Operations troops, airstrikes, private contractors and African allies in an escalating campaign against Islamist militants in the anarchic Horn of Africa nation.
Would that "anarchic" nation Somalia still be "anarchic" if the U.S. would end its endless fighting there? That is very unlikely. Without outer interference Somalia would have been peaceful again many years ago. But the war continues, run not with regular U.S. forces, but with mercenaries, proxies, drones and a few U.S. Special Forces.
Fighting wars this way, either directly or indirectly, for the US government, means never, ever having to say you're sorry for the war crimes you have committed, or for the torture you have inflicted, just because you can, and with absolute impunity!!
Hillary is of incredible service to Wall Street and to the War profiteers.
"If Hillary is elected we go to war with Russia folks." – Dr. Jill Stein.
If @JohnKerry did ask Ecuador to cut off Assange's Internet access, what else is the U.S. hiding? #PodestaEmails
#PodestaEmails10 show HRC kept 55K emails from Congress. How much more evidence does the govt need to press charges?
Though often criticized for being a tabloid, during the 2008 Presidential election the National Enquirer broke the story about then-candidate John Edwards and his mistress. The investigation tanked Edwards' Presidential dreams.
Today, they may have just done the same to Hillary Clinton.
A fresh pile of Wikileaks documents gives fuel to the fire that Soros, the "change agent" extraordinaire, is not only ordering State Dept.-backed regime change in the most contentious parts of the world, but that he is injecting cash into a basket of (deplorable) organizations designed to hijack the country, and keep a corrupt Democrat – like Hillary – in power for eight more years.
Feeling the heat from congressional critics, Comey last week argued that the case was investigated by career FBI agents, "So if I blew it, they blew it, too."
But agents say Comey tied investigators' hands by agreeing to unheard-of ground rules and other demands by the lawyers for Clinton and her aides that limited their investigation.
"In my 25 years with the bureau, I never had any ground rules in my interviews," said retired agent Dennis V. Hughes, the first chief of the FBI's computer investigations unit.
Instead of going to prosecutors and insisting on using grand jury leverage to compel testimony and seize evidence, Comey allowed immunity for several key witnesses, including potential targets.
What's more, Comey cut a deal to give Clinton a "voluntary" witness interview on a major holiday, and even let her ex-chief of staff sit in on the interview as a lawyer, even though she, too, was under investigation.
A black Georgia teenager lost his leg about a month after a behavioral specialist working at his school threw him to the floor multiple times and then denied him medical treatment.
The 13-year-old student underwent amputation Tuesday, five weeks after the specialist — identified as Bryant Mosley — slammed him to the ground Sept. 12 at an alternative school in Muscogee County, reported the Ledger-Enquirer.
The boy, identified as Montravious Thomas, was enrolled in the school district's AIM program after he was temporarily removed from East Columbus Middle School for unspecified violations of behavior rules.
His attorney said the boy was leaving his classroom for the main office, where he planned to call his mother for a ride, on his first day at the school when Mosley stopped him for an unknown reason and threw the teen to the ground up to three times to stop him from walking out.
The person who did this, the service for which he allegedly worked, Mentoring and Behavioral Services, and this school should be sued out of existence for what happened here, and Thomas should have all of his medical needs, as in getting fitted with continuing prostheses, physical therapy, and schooling, paid for by the state of Georgia which allowed this to happen, so that it never, ever happens to any African-American kid again here, or in any other part of the country,period, end of discussion.
And BTW, how hell does slamming ANY kid to the ground repeated times be construed as one of the many possible" "holistic behavior approaches" to student discipline?!?!
The bookies know!
William Hill slashes odds on Trump victory amid betting patterns eerily reminiscent of those seen in the lead up to the EU referendum
It is news that will strike fear into the hearts of perhaps half of America and large chunks of the world outside of it.
Despite a calamitous week of campaigning, betting markets on the US election are almost a mirror image of those on Britain's EU referendum at this stage. And they could be pointing to a victory for Donald Trump.
Ruptly's drone is capturing Greek trade-unions' protest in Athens, with rally participants demanding better salaries and working conditions.
Tags:
But the USC Dornsife/Los Angeles Times "Daybreak" poll paints a different outcome. Tracking the opinions of roughly 3,000 eligible voters, the results are updated each day. As of Tuesday, the poll gives Trump a narrow victory, polling at 44.9 percent to Clinton's 43.3 percent.
In what's believed to be an unprecedented attempt to bypass the security of Apple iPhones, or any smartphone that uses fingerprints to unlock, California's top cops asked to enter a residence and force anyone inside to use their biometric information to open their mobile devices.
FORBES found a court filing, dated May 9 2016, in which the Department of Justice sought to search a Lancaster, California, property. But there was a more remarkable aspect of the search, as pointed out in the memorandum: "authorization to depress the fingerprints and thumbprints of every person who is located at the SUBJECT PREMISES during the execution of the search and who is reasonably believed by law enforcement to be the user of a fingerprint sensor-enabled device that is located at the SUBJECT PREMISES and falls within the scope of the warrant." The warrant was not available to the public, nor were other documents related to the case.
Absoflippinglutely unbelievable!!
So, according to U.S. attorney for the Central District of California Eileen Decker, the US right against unreasonable search and seizure of digital devices no longer exists?!?
This title is not hyperbole, Hillary Clinton, the Democrats and the Obama administration are so desperate to silence alternative news sources inside the U.S., they are even willing to go to war with Russia as means to do so.
"Journalism needs to be passionately and ethically pursued and defended if we are to remain a free democratic country," declared Deia Schlosberg, a climate journalist and filmmaker facing 45 years in prison for covering a major demonstration against the Dakota Access pipeline in North Dakota.
For months, protests, including nonviolent direct action, have taken place with indigenous people, who will be negatively impacted by the pipeline, at the forefront. An encampment called Sacred Stone Camp near the Standing Rock reservation has stood as a grand example of resistance.
On October 11, Schlosberg was arrested in Walhalla, North Dakota. The police confiscated her camera and footage. She was in detention for 48 hours and denied access to a lawyer. Then, on October 14, she was charged with three felony charges: conspiracy to theft of property, conspiracy to tampering with or damaging a public service, and conspiracy to theft of services.
Big Oil and Big Government in North Dakota do not want Americans to really see the coming environmental damage from this pipeline, so they attempt to assassinate the messenger here, as they did with Amy Goodman.
I hope that they are equally unsuccessful with Deia Schlosberg, as this is a critical First Amendment case, and the victory of Big Oil and Big government would absolutely eviscerate what is left of First Amendment protections to the American people to witness to the truth, even if that truth is uncomfortable to large corporations and the crooked state governments they support.
And, as reported yesterday at blackistednews.com:
40 COPS WITH RIOT GEAR, ARMORED VEHICLE AND LRAD SWARM 5 PRAYING NATIVE AMERICANS AT DAPL
The article continues: "Over the past several weeks, the police state has come out in full force as Native Americans fight to protect their water sources from the threat of the Dakota Access Pipeline. Mainstream media remained largely silent as federal, state and local authorities worked on behalf of Energy Transfer Partners to squash dissent.
Even prominent journalists found themselves targets of the State, charged with dubious "crimes" such as "inciting a riot" and "conspiracy to theft of services" – for doing nothing more than filming protests and the ensuing violent crackdowns.
THE FIRST AMENDMENT IS NO OBSTACLE WHEN IT COMES TO ADVANCING THE INTERESTS OF THE CORPORATOCRACY.
This was put on display again on October 15 when five Native American Water Protectors left a protest near the Standing Rock Sioux Reservation to pray on the shoulder of a public road.
In response to this peaceful behavior, 40 cops from at least eight departments in three different states – complete with riot gear, automatic rifles, an armored vehicle and even an LRAD acoustic weapon – swarmed the five praying, unarmed Native Americans.
Video taken at the scene shows the police presence swell as the prayer continued, with one officer approaching the group, telling them they had five minutes to stop praying and leave before they were arrested for "unlawful protest."
Welcome to Amerika: your papers, please!!!!
There are moments when I despair to my very soul about the future of this country, and good people, trying to make a difference, peacefully, getting treated like this; upon reading what happened to these 5 protesters, this is one of those moments, folks.
The question is, whether when you get caught by a reporter, does that matter? Because does it turn into an investigation or not? In this case, this state (Wisconsin), the answer is no, because they don't have any power to do anything.
Those were the words of the now former national field director for Americans United for Change, Scott Foval, in the latest Project Veritas video entitled, "Rigging the Election - Video II: Mass Voter Fraud."
That was just the tip of the iceberg in the newest video released Tuesday by James O'Keefe's organization. The video comes one day after undercover footage of Foval came out where he admitted he paid mentally ill and homeless people to protest at Republican presidential nominee Donald Trump's rallies.
The video consists of Foval describing how the organizations he works with "successfully commit voter fraud on a massive scale."
Washington's resort to economic warfare complements its military fueled empire building.
But economic and military warfare are losing propositions. While the US may extract a few billion dollars from Deutsch Bank, it will have lost much more in long-term, large-scale relations with German industrialists, politicians and financiers. This is critical because Germany plays the key role in shaping economic policy in the European Union. The practice of US multi-national corporations seeking off-shore tax havens in the EU may come to a grinding halt when the European Commission finishes its current investigations. The Germans may not be too sympathetic to their American competitors.
The economic chaos Obama's policies have created will have a lasting negative effect, at home and abroad, for decades, if not immediately remdediated by the election of President Trump.
Routine contact with plastic bottles, toys, food cans, cosmetics and flame retardants containing "endocrine-disrupting chemicals" results in ingestion, leading to a toxic buildup and potentially a variety of medical conditions.
Routine exposure to these chemicals adds up to annual costs in excess of $340 billion -- a whopping price tag that comes in the form of poor health, increased medical bills and lost income, according to researchers at NYU Langone Medical Center.
The largest single cost comes from chemical effects on children's developing brains, said Dr. Leonardo Trasande, an associate professor at NYU Langone and lead investigator of the study.
Obviously, costs are not the main concern of families with growing children. According to Trasande, a few simple steps will limit exposure to endocrine-disrupting chemicals in the home.
Parents and families: please be aware of this problem, and shop, and act, accordingly!!
There are startling accusations against a Norman teacher.
A student said the premise of his lecture stated all white people are racist.
The Norman North student said the teacher was lecturing on how to "heal the racial divide."
By: malterwitty
Tags:
Emails from Facebook Chief Operating Officer Sheryl Sandberg to John Podesta, published by Wikileaks, suggested he was keen to influence public policy on issues like immigration, education and scientific research.
A recent letter by the Israeli peace and justice group "Boycott From Within" (BfW) implores legendary singer-songwriter Bob Dylan to heed the Palestinian call for BDS and therefore not perform in Israel. The letter follows reports of Dylan's 2011 summer tour, during which he will perform at Ramat Gan Stadium on June 20th.
By: malterwitty
Tags:
The National Enquirer has released their interview with a fixer who claims they worked for the Clintons from 1991 until 2008 to bury stories in the press.
The individual, whose identity is not revealed, details 12 of their fixes in their story, most of which involve Bill's alleged relationships with women.
He claims he purchased photos of Bill on a Hollywood lot with Night Court actress Markie Post, paid two women named 'Doreen' and 'Julianne' shortly after Bill was inaugurated and resolved 'rumors inside the White House' of an alleged affair between Bill and Entertainment Tonight host Mary Hart.
The fixer also claims Hillary had him scrub Vice Foster's office and remove Whitewater documents, just two hours after the White House employee's lifeless body was found in a park outside Washington DC.
By: malterwitty
Tags:
However, Dr Gilbert V. Levin, from the University of Arizona, and Dr Patricia Ann Straat, from the National Institute of Health, now claim this was in fact proof of life on Mars.
The duo wrote in a study published in Astrobiology: "Each of these characteristics is reminiscent of responses by a compendium of terrestrial microorganism species, including the initial positive responses, the 160C and 50C heat controls, the reabsorption of evolved gas upon second injection of nutrient, and death from isolated long-term storage."
They added the results were "consistent with a biological explanation".
With manned missions to Mars now very much on the horizon, the pair say the results need to be confirmed for health and safety reasons for when humans do make it to Earth's neighbour.
Dr Levin and Dr Straat continue: "Plans for any Mars sample return mission should also take into account that such a sample may contain viable, even if dormant, alien life."
Tags:
A British man who traveled to Poland to give a lecture on conspiracy theories and was found dead in his Warsaw apartment was conducting an investigation into alleged pedophilia that took place in a US Army-run facility in San Francisco nearly 30 years ago.
Max Spiers, a 39-year-old father of two, was found dead on a sofa in Poland, where he had gone to give a talk about conspiracy theories and UFOs.
Prior to his death, Spiers texted his mother to say 'If anything happens to me, investigate' just days before his mysterious death.
He was ruled to have died from natural causes despite no post-mortem examination being carried out on his body.
By: malterwitty
Tags:
THE EU's flagship trade deal with Canada could be tatters as Belgium refuses to ratify the landmark agreement.
A NEW report has added to the pressure on the Government to get Britain out of the EU quickly highlighting how the UK taxpayer could be in hock for billions of pounds if the Deutsche Bank collapses.
The Federal Bureau of Investigation, along with representatives from the National Center for Missing and Exploited Children (NCMEC) and several international law enforcement partners, today announced that, domestically, 82 minors were rescued and 239 traffickers and their associates were arrested as part of Operation Cross Country X, an international effort focusing on underage human trafficking that ran from October 13 to 16, 2016. FBI Director James Comey and NCMEC Director John Clark announced the results of Operation Cross Country X today at the International Association of Chiefs of Police (IACP) convention in San Diego, California.
An Islamist girls' boarding school which taught pupils that men could beat women and gay people should be killed is facing closure after a pupil exposed its sharia-inspired rules.
Now THIS is interesting. Not only is Mr. Podesta, the current chair of the Hillary Clinton campaign, appear to admit to there being far MORE private server emails being kept "private" than anyone from Team Clinton (or the Obama administration) are admitting to, but that the Clinton Machine, with help from the Obama State Department, purposely acted to defy a Congressional investigation.
Reddit internet sleuths have connected Hillary Clinton to the despicable smear being spread by Democrat shills that Julian Assange is a pedophile and a Russian spy.
Not only is the story a complete lie, but it appears the people behind it issued veiled threats on Julian Assange and his lawyer's lives.
Tags:
This Normandy Four is set to take place in the context of Ukraine's increasingly aggressive behavior. Kiev's evermore frequent ceasefire violations, failed attempts at an offensive in southern Donetsk, and the assassination of DPR commander Motorola have left the Minsk Agreements nearly in tatters. DPR head Alexander Zakharchenko's latest statement has made it clear to the world that Donbass is nearing the end of its patience.
A few days ago in faraway Goa, India, the leaders of the BRICS countries took another step towards reforming world order. Despite the claims of Western and even some Russian media and experts that BRICS is facing a crisis and that the organization is no longer needed even by its own members, it has suddenly become clear that this union, consolidating the largest developing economy on the plant, is fully capable.
If we call things by their names, then it must be recognized that BRICS is more alive than all the living and will visit the funerals of those who are claiming that it is dead.
By: malterwitty
Tags:
GERMAN migrants are hitting out at Angela Merkel's open door immigration policy saying it has wrecked their standard of living.
A female interpreter was raped at knifepoint on Monday night near the Jungle migrant camp in Calais, according to local French prosecutors.
The interpreter, aged 38, was working with a freelance journalist who was making a documentary about unaccompanied children in the sprawling camp for refugees on the outskirts of Calais.
Tags:
About a dozen people were arrested in cities across the U.S. on Tuesday for running what authorities called a sophisticated sex trafficking operation in which hundreds of women were brought from Thailand to America under fraudulent visas and forced to work as prostitutes to pay off tens of thousands of dollars in bondage debts.
The women — including one who was forced to have sex with strangers for 12 hours a day, six or seven days a week— were not allowed to move about freely and were "effectively modern day sex slaves," according to a redacted indictment unsealed Tuesday.
The arrests, along with the recent arrest of the organization's boss in Belgium, will effectively dismantle the operation, said Alex Khu, special agent in charge of Homeland Security Investigations in Minneapolis.
It is fortunate for Saudi Arabia and Qatar that the furore over the sexual antics of Donald Trump is preventing much attention being given to the latest batch of leaked emails to and from Hillary Clinton. Most fascinating of these is what reads like a US State Department memo, dated 17 August 2014, on the appropriate US response to the rapid advance of Isis forces, which were then sweeping through northern Iraq and eastern Syria.
At the time, the US government was not admitting that Saudi Arabia and its Sunni allies were supporting Isis and al-Qaeda-type movements. But in the leaked memo, which says that it draws on "western intelligence, US intelligence and sources in the region" there is no ambivalence about who is backing Isis, which at the time of writing was butchering and raping Yazidi villagers and slaughtering captured Iraqi and Syrian soldiers.
Despite Britain's move to block an EU army, a growing number of experts believe a recent German defense paper shows Berlin has ambitions to run an EU army, and has a plan to cut through Brussels red tape and create one by itself. But at what cost to NATO?
By: malterwitty
Tags:
Cybercrooks are increasingly targeting routers in consumers' homes.
Fortinet reports that attacks of this type have regularly figured as entries in its daily top 10 IPS (intrusion prevention system) detection list over the last three months since July. The security vendor reckons that home routers have become a favoured target for cybercriminals.
Hackers are hunting for unknown but unpatched flaws in Netcore, D-Link and Asus devices, in particular. Hacking into routers allows miscreants to break into the networks and devices behind them. Vulnerable routers were also among the components of the Mirai botnet, which became the springboard for massive DDoS attacks against the cybercrime blogger Brian Krebs and others in late August.
US Secretary of Defense Ashton Carter will visit Turkey's Ankara October 21, Anadolu Agency reported Oct. 19.
Carter will meet with Turkish leadership to discuss the Syrian crisis and the situation in Iraq.
A Project Veritas film released earlier today – Rigging the Election – Video II: Mass Voter Fraud – features secretly-recorded video conversations with employees of the Democratic party establishment, wherein they casually discuss bussing people around to vote at multiple locations in order to rig election results in favor of Democratic candidates.
An additional Project Veritas video from earlier this month features Alan Schulkin – Commissioner of Board of Elections in New York City – admitting that Democratic politicians "get busses and they move people around" to vote multiple times.
Consider this evidence, and look for more. It is smart of us to be suspicious when we find a Democratic Party bus in a county where an unprecedented 1,580 early-votes have just been cast. Where will we find Democratic Party busses spewing sewage next? Keep your eyes open.
Russian Airborne units have been sent to Egypt to take part in joint military drills, the first such bilateral exercise in Africa. Armored personnel vehicles and quadbikes are among the hardware being taken by the Russian side. "International [military] exercises of the Russian and Egyptian Airborne forces on the African continent are being conducted for the first time," the Russian Defense Ministry announced on Saturday.
An Air Force base in Colorado said Tuesday it accidentally released about 150,000 gallons of water containing toxic chemicals into the sewer system of the adjacent city of Colorado Springs, but the potential health hazards weren't immediately known.
By: malterwitty
Tags:
DISABLED people in Britain are put through "inhumane" "degrading" tests just to get vital funds to live on - while basic checks on even the ages of foreign migrants are ruled out as "intrusive".
I don't know about you, but to me that is a shocking figure. As you will see below, 35 percent of the people living in this country have debt in collections. When a debt is in collections, it is at least 180 days past due.
Information contained inside documents released by the FBI pertaining to Hillary Clinton's email scandal show that there really is a "Shadow Government" and that it is based out of the 7th floor of the State Department H.Q., located at 2201 C Street NW, which is the Harry S. Truman Building.
"The Secretary's suite was a Sensitive Compartmented Information Facility (SCIF) which also had a DSS security detachment outside of the office. Currently, The 7th Floor Group meets on Wednesdays and this includes the Secretary of State John Kerry, Deputy Chief of Staff Jennifer Tout, Deputy secretary of State for Management and Resources, Kennedy, Assistant Secretary Julia Frifield, and members of the Office of the Legal Advise," according to Wikipedia, and likely refers to the seventh sub-level of the facility underground rather than the upper 7th floor.
Over the weekend, thousands of protesters across multiple countries condemned impending trade deals promoted by governments and their corporate partners.
Though the protests received little coverage from mainstream media, they stretched from Paris to Warsaw.
By: malterwitty
Tags:
RUSSIA has warned the US it will give America a war if it wants one after Joe Biden called for an all-out cyber assault on Kremlin emails.
By: malterwitty
Tags:
WORRIED Germans who are struggling to come to terms with the volume of immigrants arriving in their country should learn Arabic so they can communicate with the refugees, claims outspoken Green Party politician Volker Beck.
Webmaster addition: When I worked in Germany, I learned German. That is just simple courtesy. I didn't go around demanding the Germans all speak English. Beck needs to get kicked out along with Merkel!
By: malterwitty
Tags:
Someone within the White House should probably explain why the vote-rigging, convicted felon, Robert Creamer visited the White House over 200 times during the Obama administration, including 45 visits with the President himself.
In a surprising reminder how the European central bank feels about bitcoin and other virtual money, the ECB urged EU lawmakers to tighten proposed new rules on digital currencies such as bitcoin, fearing they might one day weaken its own control over money supply in the euro zone.In other words, first the ECB went after cash; now it is going after all virtual currencies like bitcoin.