Watch RT Live On Air
'Euro is dead': Le Pen eyes return of the Franc, preserving single currency for int'l trade
Published time: 30 Apr, 2017 04:41
ProNewsOnLine
© Eric Gaillard / Reuters
A week before the 2nd round of the French election, eurosceptic presidential hopeful Marine Le Pen has reminded her supporters that the "euro is dead" and should be left only for international trade, while France should regain control and reintroduce the Franc.
"We need to control the currency, to adjust it to the economy because today the single currency is a burden," Le pen said ahead of May 7 French presidential election, stressing that the "euro is dead."
"We will have a national currency like all other countries, and we will have a common currency together," Le Pen said in in an interview with Le Parisien.
In her interview Sunday, she explained that euro should become the currency that will be used by "only large companies that trade internationally."
On Saturday, Marine Le Pen struck a deal with a former rival Nicolas Dupont-Aignan, a fellow euro critic who garnered 4.7 percent of votes in the first round, who will serve as the prime minister if the 48-year-old right-wing populist gets elected.
"We will create a government of national unity," said Le Pen, as she appeared with Dupont-Aignan on BFM television.
That same day, in an interview with newspaper Sud Ouest, Le Pen noted: "If everyone is agreed we could take a year or a year and a half to organize a coordinated return to national currencies."
Yet the alliance statement by Dupont-Aignan's Stand up France' produced following the forming of the coalition noted that the return to Franc is not a pre-requisite.
READ MORE: Smoke grenades at rally against French presidential candidates in Paris (VIDEOS)
"The transition from the single currency to the European common currency is not a pre-requisite of all economic policy, the timetable will adapt to the immediate priorities and challenges facing the French government," the statement said.
Le Pen's presidential race rival Emmanuel Macron, who is an advocate of deeper European integration, had also expressed scepticism about the euro in its current state before, although insisting on reforms to bolster the single currency union to make sure it does not fail.
"The truth is that we must collectively recognize that the euro is incomplete and cannot last without major reforms," Macron said in January, citing a lack of trust between France and Germany that hampers the needed reforms. "The dysfunctioning of the euro is of good use to Germany… The euro is a weak Deutsche Mark… The status quo is synonymous, in 10 years' time, with the dismantling of the euro."
Le Pen who will face off the big business' hopeful Macron next Sunday in a second round vote, has repeatedly promised her electorate to leave the euro zone, hold a Brexit-style referendum, and levy taxes on foreign workers. She also vowed to lower the retirement age and increase some welfare benefits, while cutting income tax.
READ MORE: 'He is a hypocrite!' France's Macron heckled by pro-Le Pen workers in his hometown (VIDEO)
Despite the daring and radical proposals, Le Pen is still running behind her rival in the polls. In a poll by Odoxa released Friday, Macron's support stands at 59 percent versus Le Pen's 41 percent.ed Friday, Macron's support stands at 59 percent versus Le Pen's 41 percent.
Massive & impressive: Icebreaker festival kicks off in St. Petersburg (VIDEO, PHOTOS)
Published time: 30 Apr, 2017 09:32Edited time: 30 Apr, 2017 09:37
ProNewsOnLine
If you need something to boost your 'tough Russians' stereotype, an icebreaker festival has just kicked off in St. Petersburg. The mammoth Arctic-ice-cracking vessels are hosting the public, while smaller tugboats are set to waltz across the water.
This year, six vessels are taking part in the fourth annual Icebreaker Festival. Among them are the Mudyug, the Ivan Kruzenshtern, and the Saint-Petersburg, as well as the legendary Murmansk.
The ice-class tugboat Nevskaya Zastava and the Krassin icebreaker-museum, which has recently celebrated its 100th anniversary, have also joined the show.
"The festival is dedicated to the achievements and power of our country's icebreaking industry, and the idea that St. Petersburg is the sea capital of Russia," the city said in a statement.
The festival gives visitors the chance to explore Russia's Arctic fleet and climb the massive vessels on the Neva River for two days – April 29 and 30.
One of the festival's traditional shows is the tugboat waltz, which will see the vessels spinning across the water to classical music and fountains of spray. Organizers promise this year's dance to be more complicated and elegant than last time.
Festival-goers have braved never-ending St. Petersburg rain to examine the interiors of the icebreakers – something you don't get to do every day.
"Power and beauty even in such weather," one excited person posted on Instagram.
"Storm… Gusty winds. Soaked through and frozen, the photographer won't give in," said another, apparently referring to herself.
"This is powerful!" exclaimed one more spectator.
Brave pilot makes gutsy emergency landing in Florida after losing 1 wheel (VIDEOS)
Published time: 30 Apr, 2017 11:56
ProNewsOnLine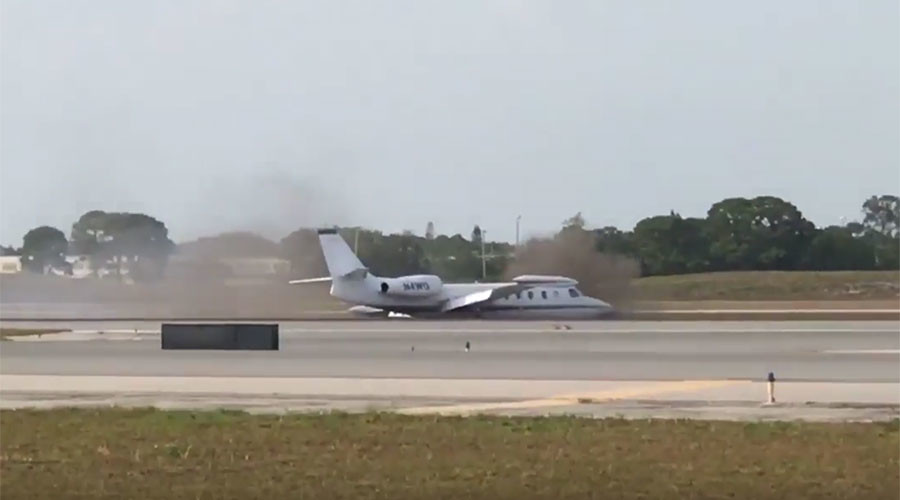 Sparks flew as the pilot of a small aircraft carrying three passengers was forced to make a daring landing on just two wheels at an airport in Florida on Friday.
The plane reportedly lost its third wheel as it was taking off from the runway in Belize. The pilot was notified immediately, but chose to continue the flight to the United States and brave the bumpy landing.
The plane's identification code 'N4WG,' which is clearly visible once the aircraft comes to a stop, has been corroborated with other footage of the incident taken by local media.
The ID tags are also visible in this still image of the plane uploaded by a local firefighter to Instagram in the hours after the incident.
"They said they were fine, shook up obviously but they said they were fine," airport president Rick Piccolo said after the emergency landing, as cited by the Metro.
"They refused any medical attention," Piccolo added, after noting that all four people on board had quickly run from the plane after landing in case it caught fire.
The emergency landing took place at Sarasota-Bradenton International Airport in Florida, roughly 50 miles (80km) south of Tampa – the plane's original destination. No one was injured.
The plane was forced to circle the airport for approximately an hour in order to reduce the amount of fuel on board and, thus, the potential for a fire breaking out during the rough landing, reports local WTSP News.
The emergency call came in shortly before 5pm on Friday, reports ABC Action News, citing the airport's senior VP and COO, Mark Stuckey.
The History The US Government HOPES You Never Learn!
THOUGHT FOR THE DAY!
"If they do it it's terrorism, if we do it, it's fighting for freedom." -- a U.S. Ambassador in Central America in the 1980s, asked to explain how such U.S. actions as the mining of Nicaragua's harbors and bombing of airports differed from the acts of terrorism that the U.S. condemned around the world
YOUR RANDOM DHS MONITORED PHRASE OF THE DAY
Competitor
Paid advertising at What Really Happened may not represent the views and opinions of this website and its contributors. No endorsement of products and services advertised is either expressed or implied. While we try to avoid advertisers of fraudulent products, What Really Happened assumes no liability for such fraud. Caveat emptor.

---
April 29, 2017
Stuart Littlewood views the UK government's refusal to apologise for the crime of the Balfour Declaration in the context of the Zionist lobby's deep penetration of the British political establishment.>>
In October this year, President Trump will have to make a decision. Not a particularly important decision in the eyes of many, but one that many historians and skeptics are salivating over. Unless President Trump blocks it, the National Archives will release 3,600 never-before-seen files relating to the JFK assassination and possibly the full unsealing of another 35,000 assassination related documents.
In the following video, Right Wing News looks at what information does files could potentially reveal. Speculation is that the documents will show exactly how much the intelligence agencies knew about Oswald prior to the assassination, as well as his mysterious trip to Mexico City. As of now, the intelligence agencies have given no indication that they plan to petition to block the release of the documents. But hey, it's still early
This is the key to stopping this war. We must stop military exercises with South Korea. Then Russia and China can get North Korea in line. North Korea has not accepted these exercises from the very beginning.
Tags:
Son of the great boxing legend Muhammad Ali, is suing President Trump due to being temporarily detained two different times at airports.
nypost.com reports: The son of boxing great Muhammad Ali now wants to duke it out with President Trump — in court.
Muhammad Ali Jr. is suing the president over the controversial travel ban, explaining in a Daily Mail interview that he was humiliated and infuriated over twice being stopped and detained at airports.
Ali is an American citizen, as was his father.
"They stopped me for no reason," Ali told the Mail. "They stopped me for my last name being Ali. A Muslim."
False flags are not only historically documented, but presidents, prime ministers, congressmen, generals, spooks, soldiers and police have ADMITTED to planning and carrying out false flat attacks
What forecasters are terming a classic spring snow event is shaping up to impact Boulder County and the rest of the Front Range, with a good chance for at least half a foot of snow falling before it tapers off mid-day Saturday.
National Weather Service meteorologist Jim Kalina said 6 to 12 inches of snow could be delivered by the wintry blast. The weather service has issued a winter storm warning from 6 p.m. Friday to 6 p.m. Saturday.
A hard freeze for the area is possible Sunday morning.
---
---
Heavy, wet spring snow can snap branches and take down power lines. That's why Colorado Springs Utilities and crews in Pueblo are on standby for any trouble spots that develop with this coming storm.
Forecasters called for rain, below-normal temperatures, breezy conditions and possibly a rain-snow mix for today through Monday in eastern Nebraska and western Iowa.
The National Weather Service office in Valley said there is a 90 percent chance of rain today, mainly after 9 a.m., and a high temperature near 45, with north-northeast winds gusting as high as 30 mph.
"Here come the soaking rains Saturday into Sunday," said KMTV meteorologist Ryan McPike. "It's a given."
The Commerce Department released estimates Friday showing that the economy is growing more slowly than it has in years.
For the first quarter of 2017, it grew a measly 0.7 percent, the worst growth since mid-2014. Economists had been hoping that sluggish economic growth would start to pick up by now as more people find work and wages increase, plus optimism gets a boost from the Trump administration's promise to cut taxes. Two months ago, they'd predicted a slight uptick to 2 percent growth.
The nuclear submarine Project 09852 (Belgorod) will become the largest submarine in the Russian Navy, Russian newspaper Izvestia reported. Its size will outperform the heavy nuclear-powered Typhoon missile cruiser Project 941, currently the largest nuclear submarine according to the Guinness World Records.
Project 09852 is designed to carry out research missions. It will carry uninhabited deep-sea vehicles and bathyscaphes, as well as special scientific equipment. It will be engaged in studying the bottom of the Russian Arctic shelf, searching for minerals at great depths, and also laying underwater communications.
The submarine is being developed based on the unfinished Antey-class strike missile carrier Project 949A. These boats were built in the USSR as a response to the deployment of US aircraft carrier compounds in the global ocean. Twenty "Granit" supersonic anti-ship cruise missile launchers were aboard.
Russia is a world leader in ocean research. We are all familiar with the Keldysh, the "star" of James Cameron's "Titanic."
---
---
Can Donald Trump strike a nuclear blow on North Korea (the DPRK)? The analysis of the situation shows that the US can not ignore the positions of Moscow and Beijing that stand strongly against the US attack on the territory of the DPRK. At the same time, Moscow has distanced itself from the North Korean regime by saying that Russia does not accept Pyongyang's nuclear adventures. Nevertheless, Moscow has also warned Washington about the inadmissibility of taking a military action.
Tags:
The push by some New England states to change time zones and ditch the twice-yearly ritual of turning clocks back and forth has taken another step forward.
This whole "daylight savings time" is a real mess when some states do and some don't, and other countries have different days for the start and end.
US Secretary of State Rex Tillerson acts to bring Nikki Haley, the US's out of control UN ambassador, to heel, instructing her to coordinate her comments in future with the State Department.
Why hasn't she been doing that all along?!?
---
---
Turkish divers could have found secret reconnaissance equipment and encryption codes on board The Liman after it mysteriously plummeted towards the sea bed in Turkish waters.
This is a valid concern. As I pointed out in "Rivero challenges the NSA", the most difficult part of breaking an enemy code is to figure out the methodology. The Allies in WW2 were not able to break the German Enigma until they captured an actual machine. Once they had that, building another machine to brute force the keys was relatively easy (not to disrespect the work of the people at Bletchley Park, of course).
If I were Russia, I would be deploying updated encryption systems with altered methodologies right now, and in an age of computer codes and software, it is much easier than it would have been for Germany to re-engineer the Enigma and ship out new hardware.
As part of the new Health Ranger Science effort at public education on crucial science issues of our time, I've just released this truly must-see video that totally debunks the false narrative of carbon dioxide as a "pollutant."
As you'll see explained in the video below, climate change alarmists use visual trickery and deceit to make gullible people falsely believe that CO2 is rising to unprecedented, alarming levels across our planet. In truth, CO2 is at nearly the lowest point ever recorded in the history of the planet.
In fact, using data from the NOAA and even the IPCC, it turns out that CO2 levels were as much as 15 times higher than 400 ppm in the past, and plants across the planet today are starving for CO2, the "molecule of life" for plant life across the planet (including forests, food crops and jungles).
Things are warming up in Manhattan East Village ahead of our 30 April Conference at Theatre 80. Theatre owner Lorcan Otway, keeps holding a firm position: he announced again and again that he won't surrender to calls for censorship. I spent some time with this heroic, scholarly oriented human being. He deserves every possible support. If it isn't for me, be there on Sunday at 5PM to support Lorcan and his staunch position on freedom and the 1st Amendment.
Meanwhile The Villager confirms that some Antifas may appear in the scene. Considering the reputation the Antifa bought itself in recent years, this news should be probably interpreted as a form of intimidation.
However, The Villager also published yesterday a beautiful interview with human rights Lawyer Stanley Cohen who participates in the event. I repost this interview in full. Please share it widely.
If you are near New York City, PLEASE make the effort to get to this event. It will be a great discussion. I know from reading the book. The discussion will be followed by a jazz concert, and Gilad and his friends are top-notch world famous musicians!
The Israeli Housing Ministry today announced plans to build 25,000 homes across metro Jerusalem, and within this announcement were 15,000 new settlement homes within occupied East Jerusalem areas, a massive expansion of settlement in the area.
Israeli officials don't present expansions in the East Jerusalem settlements as "settlement" expansion, however, as they insist the area, occupied since 1967, is part of the "eternal" capital of Israel, and will never be given back to the Palestinians at any rate.
The latest move sparked a lot of international criticism, with Palestinian negotiator Saeb Erekat declaring the move an attempt at "deliberate sabotage" of the peace process, and noting that all settlement construction in the occupied territories is illegal under international law.
I mentioned on this blog, years ago, that if the Palestinian leadership didn't get its act together, and present themselves as the unified voice of the Palestinian people, the land they would get for an independent Palestine wouldn't even be the size of Lichtenstein.
I hate having been right on this, but it is apparently the case.
And please remember; Zionist Israelis see their country as the original "Eretz Israel", stretching from the Nile to the Euphrates, which means a number of neighboring countries will have to give up some of their territory, to make that happen.
map: Eretz Israel
"The left-wing activists behind the anti-conservative riots at Berkeley have ties to one of the nation's most prominent pro-pedophilia organizations.
U.S. OFFICIALS THIS WEEK requested the geographic coordinates of aid groups working in Somalia, according to a document obtained by The Intercept — a move that could indicate an escalation of military action against the Shabab. The notice to NGOs comes a month after President Trump declared portions of the country an "area of active hostilities," giving the military wider scope to launch strikes that could potentially kill more civilians.
The city of Sacramento agreed Thursday to settle a federal civil rights lawsuit for $220,000 after learning that one of three police officers named as defendants gave false testimony in the case.
---
San Antonio Mayor Ivy Taylor is under fire for saying that "broken people" who aren't in touch with religion are at the root of poverty in her city.
Taylor made the remarks at an April 3 forum where she and another mayoral candidate fielded questions including one from the director of San Antonio's Christian Resource Center, who asked what they saw as "the deepest, systemic causes of generational poverty in San Antonio," the San
This is on the heads of the American people who pay for the fighters and weapons on both sides with their taxes!
By Isabel Coles | QAYYARA, Iraq
The babies cry with hunger but are so severely malnourished that doctors treating them at a hospital in Iraq would make their condition worse if they fed them enough to stop the pangs.
Many of the starving infants are from Mosul, where war between Islamic State militants and Iraqi forces is taking a heavy toll on several hundred thousand civilians trapped inside the city.
A new, specialist ward was opened recently to deal with the growing number of children from Mosul showing signs of malnutrition as the conflict grinds on -– most of them less than six-months-old.
President Donald Trump says he hasn't returned to his New York City home because "going back is very expensive for the country."
Trump tells Fox News in an interview Friday that he feels "guilty" when he returns to Trump Tower because authorities close surrounding streets and "I hate to see the New Yorkers with streets closed."
The US has deployed a number of special forces troops and armored vehicles along the border between Kurdish-held northeast Syria and Turkey, with most of the troops sent to the area around Darbasiya, which was the site of heavy Turkish attacks earlier this week.
Officially, US commanders say the troops are there "monitoring the situation," though Syrian Kurds say that in practice the US deployment is an attempt to establish a "buffer" to try to limit fighting between the two sides,, which has been raging since Turkey's airstrikes were carried out.
From Turkey's perspective, there are two trains of thought on their recent push to attack the Kurdish YPG, who they consider "terrorists." On the one hand, there seems to be some hope that if they can displace the Kurds enough during the buildup to the invasion of the ISIS capital of Raqqa, the US might agree to change it to a joint US-Turkey operation.
I think we will continue to see more US troops in Syria, as regime change is definitely back on the table here, in the thinking of the American deep state.
But what happens when US troops run into direct confrontation with the Russian ground troops, which are being deployed there very soon?!?
Russian Ground troops mobilising for deployment in Syria,
25 April, 2017
War with Russia over Syria?!?
This would be completely insane.
---
We just found the advertiser who was causing problems on the site and disconnected them. Please help us cover the shortfall while we get new advertisers..
---
French astronaut Thomas Pesquet totally needs to take up photography as a side business. The photographs adorning his Twitter feed are all no less than stunning and we can't wait for more!
In Why North Korea Needs Nukes - And How To End That we pointed to the utter destruction the U.S. and its allies waged in the war on Korea on all parts of the country. That North Korea seeks "weapons of mass destruction" is quite understandable when one takes into account the hundreds of thousands tons of napalm used against it. But even Napalm and the criminal destruction of North Korean dams were not the worst depravation the U.S. applied. Biological warfare agents, primarily anthrax, were dropped over North Korea and China and killed civilians. The U.S./UN command denied such use and covered it up. One consequence of that cover up was the development of torture methods in the U.S. SERE pilot training programs and their later proliferation into criminal abuses in Guantanamo, Abu Graibh and elsewhere. An important piece of evidence of this trail was recently and for the first time re-published on the web
---
i
---
The Syrian Arab Army were handed a slight reprieve this week as infighting between 'rebel' terrorists groups broke out around the Damascus suburb and terrorist stronghold of East Ghouta yesterday, with clashes continuing through this afternoon.
A ballistic missile launched early Saturday by North Korea in defiance of international pressure and at a time of heightened regional tensions appears to have failed.
So, what we have here is Trump screaming about a guy who is out shooting at the target range with a busted gun!
Or...
Kim Jung-un ordered this test to fail, to defuse the situation without having to back down and lose face.
The James Martin Center for Nonproliferation Studies North Korea Missile Test Database is the first database to record flight tests of all missiles launched by North Korea capable of delivering a payload of at least 500 kilograms (1102.31 pounds) a distance of at least 300 kilometers (186.4 miles). The database captures advancements in North Korea's missile program by documenting all such tests since the first one occurred in April 1984, and will be routinely updated as events warrant.
The below map allows users to view North Korea's missile tests over a period of time, and to select by missile type, missile family, and the tests' results. Users can also view additional infographics and read expert analysis of the database.
*hyperlinks/videos live at source*
"Claim everything. Explain nothing. Deny everything." ~ Prescott Bush, 1966 (oligarch, father and grandfather of US Presidents)
"We're an empire now, and when we act, we create our own reality. And while you're studying that reality—judiciously, as you will—we'll act again, creating other new realities, which you can study too, and that's how things will sort out. We're history's actors…and you, all of you, will be left to just study what we do." ~ Three weeks before W. Bush's election for a second term in 2004, Senior Advisor and Deputy Chief of Staff, Karl Rove, chiding Pulitzer-winning journalist, Ron Suskind.
Among soooo many warnings of the fragility and rareness of freedom, on September 18, 1787, just after signing the US Constitution, Benjamin Franklin on what kind of government America would have:
»
President Donald Trump has racked up an historic amount of travel expenses in his first 100 days in office, by far surpassing the president who came before him.
Mr Trump has made a point of repeatedly visiting his private Mar-a-Lago resort and golf course, which he and his administration have referred to as the "winter White House," on the weekends.
---
---
Police in Texas believe that Coleman Martin, an officer with the Austin Police Department, staged his death and is alive in Mexico, officials said Friday.
The 29-year-old is now facing a Class A misdemeanor charge of "false report," according to a police department statement.
In an effort to make rocket parts recyclable, rather than jettisoning the costly components after each launch, California-based space company SpaceX is all set to make its first military launch on Sunday, April 30.
The launch will take place with a classified payload for the National Reconnaissance Office, which makes and operates spy satellites for the United States.
There is not a lot we can say for sure about ulcers other than they hurt… a lot! Medical professionals have prognosticated about the root cause of ulcers for years but have not settled on one. They have claimed ulcers are due to such things as stress, alcohol,
---
---
"If the powers in 1942 had acted against the death camps — and all that was needed was repeated bombing of the camps — had they acted then, they could have saved 4 million Jews and millions of other people," he said at the official state ceremony marking the start of the memorial day.
Note: Bomb the camps with the Jews in them! Yep is was all are fault once again. Can't please them.
The religion of "the Holocaust" is a secular one: it belongs to the lay world; it is profane; in actuality, it has at its disposal the secular arm, that is a temporal authority with dreaded power. It has its dogma, its commandments, its decrees, its prophets and its high priests. As one revisionist has observed, it has its circle of saints, male and female, amongst whom, for example, Saint Anne (Frank), Saint Simon (Wiesenthal) and Saint Elie (Wiesel). It has its holy places, its rituals and its pilgrimages. It has its sacred (and macabre) buildings and its relics ...
---
Do You Know What Happened Today In History?
---
April 28, 2017
Traumatic Brain Injury, or TBI, is a serious condition usually caused by an external blow to the head that can cause severe and often chronic symptoms. These symptoms can be cognitive, behavioral, movement related, speech and visual impairing, mood altering, involve painful headaches, and even cause gastrointestinal issues.
In a three-year retrospective review of 446 separate cases of similarly injured patients, researchers found traumatic brain injury (TBI) patients who had a history of cannabis consumption possessed increased survival rates compared to non-consumers (97.6 percent survived surgery, versus 88.5% of those who didn't consume cannabis).
"Our data suggest an important link between the presence of a positive THC screen and improved survival after TBI," the researchers concluded. "With continued research, more information will be uncovered regarding the therapeutic potential of THC, and further therapeutic interventions may be established."
Chinese Foreign Minister Wang Yi took a tough position on the North Korea issue on Wednesday, saying that war on the Korean Peninsula is absolutely unacceptable.
Wang made the remarks in a press conference after a Sino-German dialogue on cooperation with Sigmar Gabriel, the German vice-chancellor and foreign minister in Germany.
China has drawn a red line for the U.S., North Korea, and South Korea, that war on the Korean Peninsula is not allowed and that all consequences would be borne by the relevant countries should war break out.
China expressed its grave concern after parts of the THAAD system were moved to the deployment site in South Korea, which the U.S. claims is purely defensive. China Foreign Ministry said Wednesday that the deployment of THAAD breaks the strategic balance in the region and ratchets up the tension on the Korean Peninsula.
China strongly urged the U.S. and South Korea to cancel the deployment and withdraw the equipment, and sent a strong warning that China will take necessary actions to safeguard its own interests.
President Donald Trump said that he will either renegotiate or terminate a "horrible" trade deal with South Korea, Reuters reported late Thursday.
The president also said he wants South Korea to pay for the $1 billion THAAD missile defense system, Reuters said.
Responses to Trump's comments soon arose, with an official from South Korea's automakers association telling Reuters that the group is now concerned about "the uncertainty" of the free trade agreement.
Shares in Hyundai Motor fell as much as 2.4 percent following Trump's comments. South Korea's won turned weaker on the comments.
The US has successfully tested THAAD 12 times, but never used it in actual combat, which can play out much differently than controlled tests. "Things that work well at home on the test range don't always go as smoothly when deployed," Jonathan McDowell, an astrophysicist at the Harvard-Smithsonian Center for Astrophysics, told the Associated Press.
Another scientist, David Wright, co-director of the Union of Concerned Scientists' Global Security Program, said that a salvo of North Korean short-range missiles could overwhelm THAAD.
A Chinese military expert predicts drills ordered by Beijing to counter the threat of the THAAD will include a preemptive strike on the U.S.-built missile system, which is now based in South Korea.
The spacesuits NASA astronauts currently use on the International Space Station (ISS) -- known as Extravehicular Mobility Units (EMU) -- were developed more than 40 years ago and have far outlasted their original 15-year design life.
By: suman
Tags:
US Secretary of State Rex Tillerson warned on Friday that failure to curb North Korea`s nuclear and missile development could lead to `catastrophic consequences,` while China and Russia cautioned Washington against threatening military force.
By: suman
Tags:
Things haven't been going well at Fox News.
Bill O'Reilly, the face of Fox News, was pushed out after sexual harassment allegations.
Jesse Watters is in trouble for a comment he made about Ivanka Trump.
We all know how the Roger Ailes situation went down.
By: alexmark
Tags:
The Canadian housing market is popping their is already a bailout to save a mortgage company. Initial jobless claims inch up. Consumers are tapped out, credit defaults on the rise. P
By: ActivistPost
Tags:
You may have seen passing headlines that a caterpillar was recently discovered to "eat plastic." But take a look – there is more than meets the eye about the eco-fuzzy hooklines. The worldwide use of one trillion plastic bags each year is obviously causing a problem – especially for ocean life. Eighty million tons…
Up to two fifths of Americans describe themselves as Conservatives, and in England that number is roughly the same. The beliefs and principles that relate both the US and UK Conservatives are generally similar, yet any individual definition of what Conservatism means to each person who identifies as such would probably differ greatly. And of course, those who are not Conservative have a very different view as to what principles (if any) underlie its present incarnation.
By: malterwitty
Tags:
A US official said the missile blew up over land before it ever reached its target of the the Sea of Japan, also known as the East Sea. It landed around 35 miles kilometers from Pukchang airfield, CNN reports.
A US government source told Reuters the test-fire had failed.
The missile, thought to be a mid-range KN-17 ballistic missile, was fired from a location in the South Pyeongan province in the early hours of Saturday morning local time, according to South Korea's military chiefs of staff said, the BBC reports.
So far, there has been no comment on the failed test-fire from North Korea.
By: cyberknight
Tags:
The possibility of a military strike on North Korea has risen exponentially in the last 48 hours, with a series of startling revelations pointing to the very real possibility of a full-scale war with the rogue nuclear nation.
By: cyberknight
Tags:
Latest provocation turns into major embarrassment for Jong-un.
Today an opinion piece in The Telegraph attempts to liken Boycott Israel campaigns as Nazi's.
For starters, just look at this picture in the middle of the article – combined with the headline of the article that it's linking to.
The Massachusetts State Police Violent Fugitive Apprehension Section is searching for MARTIN B. SANTIAGO, 49
Russian President Vladimir Putin has revealed plans to expand Russia's military, and the additions could have serious implications for the rest of the world.
By: MTJ
Tags:
Members of President Donald Trump's team are having a hard time defending his new tax plan and, when asked directly if it will benefit the middle class, have exhibited a pattern of strategic avoidance.
With organizations like CAIR, ISNA, and MSA working to destroy America one man went undercover, as a fake convert, to bust open their plans. Hundreds of pages of documents, hundreds of hours of recordings. AMERICA you have been warned!
"North Korea fired an unidentified missile from a site in the vicinity of Bukchang in Pyeongannam-do (South Pyeongan Province) early this morning," Yonhap reported, quoting a statement issued by South Korea's military.
It's "ethically inappropriate" for government and medical organizations to describe breastfeeding as "natural"
Waffle House waitress-turned-UN-representative Nikki Haley is the brightest, rising star in international diplomacy.
Haley gave a memorable performance on CNN on Thursday, during which she decided to make up fake stuff that Russia never said about the humanitarian situation in Syria.
Alan Dershowitz, used to be my arch detractor. He chased, harassed and intimidated professors who endorsed my work. He campaigned against venues that hosted my music. Not that long ago Dershowitz saw me as Israel's most dangerous enemy. He even, at one stage, complained about my "obscure" sax playing.
He did it all in vain. Dershowitz has been bitterly defeated on each and every battle he picked against me. Not a single scholar surrendered to his pressure, not even one withdrew his or her endorsement of my work. They practically just laughed to his face. Not a single institution bowed to his pressure either as he himself admits. Dershowitz has now learned the lesson. The ethnic cleanser enthusiast has raised a white flag.
U.S. armored vehicles are deploying in areas in northern Syria along the tense border with Turkey, a few days after a Turkish airstrike that killed 20 U.S.-backed Kurdish fighters, a Syrian war monitor and Kurdish activists said Friday.
Footage posted by Syrian activists online showed a convoy of U.S. armored vehicles driving on a rural road in the village of Darbasiyah, a few hundred meters from the Turkish border. Clashes in the area were reported between Turkish and Kurdish forces Wednesday a day after the Turkish airstrike which also destroyed a Kurdish command headquarters.
From the location, it looks like the start of the carving a "safe zone" out of Syria!
Specifically, the head of the United Nations' team investigating the possible use of chemical warfare in Syria (Åke Sellström) wrote an email to MIT rocket scientist Ted Postol in 2014 stating:
Hexamine … is a product simple to get hold of and in no way conclusively points to the [Syrian] government.
In addition, hexamine found in samples may be derived from other sources for example, explosives.
President Donald Trump declared Friday that an "eight-year assault" on Second Amendment rights had come to a "crashing end" with his election. "No longer will federal agencies be coming after law-abiding gun owners. No longer will the government be trying to undermine your rights and freedoms as Americans," Trump said during his speech to the National Rifle Association in Atlanta. -- "Instead we will work with you by your side," he said.
A House committee has issued a referral for prosecution against the head of an IT firm that managed Hillary Clinton's private email server.
The referral against Treve Suazo, CEO of Platte River Networks, alleges that the company "flatly refused" to comply with subpoenas for documents related to their work on Clinton's server.
The committee is referring the matter to determine if the company head is guilty of obstruction of justice and making false statements.
We joke and kid with each other about bone-headed things but, when it comes to firearms, there's a lot of room to make mistakes you can never take back. I hope the officer is able to make a full recovery and, perhaps, it is time for some safety training in that department.
Before South Korea's conservative presidents severed ties with North Korea from 2008, their liberal predecessors Kim Dae-jung and Roh Moo-hyun promoted peaceful engagement and rapprochement, an approach called the "sunshine policy."
The name stemmed from an ancient Greek fable where the wind and the sun competed to remove a man's cloak. No matter how strongly the wind blew, the man only wrapped his cloak more tightly to keep warm. But when the sun shone, the warmth made him take his cloak off. The wind symbolized unsuccessful coercive policies toward North Korea and the sun stood for an approach able to persuade North Korea to take off its anachronistic and uncomfortable cloak, changing at last.
»
Tags:
We need to encourage honesty above optimism. Once we can speak honestly, there is a foundation for optimism.
Psychoanalysis teaches that one cause of depression is repressed anger.
The rising tide of collective anger is visible in many places: road rage, violent street clashes between groups seething for a fight, the destruction of friendships for holding the "incorrect" ideological views, and so on. I Think We Can Safely Say The American Culture War Has Been Taken As Far As It Can Go.
Moscow tells UN Security Council meeting that any military action to address nuclear proliferation by Pyongyang could have catastrophic consequences.
Russia on Friday warned at the United Nations that military options to address the threat from North Korea's nuclear and ballistic programs were "completely unacceptable" and would have "catastrophic consequences."
Russian Deputy Foreign Minister Gennady Gatilov told the Security Council that China's proposals to restart talks with North Korea should be seriously examined and that sanctions alone would not work.
North Korea "is conducting itself in an inappropriate way," Gatilov told the council. "At the same time, options of using force are completely unacceptable and could lead to catastrophic consequences."
As reported by reuters this morning:
U.S. Secretary of State Rex Tillerson warned on Friday that failure to curb North Korea's nuclear and missile abilities could lead to 'catastrophic consequences,' while China and Russia cautioned Washington against threatening military force to solve the problem. While Washington has pressed Beijing to rein in its ally Pyongyang, Chinese Foreign Minister Wang Yi told the U.N. Security Council that "the key to solving the nuclear issue on the peninsula does not lie in the hands of the Chinese side." Tillerson urged the 15-member body to act before North Korea does and called on states to sever diplomatic and financial ties with Pyongyang. He said that because China accounted for 90 percent of North Korean trade, its role was particularly important. "Failing to act now on the most pressing security issue in the world may bring catastrophic consequences," Tillerson said in his first remarks to the council as secretary of state. The United States was not pushing for regime change and preferred a negotiated solution, but Pyongyang, for its own sake, should dismantle its nuclear and missile programs, he said. "The threat of a nuclear attack on Seoul, or Tokyo, is real, and it's only a matter of time before North Korea develops the capability to strike the U.S. mainland," Tillerson said. While Tillerson repeated the Trump administration's position that all options are on the table if Pyongyang persists with its nuclear and missile development, Yi said military threats would not help.
The question is, with the South Korean elections just a little over a week away, and one of the front-runners being an avowed advocate of the "Sunshine Policy", which promotes engagement with North Korea, just how long will the US give the UN Security Council to vote for these sanctions they are demanding, with a sure and certain knowledge that Russia and China will either abstain, or vote no?!?
The Security Council process can be glacial.
Accompanying the Vinson, which is en route from the Philippine Sea south of Japan, are the destroyers USS Wayne E. Meyer and USS Michael Murphy and the Ticonderoga-class guided-missile cruiser USS Lake Champlain. They aren't equipped with the version of the Aegis surveillance system made by Lockheed Martin Corp. that can track long-range ballistic missiles or Raytheon Co.'s SM-3 interceptors that are capable of bringing down medium and longer-range ballistic missiles.
The remarks come as South Korea heads into a presidential election that will likely elect liberal front-runner Moon Jae-in, who has said the next administration in Seoul should have the final say on the deployment of THAAD. Moon's campaign office said the deployment of THAAD should be immediately suspended until then.
"This almost certainly will become another self-inflicted wound for the alliance and for U.S. foreign policy," said Daniel Pinkston, a Troy University professor and expert on North and South Korea based in Seoul.
Moon, who said in a book published in January that South Korea should learn to "say no to Americans", is leading polls by a wide margin ahead of South Korea's May 9 election to replace impeached former President Park Geun-hye, whose government agreed with Washington last year to deploy THAAD.
Secretary of State Rex Tillerson called Friday for tougher sanctions — aimed mainly at China and other countries that continue to trade with North Korea — as a way to pressure Pyongyang to dismantle its nuclear program.
Tillerson, who chaired a special meeting of the United Nations Security Council, said the U.S. prefers a diplomatic solution. However, he stressed the U.S. reserves the option of military action to counteract North Korean aggression if necessary.
The body language tells a lot. Tillerson isn't doing any better here than he was with the meeting with the Senators!
Tillerson made two statements I wish to respond to.
Tillerson claimed that North Korea is pushing the world towards conflict. How many nations as the United States attacked in the last 16 years? Same question for North Korea.
2. Tillerson claims North Korea doe snot need nuclear weapons. Again, how many nations as the United States attacked in the last 16 years? How many of them had nuclear weapons with which to deter attack?
As the opposition and the government clash in the streets of Caracas, Venezuelans have reverted to survival mode. Early elections demanded
The latest wave of protests was triggered by a Supreme Court decision on 29 March to take over powers from the opposition-controlled National Assembly. The national government, through the central bank, is going to try to swap gold held as reserves for dollars to stay in power unconstitutionally," said one letter sent Thursday to John Cryan, the CEO of Deutsche Bank. "I have the obligation to warn you that by supporting such a gold swap you would be taking actions favoring a government that's been recognized as dictatorial by the international community."
The Maryland parents who came under fire for making videos of themselves pulling pranks -- which critics say are gratuitously cruel -- on their children say they are "ashamed" by their behavior and described the videos as being just for "shock value."
The U.S. economy grew at its weakest pace in three years in the first quarter as consumer spending barely increased and businesses invested less on inventories, in a potential setback to President Donald Trump's promise to boost growth.
It will take military force to stop North Korea's nuclear weapons program, a majority of voters believe -- and they tend to favor the U.S. taking that action.
That's according to the latest national Fox News Poll of registered voters.
Fifty-one percent say that U.S. military action will be required to keep the rogue nation from continuing its nuclear weapons program, while 36 percent think diplomacy alone can stop it.
By a 53-39 percent margin, voters favor the U.S. using military force to keep North Korea from making further advancements on nukes.
ARE YOU FLIPPING KIDDING ME, understanding the horrific loss of life such an attack would create, on both sides?!?
Either FAUX news was "push-polling", i.e., working through zip codes where they knew what the general answer would be before they conducted the poll, or they were polling the criminally insane!!
No thinking person I know believes that a US military "solution" should be employed, not one!!
In America, telling the truth has become more dangerous than ever … even deadly to one's career. "It comes at a high cost that hardly any can afford." Why have we allowed a tiny handful of neoconservatives to destroy multiple Middle Eastern countries, along with whatever civil liberties we once had in America? Neoconservatives are a tiny number of people. No more than a dozen are of any consequence. Yet they have used America to murder millions. And now they are fomenting war with Russia, China, Iran, and North Korea. The world would never survive such a war. Are Americans so insouciant that they will stand aside while a dozen neoconservatives destroy the world?
I can't think of any sneakier and more crooked US Presidents than Barack Obama and Bill Clinton. One of the most sickening tricks they used was hiding agendas and declaring "national monuments" so Republicans couldn't stop them. Well, President Donald Trump just put an end to that…
Nation contributing editor Stephen F. Cohen and John Batchelor continue their weekly discussions of the new US-Russian Cold War. (Previous installments, now in their fourth year, are at TheNation.com). This installment expands upon last week's, which focused on several highly questionable Washington narratives that imply the necessity of war with Russia. When later asked which of these allegations was the most dangerous, Cohen responds, in this installment, that their number is increasing and with them the risk of war. He itemizes the Cold War narratives, or allegations, now propounded by the US political-media establishment:
The "blame Russia for everything not going right for American geopolitics" is both disingenuous in the extreme, and completely, utterly wrong.
But just because something is the most pig-headedly, ham-fistedly stupid thing the US government could possibly do, unfortunately, is utterly no guarantee that the US government won't do it.
And a war with Russia right now would be idiotically suicidal for the American government to do, and I say this as someone who cares very much about the future of her country.
The reasons are painfully obvious; right now, the US military doesn't have the troop strength; the weaponry; the money; or the manufacturing to insure a positive outcome to a conventional war against Russia.
And secondly, Americans have become very war-weary, and war-skeptical, in evaluating the horrific messes the US military has left in places like Afghanistan; Iraq; Somalia; and Libya.
And that fact that Americans understand, incontrovertibly, that they were lied to in order to start the wars in Iraq and Afghanistan, means that they can never, ever trust anything agents of the US government say ever again.
So to all those who seem to have gone foaming-at-the-mouth, barking-dog mad, in terms of both government officials and their presstitutes, attempting to "sell" your Russophobia, a word, please; you have utterly flushed your credibility with your lies, and have therefore become completely irrelevant in terms of moving the American geopolitical process forward.
While consumer drones get the splashy and sometimes overblown headlines, the technology is quickly being embraced by cities across the United States for applications ranging from firefighting to search and rescue. Departments are already repurposing off-the-shelf drones to aid in a variety of situations.
The April 13 strike by US forces in eastern Afghanistan saw the first deployment of the MOAB, the Mother of All Bombs, in a combat situation, dropped against ISIS forces in tunnels. The 22,000 lb pound was much vaunted for its huge size, the biggest non-nuclear weapon in the US arsenal, and presented as a "message" to other nations.
The reality, not so much. Locals report that the MOAB did way less damage than you'd think, noting that there were green trees still standing 100 meters from the center of the blast, with no sign of damage, and that the tunnels the ISIS fighters were within appear all but untouched.
The Bulgarian newspaper "Trud" published a report on April 21, 2017 about an investigation into the supply of Bulgarian weapons to the terrorists in Syria, shipped through Saudi Arabia.
In early April, ship so called "Marianne Danica" arrived the biggest port of Saudi Arabia in Jeddah under the flag of Denmark, after it left the port of Burgas on March 28th, loaded with tons of weapons.
According to the newspaper, the ship was listed as transporting dangerous cargo – "Hazard A" (Major), which refers to the transport of explosives and weapons. After 8 hours dangerous cargo is unloaded at the port of Jeddah and the ship sails back to Bourgas. The weapons were not intended for Saudi Arabia, as Saudi army are only equipped almost exclusively with US and UK weaponry.
Tags:
A screen grab of a Facebook notice has gone viral for the most hilarious of reasons.
Posted on Reddit, the screen grab shows a typical Facebook alert page where the site claims a user violated its "community standards" with a photo.
The notice did, however, tell the user that if he thought the photo shouldn't have been removed, he can supply them with more information.
So, he did. "She identifies as a man, so technically her nipples should be acceptable on this page," the user replied.
Following the message, Facebook apologized for the inconvenience and restored the photo. Wow.
Having blasted the Trump administration for their hyprocritical flip-flop from "loving WikiLeaks" to "arrest Assange," Ron Paul made his feelings very clear on what this signals: "If we allow this president to declare war on those who tell the truth, we have only ourselves to blame." Today he sits down with WikiLeaks founder Julian Assange for a live interview…
AWARD-WINNING JOURNALIST Barrett Brown was re-arrested and taken into custody Thursday, the day before he was scheduled to be interviewed for a PBS documentary.
Brown quickly became a symbol of the attack on press freedom after he was arrested in 2012 for reporting he did on the hacked emails of intelligence-contracting firms. Brown wrote about hacked emails that showed the firm Stratfor spying on activists on behalf of corporations. Brown also helped uncover a proposal by intelligence contractors to hack and smear WikiLeaks defenders and progressive activists.
Faced with the possibility of 100 years in prison, Brown pleaded guilty in 2014 to two charges related to obstruction of justice and threatening an FBI agent, and was sentenced to five years and 3 months. In 2016, Brown won a National Magazine Award for his scathing and often hilarious columns in The Intercept, which focused on his life in prison. He was released in November.
This is an absolute moral outrage, and I hope that the intercept keeps the unblinking eye of the net on this case until Brown is released.
IF the Federal BOP actually HAS a policy on interviews, post-incarceration, I was certainly unable to find it on the web; and I am not precisely a slouch at research.
Ninety-nine days after taking office, President Donald Trump on Friday is set to address the National Rifle Association, the hugely powerful US gun lobby that will surely give him a triumphant welcome.
No. It couldn't be. It's unbelievable. It's too insane. Nobody could get away with a crime like this.
But it's true. And the Clintons have gotten away with it.
She's staggering toward her goal, the US Presidency.
He already was the President.
So…what is the uranium scandal?
The what??
Oh, the irony! If Paul Craig Roberts is right, and a nuclear exchange with Russia happens, some of our cities might be destroyed with the very uranium the Clintons provided Russia with!
U.S. President Donald Trump on Thursday spurned the Taiwanese president's suggestion that the two leaders hold another phone call, saying he did not want to create problems for Chinese President Xi Jinping when Beijing appears to be helping efforts to rein in North Korea.
By: dawson
Tags:
Al Qaeda's airforce strikes again in Syria. We have a new Syrian War update over on Patreeon, an hour long podcast radio interview covering a large manner of things, reports on North Korea, a podcast with Jaoquin Flores on the French Elections, A New Bill Nye to the Woodshed 2, a New Dont Israel my X video, and more it's worth a dollar! Two more podcast will be recorded in the morning, one on how North Korea avoids sanctions, and one on 911. Join now
https://www.patreon.com/ryandawson
The steadily spreading Hajime IoT worm fights the Mirai botnet for control of easy-to-hack IoT products. The malware is billed as a vigilante-style internet clean-up operation but it might easily be abused as a resource for cyber-attacks, hence a growing concern among security watchers.
Hajime, like Mirai before it, takes advantage of factory-set (default) username and password combinations to brute-force its way into unsecured devices with open Telnet ports.
After weeks of speculation that a US attack on North Korea could be imminent, Secretary of State Rex Tillerson, who played a substantial role in the rhetoric that fueled that belief, sought to play down the idea of an immediate attack, saying that the US is willing to be patient and will not strike so long as the threat is considered "manageable."
This is in stark contrast to official statements in the past month, with Tillerson having declared diplomacy to have failed, and Vice President Mike Pence having declared the era of patience "over" weeks ago. The US continues to add warships, and anti-missile systems to the theater of operations too, with the Pentagon having just warned Congress of the potential for large-scale consequences for a new Korean War.
Secretary of State Tillerson, a word, please: what does "manageable" even mean in the context of North Korea?!?
I don't think that Tillerson's comments, coupled with the statements of Pacific Commander Admiral Harry Harris on this issue, are any kind of "deliberate ambiguity"; I think this sharp, and painfully clear, difference of opinion on the path forward, demonstrates a very schizophrenic split in the American Deep State as to how to go about getting North Korea to do what the US government wants it do do.
And that is a very dangerous state of affairs for American foreign policy toward North Korea.
Kali's a favourite for white hats, but that doesn't stop black hats guys from using it too
The Cancer Drugs Fund in England was a "huge waste of money" and may have caused patients to suffer unnecessarily from the side effects of the drugs, according to UK researchers.
The fund ran from 2010 to 2016, costing £1.27bn, following an election promise made by the Conservatives to pay for cancer drugs the NHS was not funding.
The researchers found only one in five of the treatments was of benefit.
According to a source familiar with the situation, Syrian government forces have regained control over the country's biggest gas field, the Shaer gas reservoir northwest of Palmyra from the Daesh terrorist group.
Western countries have lost over $100 billion over three years from the sanctions applied against Russia over the Ukrainian crisis, compared with up to $55 billion lost by Russia, UN Special Rapporteur on the negative impact of the unilateral coercive measures Idriss Jazairy said Friday.
"The sanctioning countries lose more income from sanctions than the targeted country over $100 against $50-$55 billion. The loss of income of Russia from the sanctions, a very rough rule of thumb to apply would be to say that the GDP of Russia has lost about 1 percent as a result of sanctions. Since the GDP of Russia is about $1.7 trillion, the GDP loss of income over three years is about between $50-$55 billion," Jazairy said during a press conference.
In order to save the Minsk Agreements which she was so instrumental in bringing about, the German Chancellor needs to change her position and put pressure on Kiev to fulfil its obligations, Alexander Rahr, director of the German-Russian Forum, told Sputnik Deutschland.
By: malterwitty
Tags:
US President Donald Trump is expected to sign an executive order on Friday which could lead to the expansion of drilling in the US Arctic and Atlantic oceans. It is part of Trump's campaign promise to boost domestic energy production.
The latest UN report on civilian deaths in Afghanistan showed a dramatic 54% increase in the number of women killed in the first quarter of 2017 over the same period in the previous year, alongside a 17% rise in the number of children killed. The deaths cover "conflict-related" fatalities.
Women and children are both are growing amount of the overall casualties of the Afghan War, and the UN expressed particular concern about the lack of effort to ensure protection for civilians among the various combatants, given that "fighting season" is fast approaching.
With little infrastructure,, Afghanistan's war tends to quiet down somewhat during the winter, with a lot of areas of the country impassable. This tends to lead to a "spring offensive" which marks the official start of fighting season after the thaw, with casualties rising significantly nationwide.
The spring battles will most likely see an uptick in the deaths of women and children.
IF the NATO high command and the US government and military had a brain cell to rub together between them, they would bring their troops out of that accursed country as quickly as safely possible, then negotiate with whatever government was left standing in Kabul for the oil pipeline and mineral rights.
Of course, THAT...would be logical.
The Syrian army advanced in new areas in al-Qaboun district by continued military operations against al-Nusra Front (also known as Fatah al-Sham Front or the Levant Liberation Board) in Eastern Damascus.
By: malterwitty
Tags:
Montenegro's parliament has formally agreed for the country to join NATO – the military bloc that pounded the tiny Balkan country with bombs less than 20 years ago during the Kosovo War. The decision sparked protest among the population and opposition figures.
On Friday, Montenegrin MPs voted 46-0 to become the 29th member of NATO.
Opposition lawmakers boycotted the parliamentary session, while hundreds of protesters gathered outside the parliament building before the vote to express their discontent with the idea of Montenegro joining the alliance.
By: jrohio2
Tags:
(LANGUAGE WARNING) Gavin McInnes tries to make sense of Antifa's "reasons"
Tags:
Polls in the French presidential race are tightening as Emmanuel Macron's campaign gets off to a lacklustre start and more voters come out in support of Marine Le Pen.
According to a new poll from Opinionway-Orpi released Thursday, the gap is narrowing between pro-globalist presidential candidate Macron and rival Le Pen, with Macron losing two percentage points in just two days, L'Express reports.
Macron dropped below 60 per cent to 59 per cent, with Le Pen at 41 per cent. The survey was carried out multiple times since February and Le Pen has only crossed the symbolic 40 per cent mark twice.
In the first polling after they had made it through to the second round, the En Marche! candidate had polled at 65 per cent of voting intentions, compared with 35 per cent for Le Pen.
Now, Amazon apparently believes ignorant consumers desire to exist in an Orwellian, totalitarian society where dangerous corporations run cameras that watch them poop, pee, sing horribly, have kinky gay sex, cross dress, snort lines of coke, masturbate or whatever else twisted people do in the privacy of their homes. Don't get me wrong on all this, by the way: As far as I'm concerned, you are free to do whatever you want in your own bathroom… but if you are stupid enough to install an Amazon.com camera that watches you do all these things, you are just begging to have all your surreptitious photos and videos blasted all across the 'net following an Amazon.com server hack.
By: ChrisMenahan
Tags:
An anti-fascist protester was arrested on Thursday at UC Berkeley for refusing to remove a surgical mask.
Has President Donald Trump outsourced foreign policy to the generals?
So it would seem. Candidate Trump held out his hand to Vladimir Putin. He rejected further U.S. intervention in Syria other than to smash ISIS.
He spoke of getting out and staying out of the misbegotten Middle East wars into which Presidents Bush II and Obama had plunged the country.
President Trump's seeming renunciation of an anti-interventionist foreign policy is the great surprise of the first 100 days, and the most ominous. For any new war could vitiate the Trump mandate and consume his presidency.
In the midst of complaining about the Islamist threat to Israel and the world, Bibi Netanyahu conveniently forgets that his own country enjoys a tacit alliance with the Islamic State (IS) in Syria.
It is an alliance of convenience to be sure and one that's not boasted about by either party. But is not terribly different from one that Israel enjoys with its other Muslim allies like Egypt, Saudi Arabia and the Gulf states.
Some of the independent news websites included in GoodGopher:
NaturalNews.com
NewsTarget.com
TruthStreamMedia.com
ActivistPost.com
TruthWiki.org
TheBlaze.com
Twitchy.com
LewRockwell.com
PoliticalTracker.com
OffGridSurvival.com
TenthAmendmentCenter.com
TheEconomicCollapseBlog.com
Breitbart.com
Infowars.com
Trump.news
WashingtonTimes.com
GrassrootsLiberty.com
FreedomWorks.org
TheLibertyBeacon.com
IntelliHub.com
SurvivalBlog.com
TheDailySheeple.com
TrueActivist.com
WesternJournalism.com
ProNewsOnLine
DrudgeReport.com
FukushimaWatch.com
GovtSlaves.info
TheSleuthJournal.com
EyeOpening.info
LibertyBlitzkrieg.com
NoMoreFakeNews.com
NutritionalAnarchy.com
RightSideNews.com
WhatReallyHappened.com
Good Gopher is the only search engine that completely bypasses the systematic censorship of the truth that's currently undertaken by Google, Facebook, Wikipedia and other sources of corporate-controlled disinformation. It's the premier tool for finding independent information and news on liberty, natural healing, central banks, food freedom, advanced science and a multitude of other vital topics

.