UK church to show Monty Python's religious satire 'Life of Brian'
Published time: 29 May, 2016 04:27
ProNewsOnLine
A UK church plans to show the Monty Python film which was either banned or X-rated by 39 of Britain's localities back in 1979. While back then it was considered "blasphemous" many in now seem to stand in favor of the "new age" move, RT's Polly Boiko reports.
"I don't think it's anti-Christian at all... It does poke some fun at aspects of the church or ways in which the church can develop and, well, we laugh at it. Jesus talked about people swallow a camel and strain out on that which is really Python humor and I suspect it's a bit along those lines, really," 56-year-old Father Christopher Wilson of the All Saints' Parish Church told Boiko.
The idea came to Wilson when he decided to attract a new audience to his church, to help with donations for necessary building repair works, and decided to indulge a spot of counter-programing.
The plot of the spoof film closely mirrors major events in the New Testament, including the Sermon on the Mount and the Crucifixion, but places a hapless protagonist Brian – who is mistakenly thought to be the messiah by the gullible masses – in place of Jesus.
By showcasing the movie the vicar hopes to break the myth of those people who view the church a "distant" place, he said.
"I think what we're doing is breaking a taboo, breaking down a barrier…That's a good thing really because a lot of people see the church as a bit distant and a bit stand-off-ish and even if they have spirituality within them they don't always look to the church as being the place to express that and we need to grade that down…you know, we laugh at the same sort of things," Wilson told Boiko.
"We would like to meet people in the town and we would like them to understand that the Parish church is there for them as well."
The opinions of the church's visitors somewhat echo that of Wilson. Many say that the comedy is in no way blasphemous and it is "not an issue" at all to show it in the church headquarters.
"I'm absolutely delighted that this is happening," one visitor told RT.
"I'm not outraged but I'm surprised that this particular film is being shown in a church. At the time it was very controversial because it's all about Christ and it's very reverent but they don't seem to mind…" said another.
"I don't think it's really is an issue today," explained a third visitor. "They were just misunderstood at the time. I don't think anyone is concerned about it now."
The vicar also said that his decision to show the comedy did not cause much of an outrage.
"I have had one letter of complaint, two emails of complaint and somebody has put a comment on Facebook. I've also had overwhelming support from all sorts of people. So for the vast majority of people it is not an issue at all," Wilson said.
But not everyone is going along with the maverick Church of England vicar. An activist in front of the church told RT's Polly Boiko that he came there to convince people that the "might either stop going in or think of what they are doing and think of it as mockery."
"I know they need a lot of money for the church," he said, criticizing the vicar's choice. "But I think if you really know God and your worship God, and should fill your church by preaching the true gospel."
"Why on earth would a church be an appropriate venue to show an essentially anti-Christian film that is offensive to the Christian faith? I support freedom of speech and people's rights to view certain films, but why not screen it in a cinema?" John Ascott from Leamington Spa told the Telegraph. "There must be better ways to encourage people to attend church than to show a film which is, in essence, making fun of the entire Christian faith and story of Jesus."
The screening, which is penciled in for next month, will happen alongside a concert in which an organist will play Madonna's Like a Prayer, Heaven Knows I'm Miserable Now and Vicar in a Tutu by The Smiths, and Meatloaf's Bat out of Hell, together other songs that have attracted censure from the church.
There will also be an impromptu bar serving alcohol.
The worldwide controversy unleashed by life of Brian 37 years ago, would easily put recent brouhaha over Innocence of Muslims in the shade, and sparked public discussion comparable to Charlie Hebdo's cartoons.
Despite being virtually banned by dozens of UK authorities, it was a huge hit in the country. Public showings were also forbidden in Norway and Ireland, as well as dozens of more conservative countries.
'We won't allow Israeli presence': Abbas wants NATO to replace IDF in West Bank
Published time: 29 May, 2016 04:53
© Mohamad Torokman / Reuters
Palestinian leaders want NATO to substitute IDF forces in the West Bank as part of any sustainable peace deal and a two-state solution with Israel. France is mounting up international support to hold a conference after US-led negotiations collapsed.
"Now we talk about the French initiative... Its purpose must be to implement the visions of both states, based on the border agreement of 1967 and the capital of the Palestinian state being eastern Jerusalem, so that both countries can live side by side, in safety, stability and peace – if Israel wishes to seek peace," Palestinian President Mahmoud Abbas said in a speech at a meeting of foreign ministers at the Arab League.
Throughout the previous peace negotiations and to this day the Palestinian Authority insists that the West Bank must be a part of their sovereign nation, and that the presence of Israeli military control is a violation of their right to rule. While the United Nations calls the West Bank and Gaza Strip Israeli-occupied territories, Israel considers them disputed.
The idea of introducing NATO forces in the Middle East country has beenvoiced by Abbas before during the last peace negotiations. The original idea was for the IDF to remain in the Palestinian state for a transitional period of five years after which the Israeli forces could be replaced by NATO forces along with Palestinian Arab police and security units.
Tel Aviv argues that it keeps its IDF forces in West Bank to protect themselves from the perceived threat of "Palestinian terrorism." To solidify their claims, in addition to military presence, Israel has been building settlements in the West Bank and East Jerusalem, and on a number of occasions refusing to negotiate the status of Jerusalem.
On Saturday, Abbas presented conditions that will most likely be rejected by Israel. Besides insisting that East Jerusalem would be the capital of Palestine, Abbas also rejected the notion of recognizing Israel as a Jewish state.
"We have previously recognized the state of Israel but we will not accept or recognize the terms of a Jewish state. We demand a Palestinian state on Palestinian lands and we will not allow any Israeli presence inside Palestinian territory," President Abbas said.
At the same time Abbas said that there is a slight room for negotiations on land boundaries.
"When we need to demarcate these borders, we will be prepared to accept a slight exchange of territory," he told the Arab ministers.
Recognition of Israel as the Jewish state, and proclaiming the entire Jerusalem as its capital have been the main cornerstones of Israel's position in negotiating a two-state solution with Palestine. Demilitarized Palestine with the IDF military presence in the West Bank have also been the points of the contention in the negotiations.
Last month the Palestinians welcomed France's initiative to hold an international conference aimed at kick-starting a new round of peace talks after the two sides failed to reach an agreement in April 2014. But Prime Minister Netanyahu rejected the French initiative, saying the "best way to resolve the conflict between Israel and Palestinians is through direct, bilateral negotiations."
Representatives of some 20 countries, including US, Egypt, and Saudi Arabia and Jordan, will attend the French-backed ministerial meeting on the topic next week. Israel and the Palestine will not take part in the conference. The French hope to convene a full blown international conference in the autumn, with Israelis and Palestinians in attendance.
'Blood on your hands': Protesters demand 'Justice for Akai' in Brooklyn (PHOTOS, VIDEO)
Published time: 29 May, 2016 07:16
Dozens of protesters joined the "Justice for Akai" rally in New York to protest the ruling of Brooklyn Supreme Court Justice Denny Chun's not to charge a former NYPD cop of manslaughter of an African American.
African-American Akai Gurley, 28, was fatally shot by an NYPD officer, Peter Liang, on November 20, 2014, in Brooklyn at the height of the Black Lives Matter protests, as police were patrolling the stairwells in New York City Housing Authority (NYCHA)'s houses.
The shooting was declared an accidental discharge after the investigation determined that the bullet that killed the black man ricocheted off the wall and hit the victim's chest. In February 2015, Liang was indicted by a grand jury of manslaughter and a year later was found guilty of the charge.
However in late March, the prosecuting District Attorney, Kenneth P. Thompson, recommended to Judge Danny Chun that Liang serve only house arrest and community service. On April 19, 2016, Brooklyn Supreme Court Justice Danny Chun sentenced Peter Liang to five years of probation and 800 hours community service, after downgrading his manslaughter conviction to criminally negligent homicide.
The decision by Chung and recommendation by Thompson sparked an outrage in the African American community. On Saturday, protesters held another rally demanding "Justice for Akai".
Protesters shouted slogans and held a banner reading: "#ByeKen, blood on your hands," in reference to Thompson's recommendation, as they gathered in Brooklyn. Activists also held bloodied pieces of cloth with "Danny Chun,""Ken Thompson," and "Peter Liang" written on them.
"It's a dagger," Hertencia Petersen, Gurley's aunt, told Brooklyn's Channel 12 news. "We figured, OK, maybe we will get some type of justice, we did not get anything."
17 dead in Ukrainian elderly home fire (PHOTOS)
Published time: 29 May, 2016 09:27
© Mykola Chechotkin / Facebook
According to local media, 35 people were inside the private two-story building, in the village of Letochki, some 50km from the Ukrainian capital.
READ MORE: Poroshenko appoints former NATO chief Rasmussen 'non-staff adviser'
© Mykola Chechotkin / Facebook
The fire department was notified around 3:48am Sunday morning. The flames had engulfed the entire building by the time they arrived, but they managed to bring 18 people to safety, five of whom had sustained burns.
According to ONLINE.UA, the fire required 75 firefighters and 15 pieces of equipment to subdue.
© Mykola Chechotkin / Facebook
Photos taken at the scene depicted the building. Inside only the brick structure remained, and the rest reduced to a heap of coal and ashes.
A working group was put together to investigate the circumstances of the fire. It emerged after the fire that the establishment was being operated illegally. Authorities are investigating whether the blaze was caused by an exploding TV.
First arrest made in Brazil over gang rape of teenage girl
Published time: 29 May, 2016 09:27
Demonstrators attend a protest against rape and violence against women in Rio de Janeiro, Brazil, May 27, 2016. © Ricardo Moraes / Reuters
Police in Brazil reported arresting the first suspect in a high profile gang rape case, which has rocked the Latin American country. The 16-year-old victim said more than 30 men assaulted her.
The arrest on Saturday came as military police were deployed to search for four of the alleged rapists, which investigators managed to identify. Her boyfriend was one of the people on the wanted list, but the police didn't specify who was arrested.
The alleged crime, which reportedly happened last weekend in the poor São João neighborhood of Rio de Janeiro, sparked nationwide outrage after photos and video of the unconscious naked teenager were posted on social media this week and attracted misogynistic comments.
Brazil's Interim President Michel Temer pledged to form a federal police unit, which would deal with violence against women. He chaired an emergency meeting of the security ministers for each of Brazil's states to discuss gender-related crimes.
Dilma Rousseff, Brazil's first female president, who was impeached last month, expressed outrage over the alleged rape case on Facebook.
"Once more I reiterate my condemnation of violence against women," she wrote.
Hundreds of protesters marched the streets of Rio on Friday to decry what they call an endemic culture of rape in Brazil. They were waving banners that read slogans such as: "Machismo Kills" and "No means no."
The victim told the police that she went to her boyfriend's house and lost consciousness only to wake up surrounded by more than 30 men. Before the video surfaced on Twitter she didn't report the crime. In a brief comment to a local newspaper she said she was afraid of being blamed for the rape.
She said: "It's the stigma that hurts me the most. It is as if people are saying: 'It's her fault. She was using scanty clothes.' I want people to know that it is not the woman's fault. You can't blame a robbery victim for being robbed."
In a message posted on Facebook, she thanked people for the support she had received and added: "I really thought I was going to be badly judged."
Outrage as Dutch authorities give up to €10k to refugees to 'go shopping'
Published time: 29 May, 2016 09:27
© Marko Djurica / Reuters
Some Dutch residents are outraged after finding out that a few cities have been offering as much as €10,000 to refugees to buy furniture and other necessities, local media reported.
Asylum seekers who get allocated to certain towns in the Netherlands may get as much as €10,000 to buy furniture for their homes, according to research carried out by the daily Brabants Dagblad (BD).
Talking to the local authorities, Brabants Dagblad found the sum of money varies in different municipalities.
While Oisterwijk, South Netherlands offers as much as €10,602 for a family with two children, in other cities, such as Bernheze, Schijndel Veghel and Sint-Michielsgestel the same family may receive around €3,500. Boekel offers the smallest amount of €2,200.
BD also said that some cities require refugees to pay the sum back, while others, such as the most generous Oisterwijk consider the money "a gift."
Leader of the right-wing populist Party for Freedom (PVV), Geert Wilders said the whole situation is "discrimination" against Dutch residents, urging Dutch Deputy Prime Minister Lodewijk Asscher and the public prosecutor to address the issue.
"Hey Asscher and Public Prosecutor, why don't you address this discrimination? For a 'refugee' but not for the Dutch?" he tweeted.
On social media many slammed the government calling its decision "ridiculous" and "idiotic."
"What a terrible signal to those people ... free this free that," one user said on Twitter.
Oisterwijk in particular faced criticism for "playing Santa Claus" to refugees while some of its residents are living below the poverty line, according to comments.
The BD report cited several charities as saying that €2,000 were a reasonable sum for a family to get on its feet in the Netherlands. An IKEA spokesman estimated that with €10,000 euros one could buy plenty of nice furniture at the shop.
Cincinnati Zoo gorilla killed after 4yo kid falls into exhibit moat (VIDEO)
Published time: 29 May, 2016 09:45
Gorilla Harambe © The Cincinnati Zoo & Botanical Garden / YouTube
A male gorilla in the Cincinnati Zoo was killed after a 4-year-old boy fell into the exhibit moat. The Red List animal, who turned 17 just a day before, picked the boy up and dragged him before being put down by zoo keepers out of safety concerns.
The incident took place at the Cincinnati Zoo & Botanical Garden on Saturday when the boy climbed through a public barrier at Gorilla World section and fell into the moat, the zoo said in a statement.
There were three gorillas at the area at the time – two females and one male, a western lowland gorilla called Harambe, who had turned 17 only a day earlier. The females were recalled immediately, but Harambe stayed in the yard with the child.
The 181-kg gorilla picked the boy up, as the video showed, and dragged him for at least 10 minutes.
READ MORE: 2 lions killed in Chile zoo as they maul naked suicidal man
Zoo Director Thane Maynard said the animal didn't appear to be attacking the boy, but he said it was "an extremely strong" animal in an agitated situation, according to AP reports. Tranquilizing Harambe wouldn't have knocked him out immediately and the boy might have been in danger, added Maynard.
The Zoo's Dangerous Animal Response Team "responded to the life-threatening situation and made the difficult decision to dispatch the gorilla," the zoo said.
"The Zoo security team's quick response saved the child's life. We are all devastated that this tragic accident resulted in the death of a critically-endangered gorilla," Maynard said later in a statement. "This is a huge loss for the Zoo family and the gorilla population worldwide."
The boy was sent to the near-by hospital with non-threatening injuries, KPNX channel reported.
The Gorilla world section is closed until further notice.
Harambe was born at the Gladys Porter Zoo in Brownsville, Texas, and was transported to the Cincinnati Zoo in 2014. Gorillas live 30-50 years, so Harambe was a young gorilla and the zoo hoped to use him for breeding.
He was the representative of western lowland gorillas who are considered critically endangered species. It means that they are facing a very high risk of extinction in the wild and belong to the highest risk category assigned by the IUCN Red List for wild species.
Social media mourned the death of the animal, with Facebook posts saying "terrible loss," "RIP big fella," "So sad. Such a beautiful animal" and "I'll miss you so much!!"
All scientific papers will be accessible for free by 2020, EU announces
Published time: 29 May, 2016 11:18
© Stefan Wermuth / Reuters
In an unprecedented move, European science authorities have announced that all online research papers shall be made free by 2020. The measure will be a major step on the way to the EU's Open Science initiative.
Europe's Competitiveness Council, which decided on the measure during a two-day meeting in Brussels, has been campaigning hard for OA (open access) privileges. One such milestone was giving free access to science papers.
This is an especially salient issue, given the rising controversy over the cost of accessing individual studies, which costs students in the hundreds of dollars when they work on a big project. Many have campaigned for the liberation of science for some time – most notably Aleksandra Elbakyan, and her Sci-Hub website. She fought a multi-billion dollar court battle in the US for essentially doing what the EU wants to do now.
Now, under the guidance of the Dutch, who hold the current presidency at the Council, the ambitious target has been laid out.
The initiative also has strong support of the European Commissioner for Research and Innovation, Carlos Moedas. "We probably don't realize it yet, but what the Dutch presidency has achieved is just unique and huge," he told journalists at a Brussels conference after the meeting.
"Better regulation is a precondition to innovation," he said, commending the Dutch effort in taking the lead. "The commission is totally committed to help move forward with this," he also said.
The success of reaching a decision was also hailed by OA advocate from the University of Quebec, Stevan Harnad, and the League of European Research Universities (LERU), who called it "a major boost for the transition towards an Open Science system," according to Science.
Harnad said: "The means are still somewhat vague," but praised the determination behind the ambitious plan. And LERU said the target was "not an easy ambition."The tiny four-year timeframe given the European members to unite efforts indeed isn't. Until recently, even the Netherlands, who lead the scientific liberation charge, estimated it would take them at least until 2024 to make papers freely available at home.
"This is not a law, but it's a political orientation for the 28 governments. The important thing is that there is a consensus," a Council spokesperson said of the 2020 target.
Extremist group in Texas trains to shoot Muslims with bullets dipped in pig blood
Published time: 29 May, 2016 11:43
An extremist group of white men in Texas are training against a Muslim "uprising" by dipping their bullets in pig's blood and bacon grease to target victims.
The so-called "Bureau of American Islamic Relations" (BAIR) said using pig products to line the bullets would ensure victims would "go straight to hell,"according to a video released by AJ+.
"A lot of us here are using either pig's blood or bacon grease on our bullets, packing it in the middle so that when you shoot a Muslim, they go straight to hell," says one man in the video, while another insists, "Don't f*ck with white people."
READ MORE: Florida gun-maker designs 'ISIS-proof' assault rifle
David Wright, spokesperson for the radical group, said he was "going to start doing something" about Muslims "now."
READ MORE: 'Islamophobia: New face of racism for the 21st century' — RT Op-Edge
"The next step in jihad does not involve random, sporadic attacks," he told the news outlet. "They started killing people. Do you really expect me to stand here and wait until we get to that point?"
BAIR, which is based in the city of Irving, home of Ahmed Mohamed, the "clock boy," fears of a takeover by thousands of Muslim refugees. The concern, however, appears to be short lived. From 2012 till 2015, the US accepted approximately 2,174 Syrian refugees, the Guardian reports. Despite that, the group already staged protests against accepting any asylum seekers.
"If you get to the point where there's an Arab Spring, where there's a lot of radical Muslims here and they all decide to hit the streets at one time… that's going to be more of a battlefield type situation," Wright adds.
Dressed in army overalls, several men from the group fire bullets from various locations as part of their training.
BAIR members have also staged armed protests outside mosques in Texas against the "Islamization of America."
READ MORE: Massive 'Islamophobia industry' flourishes in US — RT Op-Edge
Islamophobic attitudes have been increasing in the US. In 2015, a YouGov poll showed that 55 percent of Americans have an "unfavorable" opinion of Islam.
Beth Van Duyne, the mayor of Irving, fuelled further tension by recently leading the city's council to support a state bill with the purpose of blocking Muslim influence in US courts.
An "anti-Bair" Facebook group page was started by people from various religious backgrounds as a counter protest against the group.
UK to stockpile tanks in Eastern Europe – report
Published time: 29 May, 2016 11:44
File photo: British soldiers aboard tanks © Reuters
The British military may soon start stockpiling tanks and other heavy equipment in Eastern Europe as part of NATO's military beef up close to Russia's border. The decision may come at the upcoming NATO summit in Warsaw in July.
Citing a threat to the Baltic States and Poland, the North-Atlantic alliance plans to deploy as many as 4,000 additional troops in those countries. The initial plan was for the US to provide half, with Germany and the UK shouldering the rest of the cost. However, last week the Wall Street Journal reported that Washington would only provide one 1,000-strong battalion and wanted the European members of the alliance to spend more on their own defense.
READ MORE: Loaded: US sends 5,000 tons of ammunition to Germany 'to help NATO alliance'
Britain's plan, however, remains the same. It will provide an armored battle group, which usually consists of about 1,000 troops, backed by tanks and artillery, to be deployed in the Baltic, the Times reported. Britain's other plans under consideration are to stockpile tanks and other military hardware across Eastern Europe and ramp up air defenses, the newspaper said.
Russia considers NATO's new deployments a hostile move and says they violate the spirit of the agreement the alliance signed with Moscow in 1994. NATO pledged not to deploy 'significant forces' in Eastern Europe on a permanent basis. However, it has been circumventing its pledge by rotating troops, as is the case with the four planned battalions, and debating the meaning of the word 'significant' in the deal, which was not legally defined.
The alliance claims that its military buildup at the Russian border is needed to counter Russian aggression. It justified the stance using the Ukrainian crisis, during which its region Crimea opposed a coup-imposed government in Kiev and voted in a referendum to break up from Ukraine and rejoin Russia.
Moscow used its military, which was stationed in Crimea under a treaty with Ukraine, to prevent violence during the transition period. Kiev's foreign sponsors say the move was an annexation through military force rather than an exercise in self-determination.
The three Baltic nations, which were parts of the Soviet Union, and Poland are the most vocal European proponents of escalating the tension between NATO and Russia. Hosting additional troops gives those countries a boost to their local economies, but also makes them a target for Russian military planners, who respond to the extra military presence there.
Moscow insists that it poses no military threat to any NATO member and accuses the alliance of warmongering aimed at justifying greater military spending by European nations.
Tourists warned to 'think twice' about visiting Disney World over Zika scare
Published time: 29 May, 2016 12:15
ProNewsOnLine
The southern state of Florida has the second highest number of Zika cases in the US. © Kevin Lamarque / Reuters
An expert has warned that as summer heat builds visitors to Florida's Disney World are increasing their risk of contracting the Zika virus. Professor Jimmy Whitworth of the London School of Hygiene and Tropical Medicine warned tourists to "think twice" before traveling to southern US states.
With 121 confirmed cases of the virus, Florida is second only to New York with 127, according to the CDC. Speaking to the Daily Mail Professor Whitworth said at the moment visitors to the state were not at risk but as summer months approach "the situation might change."
Currently, all cases of the Zika virus in the US have been contracted abroad, according to the CDC. As the summer months bring an increase in both the tourist and mosquito population, the risk of a local mosquito biting an infected person and then transmitting the disease increases.
Earlier this month, Governor Rick Scott warned of an impending surge in Zika cases in the state.
"It's going to get warmer, we're going to have more rainfall, we're probably going to see more mosquitoes in our state," he told the Miami Herald ahead of a meeting with Florida's congressional delegate in Washington to discuss the issue.
The US is under increasing risk from the virus as neighbouring countries including Cuba, 90 miles from Florida's Key West, confirmed 13 cases including one that was locally transmitted, according to TeleSur.
In bordering Mexico locally transmitted cases have also been confirmed.
Health officials have warned that in the US poor communities along the Gulf of Mexico with a history of dengue outbreaks are at the highest risk of Zika infection, according to Reuters.
On Thursday, Congress commenced a two-week break before resolving a dispute over a proposal by President Obama to allocate $1.9 billion to combat Zika.
Breaking at a key time in the fight against Zika has led to the CDC stepping in to provide emergency assistance, including an allocated $15 million to help local programs fighting Zika in need of funding, with an additional $25 million for at-risk states and territories.
The money is not expected to reach the states until August at the earliest, well into the height of the summer season when the areas will be most at risk.
The World Health Organisation (WHO) this week rejected a call from health professionals to postpone or move the Olympics in Rio to assist in the prevention of the spread of Zika.
"People continue to travel between these countries and territories for a variety of reasons," a statement said. "The best way to reduce risk of disease is to follow public health travel advice."
Over 700 migrants feared dead in Mediterranean shipwrecks, UN says
Published time: 29 May, 2016 12:27
Migrants sit in their boat during a rescue operation by Italian Navy vessels off the coast of Sicily © Marina Militare / Reuters
Three separate shipwrecks in the Mediterranean south of Italy in recent days are thought to have claimed the lives of more than 700 people, officials from the UN's refugee agency said.
The information appeared first on the Twitter of spokeswoman at UNHCR South Europe, Carlotta Sami.
"Sunday counting victims. Macabre exercise: will the world realize the over 700 people should have deserved a safe passage?" she wrote.
She later told AP by phone that about 100 migrants went missing after a smuggler's boat capsized on Wednesday. 
One of the deadliest accidents took place on Thursday. At least 550 asylum seekers went missing. The boat, carrying about 670 people, left the Libyan port of Sabratha a day earlier and had no engine. It was towed by another smuggling boat, Sami added.
At least 104 people managed to survive: 25 reached another boat and 79 were rescued by international patrol boats. At least 15 bodies of migrants were recovered.
READ MORE: 'Shockingly large' number of refugees in Med pushes German Navy to limits – report
In yet another accident on Friday, rescuers saved 135 people, according to Sami. Some 45 bodies were recovered. The exact amount of people on board is as yet unclear.
The survivors were transported to the Italian ports of Taranto and Pozzallo, Sami said, adding that the UN is planning to speak with them and gather information about the sunken boats.
UNHCR spokesman Federico Fossi confirmed the report.
"The situation is chaotic, we cannot be sure of the numbers, but we fear up to 700 people may have drowned in three shipwrecks this week," he told AFP. 
According to Doctors Without Borders, about 900 people might have drowned in the Mediterranean.
"We see many victims of violence and torture among the people we rescue on our boats. Europe provide safe passage [to refugees]," the group said.
The number of refugees trying to reach Europe across the Mediterranean is increasing rapidly. According to the UN's International Organization for Migration Refugee Agency (IOM), an estimated 190,000 people have crossed the Mediterranean in 2016. Of them, nearly 156,000 came to Greece and 34,000 to Italy, with 1,375 people considered missing or dead.
Protesters chant 'no more refugees' & burn EU flag at pro-Brexit demo
Published time: 29 May, 2016 13:08
A group of far right protesters burn a European Union (EU) flag after a demonstration through the town of Dover in south east England, on May 28, 2016. © Justin Tallis / AFP
A group of British far-right demonstrators burned the EU flag during a rally in Dover, which also happens to be the UK's closest town to continental Europe.
The relatively small number of far-right activists marched along the town's seafront on Saturday while police officers surrounded the group, AFP reports.
Between a series of right-wing speeches at the Eastern Docks, the protesters burned an EU flag while encouraging people to vote to "Leave" in the referendum, which will be held on June 23 to determine if the UK leaves the 28-member bloc.
They also chanted "no more refugees" as the march commenced with one protester holding up an England flag with "Refugees NOT welcome" written on it.
READ MORE: Far-right poses greater threat to Britain than Islamist terror - report
Hundreds of police officers lined the streets outnumbering protesters, who were also met by a handful of counter demonstrators, but the march didn't see any arrests.
Conservative MP Charlie Elphicke said he hoped the low turnout of protesters on both sides would show they're not welcome in the port town.
Elphicke has been campaigning to see a change in public order legislation, which would give police the power to ban such demonstrations.
"The far right and far left are realising that the town doesn't want them and that officers will turn up with the correct amount of force needed to ensure proportionate, effective and appropriate policing," he told Kent Online.
Three left wing protesters stood with signs reading: "Decent people oppose fascists" and "Racism hurts everyone" during the day.
READ MORE: Arrests made after clashes at far-right and anti-fascist rallies in Dover (VIDEO)
Paul Pitt, a member of the South East Alliance, said the protest took place"against all odds" and blamed immigration for "what's happening to our country."
It's not the first time far-right protesters staged similar protests and burned the EU flag. In April, a larger march in Dover saw eight people arrested where members of the South East Alliance wore "FCK ISIS" shirt and called for Europe to "keep their foreigners."
READ MORE: #RefugeesWelcome beamed onto White Cliffs of Dover ahead of far-right demo
Trump on Obama's Hiroshima visit: 'Did he ever discuss sneak Pearl Harbor attack?'
Published time: 29 May, 2016 13:17
Republican U.S. presidential candidate Donald Trump © Jonathan Ernst / Reuters
The possible Republican nominee has slammed Barack Obama for not addressing the sudden 1941 attack on Pearl Harbor while visiting the memorial of the American atomic bombings in Hiroshima, Japan. The remark comes as the US prepares to mark Memorial Day.
"Does President Obama ever discuss the sneak attack on Pearl Harbor while he's in Japan? Thousands of American lives lost," Trump wrote on his Twitter. 
On Friday, Obama became the first US president to visit the memorial of the American atomic bombings of Japan in Hiroshima, which killed thousands of people. The death toll reached 140,000 by the end of 1945. Whereas many call Obama's visit "historic," others point out that he has not apologized for the US' decision to use nuclear weapons.
The Japanese government and its top leadership have repeatedly expressed remorse for its wartime aggression against the US in the lead-up to World War II.
The United States is the only country in the world to have deployed nuclear weapons in combat. The majority of the Japanese disagree with the American justification that the bombing was necessary to help cease hostilities and make Tokyo surrender.
In his next tweet, Trump mentioned Memorial Day to honor "all of the great men and women that gave their lives for us and our country." On Sunday, Trump is scheduled to be in Washington, DC to take part in the Memorial Day event with bikers from Rolling Thunder – a gathering that aims to raise awareness for American POWs and servicemen missing in action.
During his Wisconsin campaign in March ahead of the state's April primary, Trump mocked governor Scott Walker for his love for motorcycles, claiming that bikers were his fans. "The bikers love Trump," the real estate tycoon said in March. "I'm not a huge biker, I have to be honest with you, OK? I always liked the limo better."
Trump's bid for presidency has been previously given a boost after ABC News/ Washington Post released a May poll, predicting that he would outperform the likely Democratic nominee Hilary Clinton in a hypothetical general election matchup. 
Canadian PM calls to legalize assisted suicide
Published time: 29 May, 2016 13:17
Canadian Prime Minister Justin Trudeau © Toru Yamanaka / Reuters
"There will be people who by many objective criteria should have access to medical assistance in dying will not be able to because practitioners will be concerned there isn't any legal framework or protection for them," Trudeau told reporters.
He added there will be "other people in different areas of the country who will have access to it when again according to fairly objective criteria, they should not have access to medical assistance in dying."
The prohibition of assisted suicide was challenged by the Canadian Supreme Court in 2015, following a case of two women who suffered from severe neurological conditions. The court ruled that provincial courts can approve applications for euthanasia until the new law passes and gave the government time to prepare the bill. It ordered the deadline on June 6.
In compliance with the court decision, Bill C-14 was tabled in parliament by Justice Minister Jody Wilson-Raybould in April 2016. The legislation will restrict assisted suicide only to mentally competent adults who have enormous sufferings. It also allows a 15-day reflection period.
Canadian MPs are scheduled to vote on the bill on Monday and Tuesday. If approved it will go to the Senate, which has one week to pass the legislation.
"I am still hopeful that we're going to be able to reach the June 6 deadline imposed by the Supreme Court," Trudeau said. "We're certainly working hard towards that. And I have confidence that the more independent and thoughtful Senate is going to do right by the responsibilities that Canadians expect it to."
Trudeau added he has heard from many medical practitioners and organizations who are very concerned "that what it's going to result in is very uneven access" to assisted dying across Canada.
The only province that allows euthanasia in Canada is French-speaking Quebec. Bill #52, passed in 2014, states people can request medical aid with dying in case of "an incurable disease, which is causing unbearable suffering."
Passed before the 2015 Supreme Court ruling, the bill was decried by the federal government as illegal.
The euthanasia debate has been a hot topic overseas in Europe, with a children's euthanasia bill being signed into law by Belgium's king in March 2014.
The suicide of an 86-year-old couple in France in November 2013 reignited the euthanasia debate in the country. While the practice remains illegal, doctors can refrain from using treatments, which is deemed a form of "passive euthanasia."
Nigerian man flogged in public for alleged adultery (GRAPHIC VIDEO)
Published time: 29 May, 2016 13:32
The man is held to a bench as he is flogged. © NewsEveryHour Blog / YouTube
A video reported to be from Nigeria has been shared online showing a man accused of adultery being held on a bench while he's beaten with a stick in front of a stunned crowd.
The man was allegedly caught having sex with a married woman and for this, he was marched around the unnamed community before being flogged in public to deter other potential adulterers, Nigerian media reported.
In the video the man can be seen attempting to get up, but is grabbed and put back on the bench for further beating.
He attempts to get away from the bench but is stopped by the men who continue to beat him on the ground.
The man can be heard screaming in pain in the video along with shouts of distress from locals witnessing the cruel beating.
The woman involved in the alleged adultery is reported to have gone unpunished.
In some Nigerian states it is permitted to flog school children as a form of punishment, with a high school student flogged to death by a teacher in 2015 after arriving late to class.
According to Nigeria's Daily Post, students outraged by the death vandalized parts of the school in Ibadan.
In 2001, a Nigerian court allowed the public flogging of a 17-year-old girl in the northern Nigerian State of Zamfara as punishment for becoming pregnant outside of marriage after she reported that she had been raped.
Despite international outrage and UNICEF condemning the case, she received 100 lashes.
Indian man 'bets' wife on cricket match and loses
Published time: 29 May, 2016 13:41
© Alessandro Garofalo / Reuters
A man in Kanpur, India put his wife at stake in a cricket match. He bet only for his team to lose, which in turn meant he lost his wife.
Ravinder Singh is reported to have lost all his money in the share markets so he decided to use his wife, Jasmeet Kaur, as leverage for a risky bet on an Indian Premier League encounter.
Kaur only learned of her fate after her husband's rival gamblers began harassing her at home and at the boutique which she owns.
Kaur alerted police to the harassment and also lodged a complaint against her husband, with an investigation launched into the matter.
Authorities must first find Singh though after he fled following his losing bet, according to the Times of India.
"The case is really shocking," Govindnagar Ajai Prakash Srivastava of the local police told the newspaper. "We are now looking into the allegations made by her and investigations are on to understand the exact circumstances behind the crime."
The couple only married in 2011, but the marriage has been a rocky one, say police.
"On the very first day of marriage, her husband, who was into share trading, asked her to hand over to him her jewellery and other valuables," police said. "Later, she got to know about his vices of drinking and gambling."
"Over the years, he either sold or lost in gambling all the valuables of their household. He was also planning to sell the house when this IPL gambling fiasco happened," they added.
"The wife said the husband would beat her up every now and then and once he even urged her to bring Rs 7 lakh ($10,442) from her parents," Srivastava added.
EU 'shouldn't try to be a superstate' says Polish FM
Published time: 29 May, 2016 13:42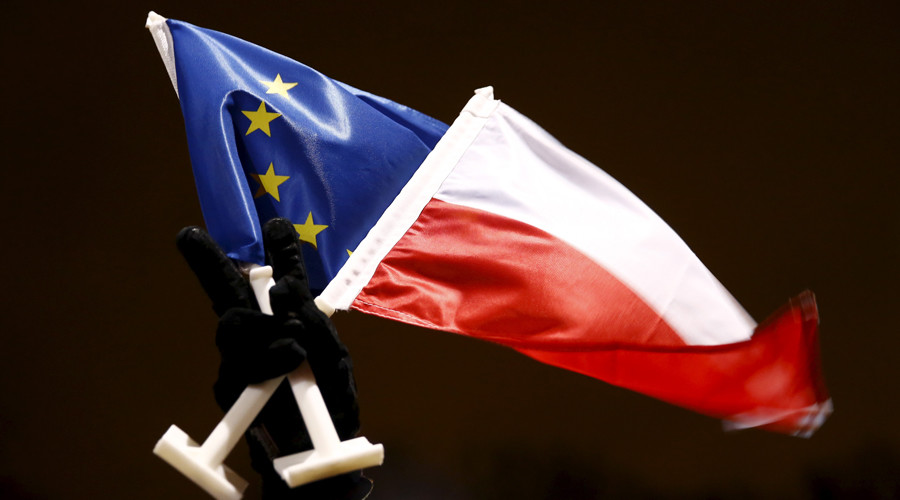 © Kacper Pempel / Reuters
EU members should try to solve most problems at the 'lowest possible level' and not delegate them to Brussels, Polish Foreign Minister Witold Waszczykowski said. The union should not 'try to become a superstate', he said.
Speaking in an interview with Die Welt, Waszczykowski said national parliaments should have a greater voice in EU matters, arguing in favor of Warsaw's skeptical stance over the way Brussels is trying to deal with the refugee crisis.
Poland and three other Eastern European countries, the Czech Republic, Hungary and Slovakia, are opposing the EU's open door policy towards asylum seekers spearheaded by Germany.
The Polish official praised British Prime Minister David Cameron for renegotiating the terms of the country's membership and that a 'stay' vote in the upcoming 'Brexit' referendum in UK should prove that the PM's move was "a step in the right direction," even if an insufficient one.
Waszczykowski rejected the notion that Poland could follow Britain's example and consider leaving the EU. The suggestion was voiced in mid-April by Zdzislaw Krasnodebski, an MP from the ruling Law and Justice (PiS) party responsible for the party's ties with the EU, who said Warsaw should quit if Brussels continues to question its democracy record. The EU has been criticizing the Polish conservative government for a number of reforms, which strengthened its control over the media and the justice system.
The foreign minister said the government would not move forward with a 'Polexig' and that no respectable political force would do that. The idea however is not that foreign. A resent opinion poll published in the Polish media said almost 40 percent "could consider" leaving the EU.