Some of the independent news websites included in GoodGopher:
NaturalNews.com
NewsTarget.com
TruthStreamMedia.com
ActivistPost.com
TruthWiki.org
TheBlaze.com
Twitchy.com
LewRockwell.com
PoliticalTracker.com
OffGridSurvival.com
TenthAmendmentCenter.com
TheEconomicCollapseBlog.com
Breitbart.com
Infowars.com
Trump.news
WashingtonTimes.com
GrassrootsLiberty.com
FreedomWorks.org
TheLibertyBeacon.com
IntelliHub.com
SurvivalBlog.com
TheDailySheeple.com
TrueActivist.com
WesternJournalism.com
ProNewsOnLine
DrudgeReport.com
FukushimaWatch.com
GovtSlaves.info
TheSleuthJournal.com
EyeOpening.info
LibertyBlitzkrieg.com
NoMoreFakeNews.com
NutritionalAnarchy.com
RightSideNews.com
WhatReallyHappened.com
Good Gopher is the only search engine that completely bypasses the systematic censorship of the truth that's currently undertaken by Google, Facebook, Wikipedia and other sources of corporate-controlled disinformation. It's the premier tool for finding independent information and news on liberty, natural healing, central banks, food freedom, advanced science and a multitude of other vital topics

.
Syrian Army retakes 70% of E. Aleppo, evacuates over 1,200 civilians – Russian military
Published time: 7 Dec, 2016 19:16
ProNewsOnLine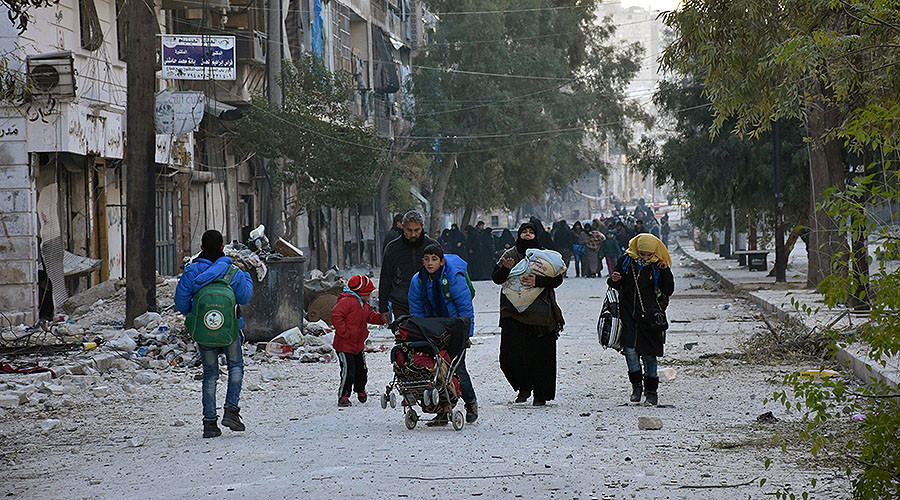 People, who evacuated the eastern districts of Aleppo, carry their belongings as they arrive in a government held area of Aleppo, Syria, December 7, 2016. © SANA / Handout via Reuters
Syrian government forces have liberated 15 more eastern Aleppo neighborhoods in the last 24 hours, the Russian Reconciliation Center in Syria said, adding that the advance has allowed the Syrian Army to evacuate 1,200 residents of the city.
The Syrian authorities now "fully control 50 neighborhoods in the eastern part of [Aleppo] that account for 70 percent of the territory that was initially controlled by the militants," the Reconciliation Center's statement reads.
On Wednesday, 1,224 civilians were able to flee militant-held areas for government-controlled neighborhoods, as the Syrian Army continued its offensive. The people have been provided with water, food, and medical assistance at humanitarian centers set up by Russia.
At the same time, 66 militants laid down their arms and left for western Aleppo, the statement adds. In accordance with the Syrian president's offer, all militants who are local residents were immediately pardoned.
Earlier, SANA news agency also reported that governmental forces had liberated the Old City and evacuated more than 200 civilians from that area.
On Wednesday, Syrian government forces were able to seize control over two districts north of the Aleppo Citadel – the Aghiour and Bab al-Hadid neighborhoods – as militants left their positions and retreated further south, the news agency added.
Tuesday saw the Syrian Army also take control over the Karm al-Dada, Karm al-Qatirji, al-Shaar and al-Marjeh neighborhoods located in the southern and eastern parts of the city, as well as the al-Sheikh Lutfi area.
On Wednesday, Syrian Reconciliation Minister Dr. Ali Haidar called the advance of the Syrian Army a "strategic victory" that would prevent foreign intervention, as reported by Reuters.
"Those who believed in the Syrian triumph know that [the militants'] morale is at its lowest and that these collapses that have begun are like domino tiles," he said.
Militants ask for truce amid Syrian Army advance
The militant groups entrenched in eastern Aleppo asked the Syrian government for an immediate ceasefire, citing the need to evacuate wounded fighters as Syrian forces advanced deeper into the militant-held areas.
The proposal, which envisages a five-day truce, was presented by the Aleppo command center that reportedly represents an alliance of various armed groups fighting government forces in the eastern part of the war-torn city, AP reports.
According to the proposal, the truce is needed to facilitate the evacuation of the wounded militants to the northern part of the Aleppo province controlled by Turkey, dpa news agency reports. The militants said that they are not satisfied with the government proposals allowing them to leave Aleppo and move to the Idlib province, as they no longer see it as a safe option, dpa adds.
A militant spokesman said that Al-Nusra Front, an extremist group affiliated with Al-Qaeda that also is present in Aleppo, would also observe the terms of the truce, according to AP. The offer said nothing about militants leaving Aleppo and stressed instead that the fate of the city would be discussed after the "humanitarian crisis resolution."
The Syrian government rejected the proposal, insisting that the militants should leave the city. "We will not accept any truce," Fares Shehabi, an MP for Aleppo, told dpa by telephone. "If they do not leave we will continue our attack," he warned.
Meanwhile, Russian presidential spokesman Dmitry Peskov said that the militants are still free to leave Aleppo and that this proposal is still in force.
"As for the militants leaving [Aleppo] … they were offered to leave and that topic was discussed earlier," he told journalists, adding that "this issue is in fact still on the agenda."
He also expressed his regret that the militants still reject this proposal."Unfortunately, only a few left [the city] so far [and] most militants still stay [there],"he said.
Lavrov & Kerry to meet in Hamburg to discuss Syria
In the meantime, the Russian Foreign Ministry said that Russia is still holding talks with the Syrian opposition.
Russia "still maintains contacts with the Syrian opposition," Foreign Ministry spokeswoman Maria Zakharova told journalists during a news briefing on Wednesday, stressing that Russia "has never concealed this fact."
"We have always spoken about what Russia is doing [in this direction] and stressed that [everyone] could join this process," she said.
Her statements come as Russian Foreign Minister Sergey Lavrov is due to meet his US and German counterparts, John Kerry and Frank-Walter Steinmeier respectively, in Hamburg on Wednesday on the sidelines of the OSCE foreign ministers' meeting, particularly to discuss the situation in Syria.
Negotiations between Russia and the US concerning the Syrian crisis still continue, although the sides have not been able to achieve any breakthrough so far, Peskov said earlier on Wednesday.
"Contacts at the expert level still continue … although I have no information about any new proposals being presented," he said. On Tuesday, Lavrov said that Washington abruptly withdrew its own proposal concerning the solution for the Aleppo crisis made on December 2.
The US proposal initially involved free passage for all 'opposition' factions from the eastern part of Aleppo that are still under US control. However, Washington is now working on an alternative plan for the city, Lavrov said on Tuesday.
Meanwhile, six Western nations pushed for an immediate ceasefire in Aleppo on Wednesday. "The most urgent goal remains an immediate ceasefire so that the United Nations can bring humanitarian aid to people in East Aleppo," said the leaders of Germany, France, Italy, the United States, Canada and Britain in a statement, as reported by Reuters.
They urged the Syrian government to agree to a plan presented by the UN "to end the terrible situation in Aleppo" and called on Russia and Iran "to exercise their influence to make this happen."
At the same time, they indicated their readiness to impose additional sanctions against the allies of the Syrian government.
Dozens of civilians killed in air strike near Iraqi border with Syria – reports
Published time: 7 Dec, 2016 18:47Edited time: 7 Dec, 2016 19:21
ProNewsOnLine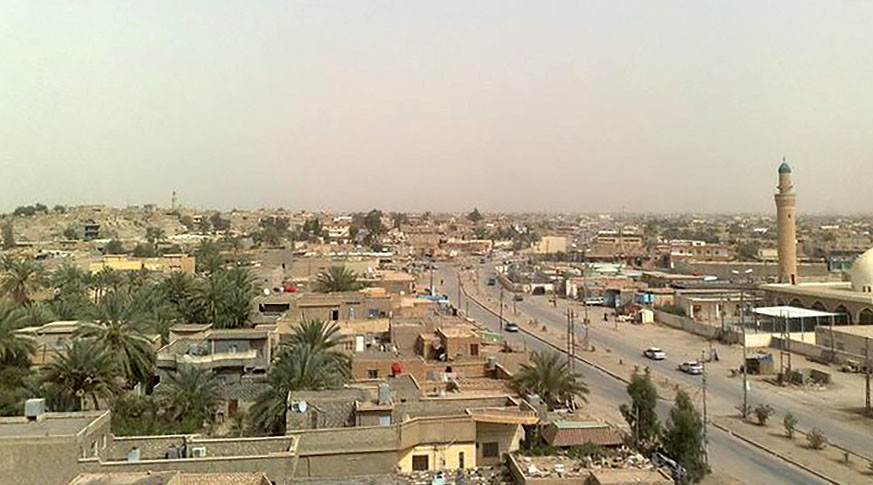 FILE PHOTO: Al-Qa'im, an Iraqi town located nearly 400 km northwest of Baghdad near the Syrian border © Wikimapia.org
Dozens of civilians were killed in an airstrike on the Islamic State-held town of Qaim in Iraq on Wednesday, local MPs and medics told Reuters, adding that many women and children were among the dead.
The airstrike reportedly hit a busy market in the small town, which is located in Anbar province, near the Syrian border.
Anbar lawmaker, Ahmed al-Salmani, and medical sources told Reuters that 55 civilians were killed.
It is not yet clear whose planes carried out the reported strike.
Airstrikes against Islamic State (IS, formerly ISIS/ISIL) have previously been carried out by the US-led coalition, which is helping local security forces in their fight against the terrorists.
Last week, the coalition acknowledged that 54 civilians were "inadvertently killed" in seven of its strikes in Iraq and Syria between March and October this year.
Earlier, Amnesty International said the US understated the civilian death toll, saying that at least 300 people were killed in 11 airstrikes probed by the group.
The History The US Government HOPES You Never Learn!
THOUGHT FOR THE DAY!
"If some peoples pretend that history or geography gives them the right to subjugate other races, nations, or peoples, there can be no peace." -- Ludwig von Mises
YOUR RANDOM DHS MONITORED PHRASE OF THE DAY
FBI
Tags:
United Airlines, one of the world's largest carriers, is facing fresh criticism over plans to charge passengers extra for the use of overhead lockers.
Al Jazeera journalist Jamal Elshayyal was refused entry at Bahrain International Airport on Tuesday even though AJMN had followed all necessary procedures and submitted all requested documents to the relevant authorities on time.
"We applied for accreditation well before the deadline, submitting the names and passports as requested," Elshayyal said in Qatar's capital, Doha, after his return.
"I flew out to Manama this morning and upon reaching the immigration counter, I filled out the required form specifying I was a journalist and I was there to cover the summit.
"I was asked to sit on the side by the immigration officer who later informed me the Ministry of Information said Al Jazeera was not allowed to cover the event and I was rejected entry."
Sherif Mansour, Middle East and North Africa coordinator for the Committee to Protect Journalists, said he did not have details on the incident but noted the Gulf kingdom's track record on press freedom.
This guy is lucky; the Bahraini government has a nasty reputation with regard to press access.
And not only have peaceful Bahraini protestors been jailed, tortured in order to confess to crimes they did not commit and have received extraordinarily long sentences; but also, the first responders who cared for them have been jailed, tortured to confess to crimes they did not commit, and received extraordinarily long prison sentences.
The Al-Khalifa monarchy is sitting on a power keg, when all that peaceful protesters have asked the government to do is establish a constitutional monarchy.
But there most likely be a point where the protests go from peaceful to violent, and even calling in the Saudi military, as the Bahraini government has done several years back, will not work.
Before that happens, I sure as heck hope that the US Navy is deliberating where in the Middle East, the 5th Fleet could call home, as any new Bahraini government would find itself very hostile to the US government, as the US government has enabled the sitting Bahraini government with what are called "dual use" weapons. As reported at theguardian.com in 2013:
Revealed: America's arms sales to Bahrain amid bloody crackdown
Tags:
Dangerous wind chill factors will continue to plague residents in the Northern Plains Wednesday after a blizzard shut down a nearly 300-mile stretch of a major interstate Tuesday in North Dakota.
The North Dakota Department of Transportation and Highway Patrol extended the 230-mile closure of Interstate 94 further east to Fargo, according to the Associated Press. Both lanes of I-94 were closed from Dickinson to Fargo; northbound and southbound Interstate 29 was also closed between Fargo and the Canadian border due to zero visibility and blowing and drifting snow.
A Russian mobile hospital was hit by shelling on Monday, just days after it was set up to provide assistance to civilians in Aleppo.
---
---
By: MTJ
Tags:
Fierce clashes have broken out in central Athens between police and groups of rioters after a peaceful march.
By: MTJ
Tags:
In response to Donald Trump's victory in November's presidential election, nearly 50 faculty members at Boston College have signed a letter demanding that the university ban all forms of "hate speech."
A letter signed by almost 50 Boston College faculty members condemns Donald Trump for failing to address the hate crimes "that his campaign emboldened." They also condemn Trump for failing to apologize for the remarks he made about sexually assaulting women.
Twice in November 2016, the Benghazi Revolutionaries Shura Council, or BRSC?—?a group with ties to Al Qaeda?—?published photos of United Arab Emirates Air Force AT-802 and Reaper-style drones in the sky over the Ganfouda area of Benghazi in eastern Libya.
On Nov. 2, 2016, an S-100 Camcopter drone performed a reconnaissance mission over this district two hours before a Reaper or similar unmanned aerial vehicle carried out an air strike on a residential area.
Ten days later, an Air Tractor belonging to the UAEAF struck the same area, killing at least four civilians including two children?—?and injuring another child.
Drones launched four others air strikes in Ganfouda later the same day.
Evidence is mounting that the UAE is indiscriminately bombing militant strongholds in Libya. And civilians are caught in the crossfire.
The increasingly public re-branding of America's war in Syria as a proxy war against Russia has suited a lot of officials, particularly in the Pentagon, who see a new Cold War as a ticket to a bigger budget. With Russia's fighting focusing on al-Qaeda's Nusra Front, this Russo-centric view has seen the administration realigning US interests more directly with al-Qaeda.
Embarrassing as America's realignment toward al-Qaeda is, officials see the defeat of the al-Qaeda-dominated rebels in Aleppo as an even bigger blow, presenting the loss of Aleppo as Russia's victory and America's loss, in addition to being al-Qaeda's loss.
This "loss" is being presented by current officials as potentially hindering President-elect Donald Trump's policy choices going forward, though since Trump was not in favor of backing al-Qaeda, or backing Syrian rebels in general, it probably makes his go-to plan of moving toward fighting ISIS even simpler to sell to the public.
So now, the alleged "bad guys", ISIS and Al-Qaeda, are the US government's friends and allies, in a continued, futile effort to regime change Damascus?!?
This is completely insane!!
---
---
Days after President-elect Donald Trump riled Beijing by speaking to Taiwanese President Tsai Ing-wen, China has asked Washington to not let Tsai visit the US on her way to Guatemala. China maintains a rocky relationship with Tsai, as they believe she may push for full independence of the autonomous nation.
Trump's talk with Tsai on Friday was the first communication between a Taiwanese head of state and an American President-elect or President since the Taiwan Relations Act was passed in 1979, under US President Jimmy Carter.
Chinese Foreign Minister Wang Yi blamed Taiwan for the conversation just hours after it happened, stating that, "This is just the Taiwan side engaging in a petty action, and cannot change the 'one China' structure already formed by the international community…I believe that it won't change the longstanding 'one China' policy of the United States government."
A short memo to Chinese Foreign Minister Wang Yi: The Chinese are very much admired for looking at the long term, in terms of how its government creates its strategies for moving forward economically and politically.
Your criticism of Taiwan's President's congratulatory call to President-Elect Trump, coupled with your demand that President Tsai not be allowed to visit the US on her way to Guatemala, does not seem to be in character with those attributes.
Although derived from a natural source, it appears to be particularly destructive to the digestive system, triggering an immune response similar to that your body has when invaded by pathogens like Salmonella. The result: "It predictably causes inflammation, which can lead to ulcerations and bleeding," explains veteran researcher Joanne Tobacman, MD, associate professor of clinical medicine at the University of Illinois School of Medicine at Chicago. She says the food ingredient irritates by activating an immune response that dials up inflammation. Her previous work showed a concerning connection between carrageenan and gastrointestinal cancer in lab animals, and she's involved with ongoing research funded through the National Institutes of Health that is investigating carrageenan's effect on ulcerative colitis and other diseases like diabetes.
If you want to be a "Good Samaritan" to the homeless in your community, you might want to check and see if it is legal first.
The way things are going in this country, it is not too far fetched to imagine that the "crime" of homelessness will soon be punishable by as quick a trial and execution as is legally possible, because state and federal prison facilities are crowded to beyond capacity.
And bless Pastor Grover and bless Patapsco United Methodist Church, for their ministry in this way; I hope that the attorney who takes this case for them, regarding that 12,000 fine, wipes the floor with the City Council of Dundalk, Maryland, and that there is a reasonable answer found, including a place for the homeless to stay, and have their basic human needs met.
It is apparent to me that the mayor of Dundalk needs to have a conference call with the Governor of Utah, and right the heck now, because by the end 0f 2015, Utah reduced their number of homeless by 91%:
Utah Reduced Chronic Homelessness By 91 Percent; Here's How
Webmaster addition: The illegal immigrants are treated better than Americans by the government. What's wrong with this picture?
---
---
John Kerry admitted that the United States gives Israel more than half of the aid that we give "to the entire world," but Israel doesn't pay attention to anything the U.S. says.
In a stunning development today, 21WIRE has received reports from on the ground in Syria that remaining 'rebel' militants have fled the Old City of Aleppo, even leaving behind a substantial amount of equipment and weapons – as the Syrian Arab Army advances into the remaining terrorist-held neighborhood in the eastern part of Syria's largest city.
When Malachi Henderson went skydiving a few weeks ago, he noticed that the Earth looked flat, even from the plane. He mentioned it to the pilot. "The higher you get, the flatter it looks," the pilot replied. Henderson wasn't surprised: The pilot's response was evidence of something he'd been researching for years.
Henderson is one of a growing movement of Americans who believe that the Earth is flat. They refer to themselves as flat Earthers.
Flat Earthers have a wide range of convictions. Some come to the movement from a religious place, others from a scientific one. But most believe in one simple principle: that NASA and everyone involved in space exploration are liars and that there is a massive conspiracy to hide the fact that the Earth is flat.
This is yet another "poison the well" hoax planted on the internet by the government so that the corporate media can denounce all independent media as kooks and nuts. This is in the same category as such planted hoaxes as fake Apollo Moon landings, chemtrails, HAARP, no plane at the Pentagon, etc.
Brazilian police have clashed with anti-austerity demonstrators in Rio amid a budget crisis in the state.
Many protesters were public workers who have not been paid in months.
Police used tear gas and stun grenades and at one point fired rubber bullets at demonstrators from inside a church near the state assembly building.
The clashes took place as legislators considered a range of spending cuts in an effort to tackle a huge deficit in Rio de Janeiro's state budget.
Hundreds of public sector workers had gathered outside the assembly building to protest against the measures.
During the clashes, police officers entered a nearby church and fired rubber bullets from a window. The Rio diocese protested against this "invasion" and said it would investigate.
Several people - both demonstrators and police - were injured.
This will not end well; the Brazilian government is broke, and out of options.
Any potential international loans, to prop up Brazil's economy from the outside, will come at usurious interest rates, and be difficult to pay back; and even then, if Temer is successful here, it will not fix the fundamental problems a broken economy, and of corruption and graft within the world of his elites. As reported at theeconomist.com on 1 December of this year:
Brazil's president weathers multiple storms
And there is the question: will there be a point where the Brazilian military turn against Temer's government, and he has a real revolution on his hands?!?
---
---
Liberal documentary filmaker Michael Moore is encouraging Americans to take to the streets to protest the inauguration of President-elect Donald Trump.
"Disrupt the Inauguration. The Majority have spoken – by nearly 2.7 million votes &counting! Silence is not an option," Moore tweeted Wednesday morning to his three million Twitter followers.
That popular vote claim is looking thinner and thinner, between Detroit declaring almost half of Hillary votes invalid and votefraud.org and truethevote.org both concluding that over 3 million non-citizens voted in this last election. Trump won heavily except in California (loaded with illegal immigrants) and the Sanctuary Cities (loaded with refugees and illegal immigrants).
A petition was started Tuesday at Change.org to remove Chris Suprun from the Texas Electoral College.
Suprun announced on Monday he would not be voting for Donald Trump for president as a Texas elector. Suprun used Saturday Night Live and Star Wars as reasons not to vote for Trump.
By: alexmark
Tags:
Investment demand for Gold Eagles surged during the last day in November pushing sales to a new monthly record. Not only did Gold Eagle sales for November reach a new record high for the year, it surpassed sales during the same month last year by 52%.
A paedophile music teacher was beaten to death with his own TRUMPET during a concert at a Cathedral.
Marcelo Fabián Pecollo, 42, died at a hospital he had been rushed to five weeks after he'd been brutally attacked.
The musician had allegedly been set upon by angry parents of children who attend a pre-school where he had been convicted of abusing kids.
This is a tragedy. That trumpet could have been given to a music student!
---
---
Russia's Nord Stream II gas pipeline is a threat to European security, a US diplomat has said, amid calls for the European Commission to intervene.
Adam Shub, the deputy US ambassador to the EU, in Brussels on Tuesday (6 December), mentioned the Russian-German project amid other instruments he said Russia was using to "create division" in Europe and to erode "shared transatlantic values".
EU Commission has stalled on appeals for a legal assessment.
He said the armed conflict in Ukraine was "just the front line" in the "malign action", which extended also to the EU and the Western Balkans.
"There are [Russian] attempts to influence the policy debate, support for political parties, we know that, in the European Parliament, for NGOs … attempts to acquire assets on the energy front, Nord Stream - these are threats to Europe and to transatlantic security", he said.
Shub's codswallop, in denouncing Russia for doing everything the US government does, in terms of providing loans, supporting and attempting to influence various candidates and organisations who echo the US government narrative, demonstrates that the US government has, in basketball parlance, "got no game", in terms of being able to undo this deal.
This deal makes absolute sense for the German government and the German people, in order to keep fuel costs low.
In his petulant and sophomoric rant at the Ceps think tank conference, Shub comes off as almost thoroughly unhinged in his excoriating criticism of the deal, yet offers absolutely no concrete suggestions of what the German government "SHOULD" do, to get a better deal elsewhere.
And I would politely suggest to Mr. Shub that after last year's revelations of the fact that the US was spying on Angela Merkel and her ministers, neither she, nor any potential successor, is going to be very enthusiastic about listening to ANYTHING the US government has to say.
Obama administration spied on German media as well as its government
Without seeing a flake of snow in around 1,000 days, people of the region were excited to hear there may be a dusting overnight on Sunday.
But what was supposed to only be about five centimetres turned into 15 in some areas by about 5 p.m. on Monday as heavy snow continued to fall across much of the B.C. South Coast.
Tags:
The Los Angeles Unified School District has set up a hotline and opened "extended support sites" to respond to a high level of student anxiety about the election of Donald Trump as president.
All year teachers have been filling students' heads with a lot of nonsense about the horrors that would happen if Trump got elected. Well, noe Trump got elected and the students, not realizing their teachers were just being liberal propagandists, are freaking out!
Tags:
Last week, Dallas Mayor Michael Rawlings sent a scathing letter to the Dallas Police and Fire Pension (DPFP) Board demanded that withdrawals be halted immediately until the "solvency and actuarial soundness of the Pension System is restored." That said, the Mayor's request was seemingly ignored as he has now filed a lawsuit with the Dallas District Court to force the pension board to halt withdrawals amid a "run on the bank."
Within the suit, Rawlings notes that $500 million in lump-sum withdrawals have been made from the DPFP since August 2016 with $80 million of that amount being withdrawn in the first 2 weeks of November alone. The suit continues on to allege that "this mass exodus of DROP funds amounts to a "run on the bank" and is exacerbating the financial peril of the Pension System as a whole."
Canadian politicians have expressed outrage after protesters at a political rally chanted "lock her up" about Alberta Premier Rachel Notley.
Protesters erupted into jeers at a rally against a carbon tax, hosted by the right-wing Rebel media group.
"Lock her up" was frequently chanted by Donald Trump supporters in reference to Hillary Clinton during the US election.
Michigan's presidential recount expanded to several new counties on Tuesday, including its largest one that includes Detroit. Meanwhile, the fate of a statewide recount push in Pennsylvania must wait at least until Friday, when a federal judge has scheduled a hearing on it.
---
By: malterwitty
Tags:
Up to 865,000 Vauxhall Corsas may have a similar wiring fault to the one that forced a recall of a quarter of a million Zafira models, it was claimed last night.
Experts fear that all Corsa D and E models built since 2006 are a potential fire risk, with dozens of motorists reporting flames seeping through their dashboards.
The Corsa, which is Britain's second best-selling car, is said to have heater wiring susceptible to heat damage, like the Zafira.
Battles continue between pro-government forces and insurgents in Aleppo's Old City, with Damascus slowly winning back territory. RT's Lizzie Phelan and her crew were the first journalists to visit the neighborhoods just captured by the government.
"It is still not entirely safe here. The opposition forces are only a couple of hundreds of meters away. The area needs to be cleaned from unused weapons and mines left," she reported by phone.
At the request of Erdogan, WordPress censors a critical Turkish blog that collects Turkey-related cartoons.
Here is a sampling of what was censored … (From the banned Blog)
President-elect Donald Trump laid out a U.S. military policy on Tuesday that would avoid interventions in foreign conflicts and instead focus heavily on defeating the Islamic State militancy.
In the latest stop on a "thank you" tour of states critical to his Nov. 8 election win, Trump introduced his choice for defense secretary, General James Mattis, to a large crowd in this city near the Fort Bragg military base, which has deployed soldiers to 90 countries around the world.
"We will stop racing to topple foreign regimes that we know nothing about, that we shouldn't be involved with," Trump said. "Instead, our focus must be on defeating terrorism and destroying ISIS, and we will."
Trump's rhetoric was similar to what he said during the election campaign when he railed against the war in Iraq.
what Trump is saying absolutely makes sense.
But what he is going to have to do, in implementation of this policy, is make sure that waste and corruption in the procurement process is stamped out as completely as possible, as it is an ongoing problem.
As reported yesterday at blacklistednews.com:
PENTAGON SUPPRESSED STUDY THAT REVEALED $125 BILLION IN 'WASTE'
By: malterwitty
Tags:
Nasa's Cassini spacecraft has sent back its first set of images from its first dangerous flyby of Saturn's rings.
The probe completed a series of orbits passing closer than ever before by some of Saturn's icy halos earlier this week.
The new images include an up-close look at the mid-sized moon Tethys, detailed views of Saturn's atmosphere from high above the northern hemisphere and new pictures of the rings themselves.
Police clashes with protesters outside Rio de Janeiro's legislative assembly (ALERJ), as a vote on new austerity measures took place inside.
By: MTJ
Tags:
James Mitchell, one of two psychologists behind the CIA's enhanced interrogation program used under President George W. Bush, defended torture by saying the word has lost its meaning.
Mitchell, who is currently being sued by those subjected to his torture methods, was speaking at conservative think tank the American Enterprise Institute to promote his new book 'Enhanced Interrogation – Inside the minds and motives of the Islamic terrorists trying to destroy America' on Tuesday.
Three central Florida voters are mounting an unlikely bid to overturn the presidential election result in the Sunshine State.
In a lawsuit filed Monday in Leon Circuit Court, they assert that Hillary Clinton, not Donald Trump, actually won Florida. The plaintiffs, who live in Osceola and Volusia counties, say the state's official election results were off because of hacking, malfunctioning voting machines and other problems.
Wisconsin has halted their recount. Michigan has uncovered evidence of massive election fraud favoring Hillary, and Pennsylvania may pull their plug Friday, so now they are trying to start a recount in Florida, filing their suit just 12 minutes before the deadline!
What's next, recount the entire nation?
Hillary's goal is to block as many Trump electors from taking part in the Electoral College on December 19th, so that only a handful of bribed/blackmailed/threatened faithless electors can steal the White House for her!
Hillary is going to start a civil war with this nonsense!
By: Blacklistednews
Tags:
There has been a lot of loose talk lately about news reporting that should be factual and truthful, particularly with respect to political and geopolitical events. The Kennedy assassination and 9/11 are two contemporary examples where the search for the truth has consumed the lives of so many who cared deeply about the facts.
---
---
By: ActivistPost
Tags:
The just-ended presidential election cycle in the USA has somethings very much in common with vaccine 'science', or so it seems: Both produce results that are questioned, contentious and even manipulated with varying degrees of culpability. Strong words! Maybe, but factual to the point of proof as in the scientific journal…
She's smoked about 30 cigarettes a day for 95 years.
She lives in the hills of Nuwakot, Nepal and despite what her ID says locals believe she could be as old as 114.
It isn't the tobacco itself that causes the problems. It's the radioactive fertilizer American companies grow tobacco in and the added chemicals that cause all the illnesses.
By: malterwitty
Tags:
Donald Trump says he dumped his stocks six months ago because he assumed he'd win and didn't think it would be appropriate for him to be making 'deals for this country' that could benefit him personally.
'I thought I was very much going to be winning,' he said Wednesday in a phone interview with Today show host Matt Lauer. 'And I think I would have a tremendous, a real conflict of interest owning all of these different companies.'
The president-elect said he made no secret of the sell-off: 'I let everybody know.'
Trump sold off his shares of Energy Transfer Partners, the owner of the Dakota Access pipeline, and Boeing in June, along with his other stocks.
Wall Street On Parade closely examined the report issued by PropOrNot, its related Twitter page, and its registration as a business in New Mexico, looking for "tells" as to the individual(s) behind it. We learned quite a number of interesting facts.
---
---
Because of nation-wide fighting in Syria for the past few years, journalists have had little access to the country. As a result, unofficial networks and sources have played a large role in relaying developments in Syria to the international community. Many of these groups have manipulated events in Syria to suit their own political agendas.
The Syrian Observatory for Human Rights (SOHR) has emerged as the most widely used source with regards to the Syrian crisis. This group has bent facts to push its anti-Assad and anti-Russia agenda.
A reminder that the Syrian Observatory for Human Rights operates out of a house in Coventry, England, run by a man who sells t-shirts for a living and who has not actually been to Syria in at least 12 years!
The site, Rootclaim, uses a mathematics-based fraud-detection system often used by small business to remove human bias and discern the veracity of news. According to their study, there is a 92.3 percent chance that the chemical-weapons attack attributed to the administration of President Bashar Al-Assad was actually conducted by rebels opposing the Syrian president.
The United Nations chemical weapons inspectors came to the same conclusion.
---
Check Out History's Best in Show
DariuszSankowski
---
Tags:
During US President Barack Obama's final speech on national security on Tuesday, he blasted critics of drone strikes, defending the actions as "the highest standard we can set."
The spread of so-called "fake news" has captured the imagination of the entire world since being blamed for Hillary's stunning defeat on November 8th. The idea that they may no longer exercise complete control of the national media narrative, and therefore popular opinion, has mainstream news outlets and social media giants frightened to their core.
The tech titans of Silicon Valley are so frightened, in fact, that they've teamed up to create a centralized database which will allow them to "efficiently" block content simultaneously across multiple platforms. According to Yahoo News, the database is expected to be up and running in early 2017 and more companies could be brought into the partnership over time.
This will drive people to the new start-up social media that refuses to use that centralized censorship system.
In a somewhat shocking admission in this age of 'fake' news and paid liars, Time Warner CEO Jeff Bewkes told Business Insider's Henry Blodget on Tuesday that the "real threat" to the First Amendment did not come from President-elect Donald Trump during the campaign, but rather from the Democratic Party.
U.S. District Judge Paul Diamond in Philadelphia on Tuesday scheduled a hearing Friday on the request for a recount. The Republican Party and Trump warned that the case threatens Pennsylvania's ability to certify its election before the Dec. 13 federal deadline. Stein's team hasn't produced evidence of hacking, but calls Pennsylvania's election system "a national disgrace."
Tags:
This is a vindication of the crew of the USS Ward, which sank this mini-sub hours before the actual attack on Pearl Harbor. The Ward's commander, LCDR William W. Outerbridge, reported the sighting and sinking of the mini-sub, but the report was ignored. The official story, enshrined in movies like "Tora Tora Tora", is that the duty officer assumed the report was in error because nobody was expecting the attack. That perversion of history is undermined by the fact that the Hawaiian Newspapers had been running headlines blaring of an imminent attack by the Japanese!
In hindsight, given Roosevelt's order to Exercise 191 to abort their training mission, to get them out of the way of the advancing Japanese fleet, it seems likely that the duty officer was in on the scam and ordered not to raise any alarms or alerts. Had Pearl Harbor gone on alert following the Ward's report, the Japanese attackers would have run into fully manned guns and fighters already in the air and been wiped out.
For decades, the crew of the USS Ward were castigated as liars for their claim to have sunk the mini-sub (much as the survivors of the USS Liberty were declared liars for saying Israel's attack was intentional), until students from the University of Hawaii discovered the wreck of the mini-sub in 2002.
With global bank stocks soaring on expectations - and hope - that financial sector regulation will be broadly swept away under Trump, today Europe did its best to show that, at least for now, the banks are not in the clear when the European Commission has fined JPMorgan, Credit Agricole and HSBC a total of €485 million ($521 million) for rigging the Euribor benchmark as European Union antitrust regulators wrapped up a five-year investigation into the scandal.
The three banks colluded on euro interest rate derivative pricing elements, and exchanged sensitive information, in breach of EU antitrust rules, the European Commission said on Wednesday in an e-mailed statement. JPMorgan was fined 337.2 million euros, HSBC got a 33.6 million-euro penalty and Credit Agricole must pay 114.7 million euros. Margrethe Vestager, the EU's competition policy chief, said banks "have to respect EU competition rules just like any other company operating in the single market."
JPMorgan made a quarterly profit of $5.4 billion, as of this January; Credit Agricole made $84,374,0800.00, US in 2015; and HSBC made $18.8 billion in 2015.
These fines are simply "cosmetic slaps on the wrist", to make investors think that the fundamental problems in the financial industry have been dealt with, when they really haven't.

And none of the leadership of these financial institutions who signed off on these practices get jail time?!?
Why am I absolutely not surprised at this?!?
Because when comes to financial malfeasance, the people deciding to do it are almost never jailed; and they are counting on the reality that the rich rarely eat their own.
By: malterwitty
Tags:
CHINA has branded Donald Trump's US ambassador to Beijing an "old friend" following reports Terry Branstad accepted the President-elect's offer for the position.
By: malterwitty
Tags:
TIM FARRON has admitted he travelled to Brussels to meet with an EU chief to discuss whether it was possible to stop Brexit.
By: malterwitty
Tags:
TalkTalk's handling of a wi-fi password breach is being criticised by several cyber-security experts.
The BBC has presented the company with evidence that many of its customers' router credentials have been hacked, putting them at risk of data theft.
The UK broadband provider confirmed that the sample of stolen router IDs it had been shown was real.
But it is still advising users that there is "no need" to change their routers' settings.
The wait is almost over.
After two previous taxpayer funded bailouts, and nearly five months of foreplay since the third largest Italian bank failed the latest European stress test at the end of July, in which the Italian government in September vow that "bailout for Italian banks has been 'absolutely' ruled out", a third bailout, as we previewed earlier today, is now imminent.
According to Reuters, which cites two sources, Italy is preparing to take a €2 billion controlling stake in Monte Paschi as the bank's hopes of a private funding rescue have faded after a fruitless five month search to secure an anchor investor, following Prime Minister Matteo Renzi's decision to quit.
Last week, Dallas Mayor Michael Rawlings sent a scathing letter to the Dallas Police and Fire Pension (DPFP) Board demanded that withdrawals be halted immediately until the "solvency and actuarial soundness of the Pension System is restored." That said, the Mayor's request was seemingly ignored as he has now filed a lawsuit with the Dallas District Court to force the pension board to halt withdrawals amid a "run on the bank."
Underfunded and badly thought out (and structured) pension programs are a national problem in this country; when management of these programs isn't intelligent and sound, scenarios like this are bound to happen.
Tags:
Multiple groups at Virginia Tech have collaborated to collect "microaggression testimonials" from students, who came up with roughly 50 different expressions that offend them. The examples are currently displayed on the "Microaggressions: #hokiesspeakup" Facebook page.
While the campaign lasted through the Spring semester, several posters reminding student to watch what they say still pepper the campus today.
These kids are wholly unprepared to live and work in the real world! The only "micro-aggression" free place in the world is a monastery or convent!
By: cyberknight
Tags:
In another sign that conventional diplomatic protocol is changing on a daily basis, on Monday Japanese Prime Minister Shinzo Abe said he would visit Hawaii on Dec. 26 and 27 for his final summit meeting with outgoing U.S. President Barack Obama, and to remember the victims of Japan's Pearl Harbor attack 75 years ago.
The US House passed the Intelligence Authorization Bill for 2017 earlier this week, with a provision requiring the White House to establish a special task force to counter what it deemed to be Russian "active measures" to undermine the US political system.
Just a day after a Texas Republican "faithless elector" explained why he will not cast his vote for Donald Trump, The Denver Post reports two Democratic Colorado electors are filing suit challenging a state law requiring them to vote for the winner of the state's popular vote. Their hope is to set a precedent enabling Republican electors in other states to vote for a third-party candidate to keep Trump from receiving 270 electoral votes.
That will throw the decision into the GOP-controlled House of Representatives.
British Prime Minister Theresa May is set to talk to Arab leaders of the (Persian) Gulf Cooperation Council that the nuclear deal between Iran and the world powers, including Britain, is crucial for security in the Middle East.
Almesryoon reported that a map of an airbase it said was located near the Libyan city of Benghazi which will be transferred to Russia in exchange for arms supply, Monday.
According to Western reports, General Khalifa Haftar's recent visit to Moscow along with his talks with Russian officials revolved around the need to import weapons in return for granting Moscow logistical and military privileges inside the Libyan territories.
Haftar wants to win Moscow's support and recognition as the sole candidate for the country's leadership as Russia's influence in the world and the Middle East is on the rise, Russian Nezavisimaya Gazeta reported.
As reported at lybianexpress.com in August of this year:
As the US war in Libya moves into its third week, officials and analysts are seeing a lot of problems with their plans, but perhaps the biggest problem is one of their own creation, the Libyan leader and long-time CIA asset Gen. Khalifa Haftar. Haftar was a general of Moammar Gadhafi until 1987, when he was captured by Chad. The next year, he became a US proxy for an anti-Gadhafi insurgency, and after that collapsed, moved to Virginia, with occasional trips back to Libya for other failed US-backed plots. When NATO helped regime change in 2011, Gen. Haftar was quick to make his grand return, and has been trying to consolidate his power ever since. He announced a coup in 2014, which didn't amount to much, and is now at the head of the army or so-called Dignity Operation loyal to Tobruk-based House of Representatives. "The United States and its allies can't figure out what to do about Khalifa Haftar, the Libyan general whose refusal to support a fragile unity government has jeopardized hopes for stability in a country plagued by conflict." The Washington Post wrote. "Hifter is threatening many of the Western-backed initiatives in Libya and the establishment of a recognized political power," said Barak Barfi, a scholar at New America, a Washington think tank. "Hifter doesn't have the strength on the battlefield to deliver on his promises to defeat Islamists, but he can act as a spoiler."
So with the US having thrown this guy under the proverbial bus, he gets weapons, and support, in return for giving Russia a military base in Libya!!
I love the smell of irony in the morning; and had Hillary Clinton not insisted on the overthrow and assassination of Gaddafi, none of this, including Libya's civil war, would ever have happened in the first place!!
I can well imagine that some folks in the State Department and Pentagon are collectively tearing their hair out right now; the US government has just been effectively "neutralized" in Libya, and there really is not a damned thing the US government can do to change this, save declaring war on Russia.
And between it's weaponry problems; it's troop strength; it's money issues, and it's manufacturing capabilities, the US military is woefully unready to fight Russia at the moment.
Freedom-of-speech protection under the First Amendment, experts point out over and over, does not extend to the private sector, and that's a tough lesson to learn following a divisive presidential campaign of unusually coarse discourse.
"Employers have always been sensitive to these issues," said Michael Gerhardt, scholar in residence at the National Constitution Center. "They're going to be really sensitive these days. Their brands are at stake."
On Monday, Emily "The Pistachio Girl" Youcis, a well-known food vendor at Citizens Bank Park, was fired by Aramark for her involvement in "white identity politics."
The foundry site in England where the Liberty Bell and London's Big Ben were made is going to close after 277 years, the Guardian reports.
The owners of the Whitechapel Foundry, considered London's oldest manufacturing business, have sold their building and plan to close the site in May but hope to sell the business so that it can resume operations at another location.
For months Roosevelt had been doing almost everything he could to provoke Hitler into attacking us, but Hitler would not go for the bait. Even Roosevelt's greatest defenders will admit that this was true. They argue that it was simply the right thing to do to ally ourselves with Britain (and the Soviet Union) against "Nazi aggression." The big problem, from that perspective, is that the mood of the country was still strongly against our involvement in "foreign wars," based upon our bitter World War I experience. In a campaign speech on October 30, 1940, as the European war raged, Roosevelt had catered to the national mood with these words, "And while I am talking to you mothers and fathers, I give you one more assurance. I have said this before, but I shall say it again and again and again: Your boys are not going to be sent into any foreign wars."
Tags:
Environmentalists and human rights activists are accusing Vice President Al Gore of hypocrisy over his shareholding in Occidental Oil, a company that plans to drill in Colombia's rainforests over the objections of local indigenous communities.
US Secretary of State John Kerry announced on Tuesday that he expects to meet with Russian Foreign Minister Lavrov later this week for further talks on a proposal for the rebels' departure and is "not aware of any specific refusal" to follow the initially discussed agreement. Earlier on Tuesday Lavrov said that the US withdrew its initial proposal on militants withdrawal and wants to suggest new terms and conditions that the Syrian-Russian-Iranian alliance will have to follow in Aleppo.
A bit late, John. Aleppo has been liberated.
Disturbing video out of Germany shows a migrant kick a petite, 26-year-old blonde woman down a set of stairs from behind.
By: ChrisMenahan
Tags:
Vladimir Putin spoke with Donald Trump on the phone six days after his victory on November 14th. Hours after their phone call was over, Putin proceeded to bomb the hell out of Aleppo and wage total war.
In just around two weeks time, Putin and Assad managed, in the words of the IB Times, to "bomb their way to victory" in Aleppo. Today, we learn they've reportedly retaken 35 districts in the city and corralled ISIS and other rebel terrorists into a remaining five.
They're now closing in on Aleppo's Old City and on the brink of retaking the entire region.
This is a massive victory for Assad, Putin and Donald Trump. That's why the lying media is pretty much ignoring the story.
By: MTJ
Tags:
The passing of Fidel Castro at 90 years of age provided opponents of the Cuban Revolution with an opportunity to pick up their ideological mantra in favour of some abstract notion of democracy, while ignoring the Revolution's social achievements and human development.
By: malterwitty
Tags:
Foxconn Technology Group, the biggest assembler of Apple Inc. devices, is in preliminary discussions to make an investment that would expand the company's U.S. operations.
The disclosure came hours after an announcement by U.S. President-elect Donald Trump and SoftBank Group Corp.'s Masayoshi Son to invest $50 billion in the U.S. and create 50,000 jobs. The money will come from SoftBank's $100 billion technology fund, which was announced in October, a person familiar with the matter said. A document that Son held up after the meeting in Trump Tower also included the words "Foxconn," "$7 billion" and "50,000 new jobs" in addition to SoftBank's numbers.
David Brock is a literal "mad man", because he failed to help Hillary Clinton win the Presidency. Brock is the owner of MEDIA MATTERS, which is the center of a conglomerate which George Soros helps finance.
If you listen closely, the global elite are telling us exactly what they intend to do. If they get their way, our world is going to look vastly different than it does now in the not too distant future.
Epson Wi-Fi-connected printers are repeatedly crashing due to what looks like a combination of a firmware update gone wrong and Google Cloud Print.
Reg tipster Terry Bernstein says folks have found that their Epson WF?3520 printers have been sent into a constant loop of shutting down and restarting over the past day.
The issue appears to be related to a recent firmware update, as owners say they began seeing the problem after an upgrade was pushed to the printers by Epson. El Reg has asked Epson for comment on the matter, but has yet to hear back.
On Tuesday, disgruntled Democrats held a forum to discuss the possibility of replacing the Electoral College.
Rep. Zoe Lofgren (D-CA) conceded that Democrats could not get rid of the Electoral College due to the way the United States Constitution is written.
"I don't think we can sustain our American democracy by having the majority ruled by the minority. And so the question is how to fix this since the Constitution is written in such a way that it's almost impossible to amend," Lofgren said.
A significant report into CIA torture will not be released, according to Representative Adam Schiff.
The 6,700-page Senate Intelligence Committee report contains details of waterboarding and other 'enhanced interrogation techniques', widely considered to be acts of torture and a violation of international laws.
Over the years we have created our own holiday cards and have built up quite a library. This page has some selections which do not have our names on them, so you can copy them off and customize them for your own use!
Merry Christmas!!!!!!
I wrote a descriptive Christmas card for friends and family, and will now tweak it a bit to share with cyber-community.
A friend is just back from Standing Rock, North Dakota where the daytime temperature was -2 F (-19 C) in blizzard conditions.
Tags:
Documents declassified in 1994 revealed that Roosevelt spent 1941 following an 8 step plan to provoke Japan crafted by ONI Lt. Cmdr. Arthur H. McCollum, as a back door to war against Nazi Germany.
Far from being a surprise, British agent Dusko Popov, code-named Tricycle, delivered a copy of the complete Japanese plan for the attack to the FBI in August of 1941. While the public was told that the Japanese fleet maintained radio silence, the reality is that they were broadcasting all the way across the ocean, and intercepted by the government's Station-H on windward Oahu (which intercepted Admiral Yamamoto's order to set sail for the attack on November 25th) and by Leslie Grogan, the civilian radio operator on the Matson steamship SS Lurline, who was able to plot the progress of the fleet towards Japan, and handed a map to the Hawaiian Navel Intelligence office when the Lurline arrived in Honolulu, three days before the attack.
By: MTJ
Tags:
Pubic hair grooming could be putting people at greater risk of sexually-transmitted infections (STIs), doctors warn.
It's not just that shaving, waxing and trimming can leave small tears in the skin, which make for fertile grounds for diseases. Groomers were also found to be more sexually active than the less preened.
German Chancellor Angela Merkel says Britain will not be given much leeway to "cherry pick" the parts of the European Union it prefers in the Brexit negotiations without accepting its four basic freedoms.
"We will not allow any cherrypicking," Merkel said at a meeting of her Christian Democratic Union (CDU) party members in the German western city of Essen on Tuesday.
Over the coming years Russia will be engineering and testing a new deep space cargo-carrier rocket that will allow for the construction of a 12 person moon base over the next few decades.
Member groups Jaish al-Fatah and Fatah Halab militant coalitions announced that they are ready to withdraw from the city under a deal with the government.
A large group of militants already surrendered to government forces.
On Monday night, actor and activist Danny Glover spoke at Democracy Now!'s 20th anniversary at Riverside Church—the very same place where civil rights leader Rev. Martin Luther King Jr. gave his historic speech against the Vietnam War in 1967. As Danny Glover addressed more than 2,000 people, he called on the crowd and the country to organize once again in the spirit of Martin Luther King.
Gilad Atzmon: I do not engage in prophecy. The two-state solution is dead and if I am reading the map correctly, the US is not a key player in the Middle East anymore. Putin took their place and this fact may have a significant positive impact on the future of the conflict.
In the Wisconsin Day 5 Recount Update 32,423 votes for Hillary Clinton were erased resulting in a 28,830 vote net increase for Donald Trump.
Update: In Michigan, over 1/2 of Hillary Clinton's Detroit vote count is faces disqualification.
Tags:
If you like your privacy, don't fly the friendly skies with your phone connected to in-flight networks. American and British intelligence have been surveilling phone use aboard civil aircraft since at least 2005, according to a new investigation by Le Monde based on secret documents from former National Security Agency contractor Edward Snowden.
Simply turning on your phone when the plane is flying above 10,000 feet will reveal your location to the NSA, according to an article from a classified internal newsletter.
The Dutch government has rejected calls to cease funding organizations that advocate a boycott of Israel.
In June this year, NGO Monitor – a lobby group with close ties to the Israeli political and military establishments claimed it had scored a significant victory in the Netherlands.
NGO Monitor was referring to a decision made by the Dutch parliament that a review should be undertaken of the country's aid to organizations supporting the Palestinian-led boycott, divestment and sanctions (BDS) movement. According to NGO Monitor, the parliament's vote was the result of briefings that the lobby group had provided on how "radical" activists were engaged in the "demonization" of Israel.
The government in The Hague has now made it clear, however, that it will not bar BDS advocates from receiving aid.
A lawmaker in the UK's Labour Party who played a key role in this year's manufactured anti-Semitism crisis maintained ties to the Israel lobby once she entered Parliament.
Official records show that Ruth Smeeth was funded by two ultra-wealthy figures from the same pro-Israel organization she once worked for. But these relationships have been overlooked by the British press, which have extensively reported on her allegations of anti-Semitic abuse at the hands of Jeremy Corbyn supporters.
Anderson's cremated remains, along with those of another man who survived that attack 75 years ago, will be interred by Navy divers in the No. 4 turret of the Arizona Wednesday.
Their cremains will join those of about 1,100 sailors and Marines entombed in the wreck.
Saleh v. Bush involves claims by an Iraqi woman, Sundus Shaker Saleh, that former President George W. Bush and other high ranking Bush-era officials broke the law when they planned and waged the Iraq War.
Saleh alleges that former Bush Administration leaders committed the crime of aggression when they planned and executed the Iraq War, a war crime that was called the "supreme international crime" at the Nuremberg Trials in 1946.
Saleh is appealing the immunity provided to the Defendants by the district court in December 2014.
Reports from Aleppo confirm collapse of Jihadi resistance and mass surrender of Jihadi fighters to Syrian Arab Army. Surrendered Jihadi fighters being bused in green buses to an undisclosed destination.
oe Biden received a Kennedy award at a star-studded human rights gala in New York - as he ruled out running for President in 2020, implying that he was only joking about going up against Donald Trump.
The Vice President was awarded the Robert F. Kennedy Human Rights Ripple of Hope Award on Tuesday night at the New York Hilton.
Biden was honored for devoting his life to public service and for being an outspoken supporter of women's rights, civil rights, same-sex marriage and public education.
This is the 90th time we have named the person who had the greatest influence, for better or worse, on the events of the year. So which is it this year: Better or worse? The challenge for Donald Trump is how profoundly the country disagrees about the answer.
It's hard to measure the scale of his disruption. This real estate baron and casino owner turned reality-TV star and provocateur—never a day spent in public office, never a debt owed to any interest besides his own—now surveys the smoking ruin of a vast political edifice that once housed parties, pundits, donors, pollsters, all those who did not see him coming or take him seriously. Out of this reckoning, Trump is poised to preside, for better or worse.
This is called "Damning with faint praise."
On October 7, 1940, Lieutenant Commander Arthur McCollum of the Office of Naval Intelligence submitted a memo to Navy Captains Walter Anderson and Dudley Knox (whose endorsement is included in the following scans). Captains Anderson and Knox were two of President Roosevelt's most trusted military advisors.
The memo, scanned below, detailed an 8 step plan to provoke Japan into attacking the United States. President Roosevelt, over the course of 1941, implemented all 8 of the recommendations contained in the McCollum memo. Following the eighth provocation, Japan attacked. The public was told that it was a complete surprise, an "intelligence failure", and America entered World War Two.
The good Father also spoke of how the propagandists would "merchandise lies, murders, hell holes, corpses, and broken hearts for the loved ones left behind." He warned his audience that they would do this "While you people pay to be propagandized" and said "They are still depending upon your gullibility. They are still banking upon your unintelligence, as they say, to lead you like sheep to the slaughter tomorrow, as they did your fathers and brothers yesterday. For oh, they are ingenious!"
Tags:
Now then, I wish to offer a suggestion for a very simple way to have an open and honest election system. It is not 100% foolproof, but is designed to make it very difficult for cheating to happen and difficult to conceal it. This stands in sharp contrast to the current system, which is designed to facilitate and conceal the manipulation of elections.
First, some basic rules.
If you just now realized the entire mainstream media publishes nothing but FAKE news, you might want to wake up and realize something even bigger: They've been faking the news for decades!
The crimes, which also include urinating on sidewalks and being drunk in public, are infractions punishable only by fines. But when those who were cited failed to show up in court, judges in the past have issued bench warrants ordering them to appear, with a sentence of five days in jail for failing to show up.
"...everything that the Japanese were planning to do was known to the United States..." ARMY BOARD, 1944
President Roosevelt (FDR) provoked the attack, knew about it in advance and covered up his failure to warn the Hawaiian commanders. FDR needed the attack to sucker Hitler to declare war, since the public and Congress were overwhelmingly against entering the war in Europe. It was his backdoor to war.
FDR blinded the commanders at Pearl Harbor and set them up by -
denying intelligence to Hawaii (HI)
on Nov 27, misleading the commanders into thinking negotiations with Japan were continuing to prevent them from realizing the war was on
having false information sent to HI about the location of the Japanese carrier fleet.
If you want to be a "Good Samaritan" to the homeless in your community, you might want to check and see if it is legal first. All over the country, cities are passing laws that make it illegal to feed and shelter the homeless.
Many, many Christians believe they are subject to religious discrimination in the United States. A new report from the Public Religion Research Institute and Brookings offers evidence: Almost half of Americans say discrimination against Christians is as big of a problem as discrimination against other groups, including blacks and minorities.
Iowa announced Monday that it has disbanded its state forfeiture team and — in a separate move — also agreed to pay $60,000 to settle a lawsuit brought by two California gamblers whose bankroll was seized during a warrantless search in 2013 by two Iowa State Patrol troopers.
December 6, 2016
By: malterwitty
Tags:
POLISH officials have confirmed the country will spend a whopping £11.5billion ($14.5billion) to drastically upgrade their military over the next five years.
I have to admit – I was not initially worried about the electoral college vote or the election results being changed. Perhaps through my own normalcy bias or cognitive dissonance and given Trump's sizeable electoral advantage, I believed that the Jill Stein recount was not a true concern. I was wrong – and here is why.
The Syria rebel commander has informed an Arabic news source off the record the terrorists are in secret negotiations with the U.N. to withdraw from Syria.
HNN has just been informed that an Arabic news source in communication with the Syria rebels has reported the rebels in Syria have decided unanimously to leave Aleppo.
According to the source the terrorists are secretly negotiating terms and a process to withdraw their forces through their U.N. representatives in Turkey.
By: malterwitty
Tags:
In what is being described as the coldest arctic blast since last winter, cities as far apart as Seattle and Chicago are expecting to cop a snow-coating in the coming days.
The cold is expected to stick around next week as well, near freezing and below temperatures forecast in New York, Illinois, Ohio, Missouri, Massachusetts, Michigan and Tennessee until Thursday.
But the cities to cop the cold in the next few days are those across the Northern High Plains in Nebraska, Colorado, Kansas, Texas, Wyoming, and other places, will be as much as 35 degrees colder than average for this time of year, according to the National Weather Service.
Hawaii receives 3 feet of snow drifting to 5 feet on the peaks of the Big Island. Last year in 2014 saw smaller amounts but snow, it seems its a pattern, and increasing. Fog Dome in Wales, Fog Falls in Wales also, plus records cold to shatter records across Canada and the USA.
Just a day after a Texas Republican "faithless elector" explained why he will not cast his vote for Donald Trump, The Denver Post reports two Democratic Colorado electors are filing suit challenging a state law requiring them to vote for the winner of the state's popular vote. Their hope is to set a precedent enabling Republican electors in other states to vote for a third-party candidate to keep Trump from receiving 270 electoral votes.
By: malterwitty
Tags:
The content delivery network states in the blog post that the company has been observing the overflow of traffic from about two weeks. It seems to be coming from a single source. Seemingly, someone was firstly testing their abilities with a 9-to-5 attack schedule and then the attack pattern was shifted to 24 hours. This new botnet is either equal or superior to the Mirai botnet.
After observing the heavy attack traffic that literally peaked at 172MBPS, which means about a million data packets per second or 400 gigabits per second, CloudFlare concluded that the botnet was being turned on and off by some person who was busy with a 9-to-5 job.
A suburban Philadelphia school district remotely activates the cameras in school-provided laptops to spy on students in their homes, a lawsuit filed in federal court Tuesday alleged.
According to the lawsuit filed by a high school student and his parents, the Lower Merion School District of Ardmore, Pa. has spied on students and families by "indiscriminate use of and ability to remotely activate the webcams incorporated into each laptop issued to students by the School District."
Italian Prime Minister Matteo Renzi says he takes full responsibility for the crashing defeat at the referendum he proposed.
In yet another blow to center-left politics, Italian Prime Minister Matteo Renzi has announced his intention to resign following a dramatic voter rejection of his constitutional reforms package.
renziThis unexpected shift in Italian politics could very well trigger calls for Italy to 'rethink' its relationship with Brussels.
If Renzi has his resignation accepted, then the government would be handed over to a 'care taker' leader until the next General Election scheduled for 2018, or until a snap election is called. Before any snap election can be called, elite bureaucrats are furiously trying to rewrite Italy's election laws allegedly to keep "Far Right" parties, like the surging Northern League out of power, but in reality these desperate measures are designed to prevent widely popular insurgent parties like 5 Star from gaining a majority in Parliament.
Much has been made of the Washington Post's recent "investigation," published in late November by reporter Craig Timberg, that implicates countless U.S. media outlets in disseminating Russian government propaganda. The Post's attack on leftist alternative media included outlets such as Truthdig, Black Agenda Report, and CounterPunch, as well as conservative outlets like Drudge Report.
Now the EU is threatening to escalate the situation up from "non-legislative" action if these companies don't take action to censor "hate speech" and "fake news" within 24 hours.
And of course "hate speech" is very loosely defined here, so it can basically be used to censor free speech online. We all know what the phrase "fake news" has come to denote — and nearly the entire alternative media is encompassed within it.
It should be no surprise that the same "fake news" the EU wants to censor has been blamed for Brexit and the potential for other countries like Italy deciding to leave the EU as well.
By: MTJ
Tags:
The judge presiding over the case of Walter Scott, who in April 2015 was shot in the back by former South Carolina police officer Michael Slager, was forced to declare a mistrial on Monday after the jury announced that they were unable to come "to a unanimous decision."
"The court therefore must declare a mistrial in this case and I so declare that is case is mistried," Circuit Judge Clifton Newman declared after the jury announced the deadlock. The news comes after a single holdout juror sent a letter to Newman on Friday saying that he "cannot in good conscience consider a guilty verdict."
Shocking footage obtained by the German paper Kölner Stadt-Anzeiger shows the total mayhem which occurred last year on New Year's Eve in Cologne.
The footage shows a massive, rowdy mob of migrants standing shoulder to shoulder on the steps of the Cologne Cathedral.
Women can be heard screaming "nein" and shouting "don't touch me" while German police are totally overwhelmed and unprepared to respond.
As three more previously Al-Qaeda held districts in eastern Aleppo fall to the Syrian army authoritative reports circulate that Jihadi commanders in the city are negotiating with the Syrian military to surrender.
The Pentagon is about to reap a generous windfall of revenue of up to $600 billion or more (see above) even though it cannot adequately account for up to $8 trillion and just recently was exposed for hiding some $125 billion of "bureaucratic waste.
A Washington Post investigation reveals this waste, which was internally documented in a study by the Pentagon. That study itself showed the funds that were improperly distributed.
By: MTJ
Tags:
The purpose of the European project, at least the purpose sold to the public, was to provide long-term stability to the continent, particularly economic stability. The lesson of the first fifty years of the 20th century was that nationalist competition among states led to economic instability and war. Therefore, cooperation among the nations of Europe on economic matters, as well as a common defense, would keep the peace and allow all nations to prosper together, as one continent.