Watch RT Live On Air
Trump tells Israel Iran will never have nuclear weapons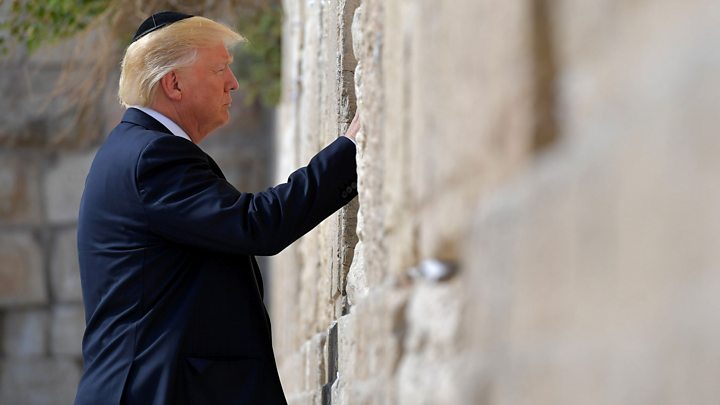 Media captionWatch: Donald Trump visits sacred Western Wall and makes Iran warning
US President Donald Trump has told Israel's Prime Minister, Benjamin Netanyahu, that Iran will never have nuclear weapons.
He suggested the Iranians thought they could "do what they want" since negotiating a nuclear deal with world powers in 2015.
Mr Trump arrived in Israel from Saudi Arabia, where he sought to win Arab states' support for fighting extremism.
He has called for a peace deal between Israel and the Palestinians.
However, he has been vague about what form it should take, saying he prefers to leave it to both sides to decide between them in direct talks.
The two-day visit to Israel forms part of Mr Trump's first foreign trip as US president.
What exactly did Trump say about Iran?
Speaking in Jerusalem, he said Iran had negotiated a "fantastic deal" with his predecessor, Barack Obama, winning "a lifeline and prosperity".
But "instead of saying thank you", the Iranians were backing terrorism, he said. In a speech earlier on Monday, he accused Iran of "deadly funding, training and equipping of terrorists and militias".
Image copyright AFP Image caption Mr Trump (C) met both Mr Netanyahu (R) and Israeli President Reuven Rivlin (L) at the start of his visit
"Iran will never have nuclear weapons, that I can tell you," Mr Trump told Mr Netanyahu.
In a deal with world powers in 2015, Iran accepted curbs on its nuclear programme in return for tangible economic benefits, and the White House confirmed last month that the deal was still holding.
Image copyright EPA Image caption Iran showed off its air defence missiles at a parade last month
Iranian President Hassan Rouhani, who was re-elected for a second term last week, championed the 2015 deal but on Monday he appeared to sweep aside international concern about Iran's missile programme.
"The Iranian nation has decided to be powerful," he said on state TV. "Our missiles are for peace and for defence... American officials should know that whenever we need to technically test a missile, we will do so and will not wait for their permission."
Mr Rouhani also played down Mr Trump's strong criticism of Iran at a summit in Saudi Arabia at the weekend, saying: "Who can say regional stability can be restored without Iran?"
---
Even harder than Mid-East peace? Analysis by Siavash Ardalan, BBC Persian
Forging an anti-Iranian alliance between Israel and Saudi Arabia may prove an easier task for President Donald Trump than bringing peace between Israel and the Palestinians.
Having focused on a bitterly contested election, Iranian leaders are now at least ostensibly playing down the emerging threat from a new US administration that has virtually put Iran back in the "axis of evil" box.
President Rouhani described Mr Trump's massive arms deal with Saudi Arabia as having "no practical value" and Iranian Foreign Minister Javad Zarif questioned rhetorically whether the push by the Americans constituted a new foreign policy or just "milking Saudis" for hundreds of billions of dollars.
Even though any possibility of a military confrontation is not imminent, a tough US stance against Iran could make it much more difficult for the moderate Hassan Rouhani to do business with the outside world, and therefore deliver on his promise of a better economic future for the country.
---
Can Trump's trip bring peace any closer?
Speaking about the prospect of a peace deal between Israel and the Palestinians, Mr Trump said, "I've heard it's one of the toughest deals of all".
But he added that he had a "feeling that we're going to get there eventually".
President Trump believes he is the world's greatest dealmaker and making peace between Israelis and Palestinians after a century of conflict would be the world's biggest deal, writes Jeremy Bowen, the BBC Middle East editor.
Image copyright Reuters Image caption Some Palestinians in the Gaza Strip protested against Mr Trump's visit
During the US election, candidate Trump expressed views that seemed to fit neatly with those of the right-wing Israeli government of Mr Netanyahu - favouring expansion of Jewish settlements on occupied territory and a tough line towards Palestinian aspirations for independence.
But in office, President Trump has been more nuanced - so there has been some nervous speculation on the Israeli right that he might demand concessions from their side, our editor says.
Image copyright Getty Images Image caption Some Israelis protested in Tel Aviv
But most people, on both sides of the argument, are deeply sceptical about the chances of any progress, no matter what President Trump says or does while he is here, our editor adds.
Israel and the Palestinians have not held direct talks in just over three years.
Mr Trump is due to meet Palestinian leader Mahmoud Abbas in Bethlehem on Tuesday.
Where did Trump go in Jerusalem?
Before meeting Mr Netanyahu, he visited the Church of the Holy Sepulchre where - site of Jesus's burial and resurrection, according to Christian tradition.
Then, wearing a Jewish skullcap as a mark of respect, he visited the Western Wall, one of the most sacred sites in Judaism.
Image copyright AFP Image caption Melania Trump (R) and Sara Netanyahu met children at a hospital in Jerusalem
The wall is a remnant from the time of the Second Jewish Temple, which stood on the plateau above it and was destroyed by the Romans in 70 AD.
Mr Trump could be seen placing what appeared to be a written note between its stones, as is the custom among visitors to leave notes with prayers and requests to God. Media captionTour guide Shraga Ben Yosef gives us a quick trip around Jerusalem's holiest sites
Have Trump's domestic troubles pursued him abroad?
The president's visit was overshadowed by political difficulties at home.
Speaking to Mr Netanyahu on Monday, he sought to dispel suggestions that he had passed on sensitive Israeli intelligence to Russian diplomats at a recent meeting, saying he had not mentioned the word "Israel" at the meeting.
Latest reports from the US say Mr Trump's former National Security Adviser, Michael Flynn, will refuse to give evidence to the Senate Intelligence Committee after being subpoenaed in connection with Moscow's possible involvement in last year's presidential election.
Trump's coming to Europe too, right?
He will be in Rome to meet Pope Francis and Brussels to see Nato leaders.
On Friday, he will return to Italy for to meet other world leaders at a G7 summit in the Sicilian town of Taormina, where climate change is expected to be discussed.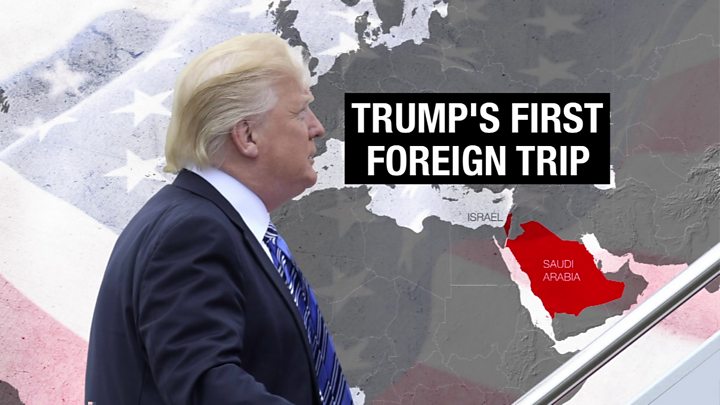 Media captionWhat's on the agenda?
Monday, 22 May: Jerusalem
Tuesday, 23 May: Bethlehem and Jerusalem
Wednesday 24 May: Rome and Brussels. Mr Trump will meet Pope Francis, then Belgian officials
Thursday, 25 May: A Nato meeting in Brussels
Friday, 26 May: Sicily, for a summit of G7 members
Trump & 55 Muslim-majority states sign pact pledging 34,000 troops to fight ISIS in Iraq & Syria
Published time: 22 May, 2017 01:55 Edited time: 22 May, 2017 10:25
U.S. President Donald Trump, Saudi Arabia's King Salman bin Abdulaziz Al Saud, and arab leaders pose for a photo during Arab-Islamic-American Summit in Riyadh © Jonathan Ernst / Reuters
The US and Middle Eastern countries have backed a new pact that promises to provide extra troops for defeating Islamic State, singles out Iran for destabilizing the region, and says that Riyadh is to become the heart of the region's counter-terrorism operations.
Described as the Riyadh Declaration, the document was signed following US President Donald Trump's visit to the Saudi capital for a summit that brought in Islamic representatives from 55 countries, and vowed "to combat terrorism in all its forms, address its intellectual roots, dry up its sources of funding and to take all necessary measures to prevent and combat terrorist crimes in close cooperation among their states."
"The leaders welcomed the establishment of a global center for countering extremist thought to take base in Riyadh, and praised the center's strategic objectives of combating intellectual, media and digital extremism and promoting coexistence and tolerance among peoples," said the text of the document, published by the Saudi Press Agency.
The exact membership of what the communique called the Middle East Strategic Alliance will be decided next year, but putative members have committed to assembling "a reserve force of 34,000 troops to support operations against terrorist organizations in Iraq and Syria when needed."
Currently the burden of anti-IS combat in both states is being shouldered mostly by local troops and Kurdish forces, with the international coalition providing air support, equipment and funding.
Despite a stated desire for inclusivity and tolerance – the declaration advocates "a rejection of any attempt to draw a link between terrorism and any religion, culture or race, affirming their determination to protect and promote a culture of tolerance, coexistence and constructive cooperation among different countries, religions and cultures" – an entire third of the resolution was aimed specifically against Iran, a Shia-majority state, and its "sectarian agendas."
READ MORE: 'Encouraging': Ivanka & Melania Trump praise Saudi Arabia's progress on women's rights
"The leaders confirmed their absolute rejection of the practices of the Iranian regime designed to destabilize the security and stability of the region and the world at large and for its continuing support for terrorism and extremism," said the final communique, which also accused the Islamic Republic of running a "dangerous ballistic missiles program" and "continuing interference in the domestic affairs of other countries."
While rich in specific epithets, the declaration broadly followed the agenda of Sunday's Sunni-dominated Riyadh summit, and the speech delivered by Trump, which mentioned Iran a dozen times, and accused it of "spreading destruction and chaos across the region."
'Drive them out'
Trump's speech called on the leaders of the Muslim world to join their efforts in fighting terrorism and extremist ideologies, and pledged unconditional support to the US's old and new allies in the region.
"Our goal is a coalition of nations who share the aim of stamping out extremism and providing our children a hopeful future that does honor to God," Trump said.
"This is a battle between barbaric criminals who seek to obliterate human life, and decent people of all religions who seek to protect it. This is a battle between good and evil," Trump adding, stressing that the Muslim countries should take an active role in this battle and make a choice that no one else can make for them.
"A better future is only possible if your nations drive out the terrorists and extremists… Drive them out of your places of worship. Drive them out of your communities. Drive them out of your holy land, and drive them out of this Earth," Trump said.
He then announced establishment of several international anti-terrorism centers, including two Riyadh-based groups joined by Gulf Cooperation Council members and co-chaired by the US that will be tasked with preventing the financing of terrorism.
Trump then went on to accuse Iran of providing terrorists with "safe harbor, financial backing, and the social standing needed for recruitment" as well as of being "responsible for so much instability in the [Middle East]."
He blamed Tehran for aggravating the Syrian crisis through what he called a "destabilizing intervention," before calling on "all nations of conscience" to "work together to isolate Iran, deny it funding for terrorism."
Trump separately thanked King Salman, the leader of the Saudi Arabia, for his "massive investment in America, its industry and its jobs" as well as for "for investing in the future" of the Middle East, as he spoke about a recent arms deal signed by the US and Saudi Arabia, which is worth $350 billion over 10 years, with nearly $110 billion to take effect immediately.
READ MORE: Trump strikes arms deal with Saudis worth $350bn, $110bn to take effect immediately
While news agencies of the Gulf States presented the news on the signing of the alliance as a milestone event, critics were not impressed with the facade, saying it all boiled down to pragmatic interests, notably those of the US military-industrial complex.
Trump's speech was "all about defense procurement," Martin Jay, a Beirut-based journalist and a Middle East expert, told RT, adding that Trump basically told all the Muslim leaders who attended the summit that the US would support them as long as they bought US weapons.
READ MORE: America's cash cow: 'Trump does not value the Saudis, only their money'
"What [Trump] was basically saying to all of these [leaders], some of whom had poor human rights records in their own countries, is that the [US] does not care about their human rights records and does not care about what they do to their own people and would even help them stay in power… if they buy American guns," Jay said.
Tehran's initial reaction to the Riyadh declaration and Trump's speech was sarcastic, with Foreign Minister Javad Zarif tweeting: "Iran – fresh from real elections – attacked by @POTUS in that bastion of democracy & moderation."
Zarif then wondered if the anti-Iran text could be explained by: "Foreign Policy or simply milking KSA of $480[billion]?"
The History The US Government HOPES You Never Learn!
THOUGHT FOR THE DAY!
"It is an old adage that honesty is the best policy. This applies to public as well as private life, to states as well as individuals." -- George Washington, 1785
YOUR RANDOM DHS MONITORED PHRASE OF THE DAY
Cyber security
Paid advertising at What Really Happened may not represent the views and opinions of this website and its contributors. No endorsement of products and services advertised is either expressed or implied. While we try to avoid advertisers of fraudulent products, What Really Happened assumes no liability for such fraud. Caveat emptor.

---
May 21, 2017
U.S. Ambassador to the United Nations, Nikki Haley said that the Trump administration "wants to prevent another conflict like Syria, North Korea or South Sudan" in Venezuela which is a code phrase for "regime change." According to a May 17th report by the Associated Press (AP):
Haley said the U.S. intention wasn't to be "intrusive" or "heavy-handed" but to support regional efforts to find a political solution and "show respect for the Venezuelan people" who want free and fair elections, the release of political prisoners and the worsening humanitarian situation addressed.
"We think if that doesn't happen we will certainly be hearing this in the Security Council because it will be a real problem — not just in the region but internationally," Haley told reporters after the closed-door briefing and discussions that lasted over 1½ hours.
Venezuelan Ambassador Rafael Ramirez accused Washington of trying "to interfere in our domestic issues." The AP report says that the
The American Deep State understood full well the consequences of what this precipitous drop in oil prices would do the both the Venezuelan and Russian economies; look at it as a form of destabilisation of regimes it doesn't particularly like.
Russia is recovering, economically, rather nicely, because its economy was diversified, which Venezuela's economy was not.
So now, regime change has been greenlit in Venezuela, courtesy of the US government. This horrific pattern persists, no matter who is in the White House.
That Dwayne "The Rock" Johnson is seriously considering running for office, demonstrates, very clearly, the absolute figurehead nature of the position; the people really running the country are the American Deep State, and the US military.
Even the waves of so-called "terrorists attacks" in Germany, Holland and France last year underscores that these are the conspiracy theories aimed at continuous war in Syria and elsewhere. Many Europeans would still keep faith with the war-mongers' cooked-up stories and back the US and NATO's intervention in Syria. The sole purpose of all these planned attacks was and is to demonize the Islamic State or Al-Qaeda and draw a whole support to wage a filthy war against "the nations" where these terrorists operate.
Unrest in Afghanistan is a recipe for more US weapons' sales to war-exposed countries, viable drug trafficking that generates a profit far beyond measure, unearthing of underground resources worth of several trillion dollars, restraining of the regional military and economic rival powers and so others.
The sickening rhythm of "invade; regime change; occupy; expropriate resources; and insure those resources are only sold in US dollars" continues, unabated.
And in his weekend trip to Saudi Arabia, with that ginormous US arms deal he greenlit, it appears that President Trump is setting up that country for a proxy war against Iran, to regime change that country as well.
But there is one minor problem; in both Syria, and Iran, Russia's leadership has pledged both countries to resist any attempt at regime change; and the Russian military is very formidable, at this point in its history.
War with Russia over Syria and Iran?!?
That's precisely where the US government and military are headed right now, and unless there are some American leaders willing to bring some semblance of sanity back to DC, it is not a question of if, but when, such wars will happen.
Tags:
Prodigious snows in the Boulder County and Front Range foothills, well over 3 feet in many locations, are not likely to trigger serious flooding issues, thanks to a continuing cool that will regulate the pace of runoff, experts said Friday.
Tags:
Nearly eight years into an economic recovery, nearly half of Americans didn't have enough cash available to cover a $400 emergency. Specifically, the survey found that, in line with what the Fed had disclosed in previous years, 44% of respondents said they wouldn't be able to cover an unexpected $400 expense like a car repair or medical bill, or would have to borrow money or sell something to meet it. Troubling as this statistic remains, the overall share of adults who would struggle to come up with $400 in a pinch has declined by 2% from the last survey conducted in 2015, and down 6% since 2013.
Of the group that could not pay in cash, 45% said they would go further in debt and use a credit card to pay off the expense over time. while a quarter would borrow from friends of family, and another 27% just couldn't pay the expense. Others would turn to selling items or using a payday loan.
---
Soon after that unlawful bombing, the Obama administration suspended the sale of nearly $400 million in weapons to Saudi Arabia.
It was a recognition, a long time in coming, that the coalition's military campaign in Yemen had devastated the country, killed thousands of civilians, and brought it to the brink of famine.
After the funeral bombing, unlawful airstrikes continued, but the decision to suspend arms sales sent an important message to the Saudis. President Donald Trump, in his first trip abroad as president, is going to send an alternative, deeply troublesome message.
While in Riyadh this weekend, Trump reportedly plans to announce more than $100 billion in arms deals to Saudi Arabia – nearly as much as Barack Obama authorized during his eight years in office.
The deals include Raytheon bombs, Lockheed Martin missile defense systems and BAE combat vehicles, and some of the weapons whose sales had been suspended.
I do not think the new arms are specifically for Yemen, but to fuel a Saudi/Iran proxy war the way the US Government fueled the Iran/Iraq war.
In a move that will surely light the proverbial lightbulb over Donald Trump's head, Brazilian President Michel Temer, having been officially dragged into Brazil's massive corruption scandal after a record emerged in which he urged the payment of "hush money", said on Saturday he would ask the Supreme Court to suspend its investigation into allegations he was also involved in the carwash corruption scheme, vowing to remain in power.
Speaking during a televised address on Saturday afternoon, Brazil's deeply unpopular president, who replaced a just as deeply unpopular president last year when Dilma Rouseff was impeached, claimed the recording that implicated him in the scandal was doctored and said he would file a petition with the Supreme Court to suspend the investigation until it could be verified, the WSJ reported.
The Philippines' outspoken president Rodrigo Duterte got a glimpse of the true snarling, belligerent Chinese dragon hiding behind the cheerful, globalist Panda facade earlier this week, when in response to a claim that his country was prepared to drill for oil in a disputed part of the South China Sea, China's president Xi told him matter-of-factly that in that case he should prepare for war.
In a meeting on Monday between the two presidents, Duterte asserted his nation's sovereignty over disputed South China Sea territory citing last year's ruling by the Permanent Court of Arbitration. "We intend to drill oil there, if it's yours, well, that's your view, but my view is, I can drill the oil, if there is some inside the bowels of the earth because it is ours," Duterte said in a speech, recalling his conversation with Xi.
---
---
Tags:
On May 18, the US-led coalition struck pro-Assad fighters near the town of al-Tanf in the vicinity of an established safe zone protected by Russia. Russian Senator Igor Morozov commented to Sputnik on the attack, saying that it might be a signal to Damascus that the US is interested in Syrian oil deposits.
Every once in awhile it is necessary and desirable to expose extreme ideologies for what they are by carrying out their arguments and rhetoric to their logical and absurd conclusion, which is why we are proud to publish this expose of a hoaxed article published in a peer-reviewed article today. It's ramifications are unknown but one hopes it will help reign in extremism in this and related areas.
—Michael Shermer
Prime Minister Benjamin Netanyahu has required all cabinet ministers to attend the reception ceremony for U.S. President Donald Trump at Ben-Gurion International Airport on Monday. A senior Israeli official said that Netanyahu issued his instructions after finding out that most ministers were not planning on attending the event.
---
---
"This book is dedicated to my fallen shipmates and to all patriotic Americans who, when they read it, will come away shocked and dismayed as to how the U.S. government lied to the American people about the cold-blooded murder of Americans on the high-seas, a cover-up perpetrated not just by them but by the government of Israel as well."
I was sent a copy of this book. It is very good, consisting mostly of first-person eyewitness accounts of the attack.
The Pentagon overbilled the US Army, Navy, Air Force, and the Marines for fuel, pocketing the massive price differences to fill a "slush fund" used for inefficient or mismanaged defense programs, according to the Washington Post.
Yet the hundreds of billions of improper payments by the government to contractors, physicians, beneficiaries and others could well be just the tip of the iceberg of federal funds being squandered because of inadequate oversight. That's because the Department of Defense – the largest government agency with an annual budget of nearly $600 billion – has never been successfully audited.
---
Prominent jurist and head of Julian Assange's legal team Baltasar Garzon said that the US has been secretly conducting an investigation into his client and WikiLeaks, arguing that those implicated in crimes should face legal action instead.
You would struggle to find a lovelier view anywhere than that from Pencefn, a hilltop farm near Tregaron in mid-Wales.
Lush meadows with sheep grazing peacefully roll down towards the valley of the Teifi, renowned for its salmon and sea trout. Close by are the Cambrian Mountains, where the river begins its journey at the limpid Teifi Pools.
But dwarfing the main farm are the towers and tanks of an anaerobic digester. The Government-subsidised 'green guzzler' turns animal excrement, human food waste and specially grown rye into methane gas, which is burnt in a generator to make supposedly environmentally friendly electricity for the National Grid.
Tags:
The Japanese government has approved Emperor Akihito's abdication from the Chrysanthemum Throne in the first such case in two centuries.
The one-off bill, signed off by Prime Minister Shinzo Abe's cabinet, has sparked a possible succession crisis in the same week that his eldest granddaughter Princess Mako gave up her place in the Palace by agreeing to marry a 'commoner'.
As with all female members of the Imperial family, Mako, 25, would lose her royal status upon marriage to a commoner under a controversial law which does not apply to male 'royals'.
The 83-year-old Akihito could step down the end of December 2018 and be replaced by his son, Crown Prince Naruhito, reports have suggested.
Author Ann Coulter reacted Saturday on Fox News Channel's "Justice" to how Saudi Arabia welcomed President Donald Trump this weekend, saying they respect Trump because he is a "strong alpha male leader," as opposed to "beta male" former President Barack Obama.
Barack and Michelle Obama flew into a Tuscany militray base on Friday, escorted by six fighter jets
They were escorted in a 13-car motorcade to Borgo Finocchieto, a refurbished 14th century village
The five-building, six-acre space is owned by Obama's former ambassador to Italy, John Philips
It features 22 bedrooms, multiple saunas and Jacuzzis, a swimming pool, a gym and a basketball court
It's also surrounded by beautiful rolling hills that can be explored by car, helicopter or even hot air balloon
The Obamas, who have been on multiple vacations since leaving the White House, will reportedly visit Florence and Siena during their vacation
"With the stroke of a pen, Rod Rosenstein redeemed his reputation," writes Dana Milbank of The Washington Post.
What had Deputy Attorney General Rosenstein done to be welcomed home by the Post like the prodigal son?
Without consulting the White House, he sandbagged President Trump, naming a special counsel to take over the investigation of the Russia connection that could prove ruinous to this presidency.
Rod has reinvigorated a tired 10-month investigation that failed to find any collusion between Trump and Russian hacking of the DNC. Not a single indictment had come out of the FBI investigation.
Yet, now a new special counsel, Robert Mueller, former director of the FBI, will slow-walk his way through this same terrain again, searching for clues leading to potentially impeachable offenses. What seemed to be winding down for Trump is now only just beginning to gear up.
---
Obama Weighs In On Health Care Reform After Accepting Profile In Courage Award "Rep. Gowdy is talking to members in the conference about the qualities they believe are most important for the next chairman to possess," Gonzalez said in a statement.
Tags:
As EU states cut the UK out of negotiations for a new joint defense fund and Middle East ally Saudi Arabia prepares to develop an independent arms industry, cracks are appearing in Theresa May's manifesto vision for a 'Global Britain.'
The Tory manifesto launched on Thursday strongly emphasizes the party's intention to leave the EU on terms favorable to the UK and the importance of maintaining and strengthening alliances and trade.
Toyota trucks aren't all ISIS has managed to buy, capture or scavenge from us. In June, CNBC reported that so far we've accidentally furnished the Islamic State with at least $219.7 million worth of weapons, vehicles and other military supplies and gear — and that's just the stuff we know about.
Based on various reports, CNBC came up with the following laundry list of supplies the U.S. has so kindly provided to ISIS so far.
2,300 Humvee armored vehicles at $70,000 each: $16 million
40 M1A1 Abram tanks at $4.3 million each: $172 million
52 M198 Howitzer mobile gun systems at $527,337 each: $2.7 million
74,000 Army machine guns at $4,000 each: $29 million
TOTAL: $219.7 MILLION in military weapons, vehicles, and other supplies and gear for ISIS.
Absoflippinglutely unbelievable!!
A local newspaper reported a network of extremists involved with the controversial extremist Identitarian Movement has been multiplying for years at the Bundeswehr University in Munich, an institution that aims to equip service members for future careers outside the military.
The Movement, which boasts an estimated 500 members and calls for a return to "traditional national values" is being monitored by domestic intelligence agency BfV for possibly breaching the country's constitutional rules on xenophobia.
---
We just found the advertiser who was causing problems on the site and disconnected them. Please help us cover the shortfall while we get new advertisers..
---
t is already known that all of these terrorists in Syria, including primarily the Islamic State (ISIS/ISIL/DAESH), are armed and sponsored by the US (and Israel) and their regional quisling states (Saudi Arabia, Turkey, Kuwait, Qatar…).
The terrorists' original warfare of partisan strategy [i], like by the Muslim Albanian Kosovo Liberation Army in 1995?1999, was based only on direct provoking of the legal and legitimate Syrian state security forces to respond by attacking the terrorists' posts. Later, well armed and equipped terrorists occupied immense portion of Syria and establishing full scale of ideological and religious terror against the civilians that simply forced a regular Syrian security forces to launch large scale military actions in order to stop the jihadist terror and liberate the country from the criminals but as it is expected with unavoidable number of civilian casualties.
I don't know what the Vegas odds of a direct military confrontation between the US and Russia in Syria might be at this point, but I would suggest that this possibility is escalating exponentially, with further US military attacks against Syria's sovereignty increasing consistently.
'They were convinced I wanted to immigrate illegally because my diary had notes like 'going away drinks' and 'last day at work', things I got in order before expecting to be away for three months,' she wrote on Facebook.
Hill left Australia for Honolulu on Monday on a 88-day tourist visa on a fully-paid trip.
But after being taken into an interview room, she was handcuffed and locked up in a federal prison.
'I was told there were no more flights to Australia that day and I would have to spend the night at the detention center, which the officer described as 'like jail but you can't make any phone calls',' she said.
'I was frisked, made to undress in front of an officer and show that there was nothing in my hair or mouth, and asked to 'squat and cough' which was absolutely mortifying.'
---
i
---
On Thursday, rock fans worldwide were shocked and saddened to hear that the legendary Soundgarden singer, Chris Cornell, had killed himself. "Chris's death is a loss that escapes words and has created an emptiness in my heart that will never be filled. As everyone who knew him commented, Chris was a devoted father and husband. He was my best friend," Cornell's wife, Vicky Cornell wrote following the death of her husband.
In an interview with Sputnik, Russian political analyst Anatoly Petrenko commented on the fact that more than 150,000 people have signed a petition calling for Slovakia's withdrawal from NATO; he said that it may set a precedent for other countries to follow.
The ordinary people across Europe do not want a new World War. They know part of it will be fought in their front yards, and they still see the scars remaining from the last two World Wars all around them.
Donald Trump has transformed the United States into a laughing stock and he is a danger to the world. He must be removed from the White House before things get even worse.
It is the US Government, warmongering and corrupt beyond redemption, that has turned the United States into a laughing stock and a danger to the world.
---
---
Newly elected French President Emmanuel Macron has reiterated that he will not recognise Palestine as a state as it would hinder good relations between Israel and France
Prior to his election win, Macron said he backs a two-state solution to the Israeli-Palestinian conflict, and that recognising Palestine would cause instability and he would not risk France's relationship with Israel to serve the Palestinian agenda.
An Iranian government official claimed earlier this week that its Russian-made air defenses were compromised by Moscow, leaving Iran and its allies defenseless against Israeli airstrikes. An engineer with Tehran's Ministry of Defense alleged that codes forcing anti-aircraft missiles to treat hostile Israeli fighters as friendly were sold to Tel Aviv, effectively neutralizing Syria and Iran's S-300 surface-to-air missile systems.
An Iranian official, described by the Jerusalem Post as a senior member of Iran's Defense Ministry, told the Kuwaiti newspaper Al-Jarida that Russia had sold "codes" to Israel that identified Israeli aircraft as friendly. The codes were used by Israel to prevent its aircraft from being targeted. Israel has flown dozens of air raids over Syria, and despite advanced air defenses, only the latest raid, flown last Friday, involved an actual missile launch.
I rather doubt this was an official Russian "sale" as opposed to the codes being stolen. But now we know why those Israeli planes were not shot at by the S-300s!
President Donald Trump has instructed the Pentagon to "annihilate" the Islamic State group in Syria in a bid to prevent escaped foreign fighters from returning home, Defense Secretary Jim Mattis said Friday.
The move to encircle then kill as many jihadists in place as possible -- rather than letting them exit a city and targeting them as they flee -- reflects an increased urgency to stop battle-hardened jihadists bringing their military expertise and ideology back to European capitals and other areas.
The president has "directed a tactical shift from shoving ISIS out of safe locations in an attrition fight to surrounding the enemy in their strongholds so we can annihilate ISIS," Mattis said, using an acronym for IS.
"The intent is to prevent the return home of escaped foreign fighters."
Makes one wonder just how soon the corporate presstitutes will resort to the concept of "body counts" to both justify the US presence in Syria (where, unlike Russia, the US government has not been invited to deal with the Jihadists), and make it appear that the US is "winning", just as happened with the war in Vietnam.
---
---
Tags:
The rocket was fired from an area near Pukchang, in South Phyongan Province, and flew eastward about 310 miles, said South Korea's Joint Chiefs of Staff. It did not immediately provide more details.
The White House said it was aware that North Korea had launched a midrange ballistic missile.
ROBERT STEELE: I have learned from a person I trust that Jared Kushner is being used by Israel to rapidly enable Saudi Arabian nuclear attack capability against Iran. In his recent call to the Lockheed CEO asking for a 12% discount (it should have been 50%) on Lockheed's missile defense system, Kushner was overheard discussing the arming of the Saudis with nuclear missiles with what sounded like an Israeli intelligence officer.
My source tells me that the Israeli's believe they can incite a limited nuclear war between Saudi Arabia and Iran, and that the nuclearization of Saudi Arabia will discourage Russia from deepening its support of Syria while also serving as a threat against Iran.
---
The US-backed Saudi fighter jets on Sunday dropped six cluster bombs on Saada city and separate areas of Saada province, a security official told Saba.
The bombs dropped three bombs on Al Atfain and Taibah areas of Kutaf district and other three on Saada city and its suburbs, causing heavy damage to citizens' properties.
Moreover, the Saudi air forces waged a series of strikes on Majz and Kutaf districts, killing a citizen and burning two cars.
Tags:
Secretary of State Rex Tillerson praised Saudi Arabia's effort to combat terrorism as "historic" on Sunday.
"I think it's historic what's happening here in Riyadh under the king's leadership," Tillerson told "Fox News Sunday" host Chris Wallace when asked about the president's upcoming speech to Middle Eastern leaders about the fight against extremism.
Saudi Arabia and the ruling Saudi family are the founders and big backers and supporters of those extremist Jihadis from days of Afghanistan's war against the Soviets.
If he can change his mind so violently on Saudi Arabia, what guarantees can he give Israel?
The US Government appears to be arming Saudi Arabia for a war with Iran, just as the US Government armed Iraq for their war with Iran. And before Saudi Arabia accepts this deal they need to look at Iraq's fate since the Iran/Iraq war.
By: suman
Tags:
Power took to her Twitter account Saturday to criticize a $110 billion arms deal that President Donald Trump inked with Saudi Arabian King Salman on the same day. Power seemed to oppose the deal arguing that Trump just agreed to provide arms to a country that has killed innocent civilians in Yemen, a country that borders Saudi Arabia to its south.
North Korea on Sunday fired a medium-range missile, U.S. and South Korean officials said, in the latest ballistics test for a country speeding up its development of nuclear weapons and missiles.
The rocket was fired from an area near the North Korean county of Pukchang, in South Phyongan Province, and flew eastward about 310 miles, South Korea's Joint Chiefs of Staff said. It did not immediately provide more details.
White House officials traveling in Saudi Arabia with President Donald Trump said the system, which was last tested in February, has a shorter range than the missiles launched in North Korea's most recent tests.
U.S. Pacific Command said it tracked the missile until it landed into the sea.
Is North Korea to blame for global cyberattack?
Play VIDEO
Is North Korea to blame for global cyberattack?
It appears to me that perhaps China's President Xi Jinping has been instrumental in counseling restraint to President Trump on the is issue of North Korean missile tests, and that is a positive outcome of their meeting earlier this year.
Robert Mueller, the newly appointed special counsel to investigate Russia's influence in the 2016 election, potentially carries conflicts of interest with him into the investigation.
Prior to his appointment, Mueller had worked at Wilmer Hale, a law firm with clients that include former Trump campaign manager Paul Manafort, President Trump's daughter Ivanka Trump, and Trump's son-in-law Jared Kushner. Each of these individuals potentially could be witnesses or deemed important subjects within Mueller's probe.
On the other hand, Fox News anchor and former defense attorney Gregg Jarrett points to another possible conflict of interest Mueller may have: his past working relationship with former FBI director Jim Comey — the man President Trump fired just two weeks ago.
How much marijuana has been grown in Washington? Over 150,000 pounds of useable marijuana produced in fiscal year 2017 under Washington's Legal System. Washington's legal marijuana market is booming, which is resulting in a lot of cannabis being grown.
According to the Washington State Liquor and Cannabis Board, there has been 363,268 pounds (lbs) of marijuana harvested in fiscal year (FY) 2017, which began on July 1, 2016 and ends on June 30. Of this harvested marijuana, 155,494 lbs is considered "useable", which is what is sold at marijuana retail outlets.
The anti-war journalist and investigative reporter John Pilger has been a long time friend and supporter of fellow Australian Julian Assange. Assange, once the darling of the western liberal media when he exposed the war crimes of George W. Bush's America,fell from their favour when he applied an equally vigorous amount of scrutiny to the war crimes, lies and lack of ethics of the Obama administration.
"Julian Assange has been vindicated because the Swedish case against him was corrupt. The prosecutor, Marianne Ny, obstructed justice and should be prosecuted. Her obsession with Assange not only embarrassed her colleagues and the judiciary but exposed the Swedish state's collusion with the United States in its crimes of war and "rendition".
Had Assange not sought refuge in the Ecuadorean embassy in London, he would have been on his way to the kind of American torture pit Chelsea Manning had to endure.
Julian Assange was never a criminal in my eyes; he was a witness to the truth of how the Deep American State does business, both domestically and internationally, and the reason he was, and is, so prosecuted, even unto this day.
Frequently, what those in the Bowels of Power in the Unhinged Surveilled States of America do, in the name of US hegemony, is both insane and morally reprehensible.
Believe me, if there are two people who understand about personal (and constant) cyber attacks with which to blacklist and smear someone, those two people would be Mike and me.
By: suman
Tags:
Airport TSA can and will commit unreasonable searches and seizures to the extent of full body x-ray scans, an obvious violation of your rights.
Now, you can tell them how you feel, with 4th Amendment Underclothes, available at CargoCollective.com.
Undershirts and underwear have the 4th amendment written in metallic inc, which will show up in an x-ray.
Last week, another round of cyber-attacks crippled computer systems across the world. As these attacks become more frequent, Americans need to understand what it means for their financial security.
For better or worse, a huge portion of what we do today happens online. And that includes our banking and investing.
President Trump started the first day of his trip abroad in Saudi Arabia. He was elated as he described the day as "a tremendous day"…bringing in billions of jobs and investments in America. Trump said this to reporters on Saturday:
"That was a tremendous day. I just want to thank everybody. But tremendous investments in to the United States, and our military community is very happy, and we want to thank you and Saudi Arabia. But hundreds of billions of dollars of investments into the United States and jobs, jobs, jobs."
By: suman
Tags:
Even as "concerned students" rally to his defense, former students are revealing even more recordings of a Texas A&M professor advocating violence against white people.
Curry and his defenders insist that recordings of him apparently advocating for "killing white people" were taken out of context.
Geopolitical and financial analyst Warren Pollock says Trump it a "Patriot," for blocking criminal politicians on both sides of the aisle from getting the White House, but he must to go on the offensive.
By: suman
Tags:
At least 20 US spies were killed or imprisoned by the Chinese government between 2010 and 2012, crippling the country's information-gathering, a media report has said.
It was not clear whether the Central Intelligence Agency (CIA) was hacked or whether a mole helped the Chinese to identify the agents, officials told the New York Times.
*hyperlinks/videos live at source*
Life is a team sport. It's not enough to have individual excellence; we all exist within communities and environments affecting us whether we pay attention to them or not. 2017 Earth finds humanity in an Orwellian reality; a captured civilization of two paradoxical co-existing conditions:
Escalating rogue state empire of US .01% "leadership" of OBVIOUS crimes centered in lie-started illegal Wars of Aggression, looting, and lying. The damages are annual millions killed, billions harmed, and trillions transferred to these psychopaths.
We the People, upon demand, can end the crimes in Emperor's New Clothes simple truth.
I recommend the Happy Feet movies; this 3-minute analogy of the human condition from the second film of the community of penguins trapped and facing certain death unless enough other community members take apparently small actions to contribute. The film's message: Every step counts.
»
*hyperlinks/videos live at source*
Among ~100 areas of game-changing objective factual data, CAFR disclosure (Comprehensive Annual Financial Reports), monetary reform, and public banking at ~$1 million of near-instant benefits per average US household make this topic literally the most valuable for public attention. The converse option is to surrender tens of trillions to these asset-holes, to kiss our assets goodbye to escalating rogue state empire.
Below is the documentation. Here is a 2014 interview by Guy Evans that walks anyone through the facts in 28 minutes:
Why does US national debt and total debt only and always increase?
Demonocracy's sharp 2 minutes of the tragic-comic mathematical certainty for a society that creates what is used for money as debt; just as certain as adding negative numbers forever causes only and always increasing aggregate debt until a system collapse:
»
The House Intelligence Committee has asked a former adviser to President Donald Trump, for a voluntary interview and documents in connection with the accusations of Russian meddling in the 2016 elections.
By: suman
Tags:
SpaceX is all set to launch its Dragon spacecraft for its 11th commercial resupply mission to the International Space Station (ISS) from NASA's Kennedy Space Centre soon.
It will lift into orbit carrying crew supplies, equipment and scientific research to crewmembers aboard the ISS.
May 20, 2017
The entire media has been up in storm about the alleged intelligence leak by President Trump to Russian Foreign Minister Sergei Lavrov in a meeting in the Oval Office. The Washington Post, was the outlet that first broke the story, but closer examination reveals some disturbing details. For example, the Post notes that it withheld important information regarding said classified information, meaning that it also had access to the same information!
In the following video, Right Wing News looks at how the mainstream media's intense focus on only one side of the story is being used to cover up the troubling minutiae. If the Post has access to this information, leaked by anonymous intelligence officials, are they not in similar violation? Further examination of the so-called classified intelligence information that was revealed shows that it may not be as classified as the media is hyping it up to be. What is the real truth here? Is there one? You bet there is!
The NHS could be considering switching its software infrastructure from Windows to Ubuntu, after Windows XP vulnerabilities were exploited in the recent cyber attack that crippled the National Health Service. Or is it just an elaborate gag?
The NHSbuntu platform came to our attention via Dr Dean Jenkins, a Fellow of the Royal College of Physicians and editor-at-large of BMJ Case Reports, who writes about it on Differential Diagnosis, his blog.
According to Dr Jenkins, the Linux-based NHSbuntu is a "modern, secure, open source, operating system being considered by Jeremy Hunt for the NHS."
He adds that as NHSbuntu is built on the "industrial strength Ubuntu desktop," it offers a full-fat security feature set to meet the NHS's needs, including secure email, smartcard authentication and whole disk encryption, plus support for modern web browsers and popular office software.
By: malterwitty
Tags:
THE editor of anti-Brexit newspaper the New European predicts the UK will witness the rise of its own pro-EU candidate in the mould of Emmanuel Macron.
By: malterwitty
Tags:
But before tackling pirates, enemy submarines and hostile destroyers, the Queen Elizabeth has an even trickier obstacle to overcome on her maiden voyage.
Army engineers have spent weeks working out whether the £3billion ship, built at Rosyth in south-east Scotland, could pass safely beneath the three bridges that span the Forth estuary.
Royal Engineers from 42 Regiment, a geographic survey unit, were called in after it was discovered that data on the estuary was 60 years old.
A strong link between social media, politics, and Trump supporters has gradually developed over the past year. At a time in history where news outlets are tainted with liberal, anti-POTUS propaganda, outlets like Facebook and Twitter have become the greatest ally of conservatives, libertarians, and Trump supporters.
When I am listening to advice from others, 99% of the time I exhibit a short attention span. The other 1% of the time the advice is worthy of a listen. In that rare case, I can listen all day. Given the situation I just described, would you say I have a short attention span?
Suppose you give me a briefing book with thousands of facts and I only seem to care about three of those facts. And then I succeed at whatever I'm trying to do with my three facts. Given that set of circumstances, would you say I am incompetent?
Part of the fun of watching the press cover President Trump is that they don't have a leadership filter. Most writers and TV news people have never been leaders in super-complicated industries. President Trump has. And let me tell you a few necessary skills a leader in that situation needs to possess:
Just as the deflating Farmland bubble leaves its marks.
By Derrick Broze
Controversial Milwaukee Sheriff David Clarke said he will be accepting a job as assistant secretary in President Trump's Department of Homeland Security.
On Wednesday, Milwaukee County Sheriff David Clarke - an advocate of indefinite detention of domestic "extremists" - announced that he plans to accept an offer to serve as deputy secretary of the Department of Homeland Security...
The returning diseases are;
1. Tuberculosis
2. Measles
3. Whooping Cough
4. Mumps
5. Scarlet Fever
6. Bubonic Plague
The near eradication of these diseases in the United States during the twentieth century was a remarkable accomplishment of American civilization. Until recently, most Americans believed these diseases were gone from our shores for good.
But a politicized public health system, and a rise in the subsidized migration into the United States, however, have combined to reverse a century of progress.
The usual clickbait sites are gleefully blaming "anti-vaxxers", parents opposed to vaccines for their children, for the measles outbreak. They are certainly a safe target, but overlooked is the simple fact that there would be no outbreaks without immigration from countries where measles is widespread.
With close to 160,000 arrivals this year, Italy could surpass Greece as Europe's major migrant and refugee point of entry.
The government in Italy has ruled that children must be vaccinated against 12 common illnesses before they can enrol for state-run schools.
Prime Minister Paolo Gentiloni blamed a decrease in vaccinations in part on a "spread of anti-scientific theories".
Italy has recorded nearly three times as many measles cases so far this year than for all of 2016.
If children are not vaccinated by the age of six, the school starting age, their parents will be fined.
...
The twelve conditions children must be immunised against are:
polio
diphtheria
tetanus
hepatitis B
haemophilus influenzae B
meningitis B
meningitis C
measles
mumps
rubella
whooping cough
chickenpox
"We are sending a very strong message to the public," said Health Minister Beatrice Lorenzin.
Anyone looking to oil as a long-term hold in 2017 needs to examine the realities more closely. The glut can no longer be denied – while the rise of electric vehicle power spells big trouble for Arabs, Islam, stock markets, frackers and the Pentagon.
IMF & Eurozone are threatening to walk away from Greece because they want Greece to implement more austerity. UBS hints of massive auto lending fraud, which mimics the housing market fraud back in 2008.
*hyperlinks/videos live at source*
Trump stating: "No politician in history, and I say this with great surity, has been treated worse or more unfairly."
Trump's public statements reflect naivety about his expected role as "teleprompter reader-in-Chief" of an easily-documented ongoing rogue state US empire. George Lucas created Star Wars stating the US is the Evil Empire. In 24 seconds' analogy of Trump's position:
And 61 seconds extending the tragic-comedy how bad the deal Trump made can make him look:
65 seconds of how .01% rogue state leaders will laugh at Trump's execution if that's how they choose to use him: President Bush's glee over President Kennedy's assassination easily documented from our own government:
President Trump has three basic choices:
Serve his evil .01% masters for ongoing rogue state empire.
Be JFK/RFK/MLK removed; perhaps to spark civil war.
Arrest .01% US leaders of rogue state empire.
Trump could serve evil
»
Easy money! The cops even dumped his Bible on the street.
A 23-year-old African American man who says he was doing nothing more than bicycling home from his job at New Seasons Market when he was stopped, knocked to the ground, handcuffed and arrested by a Portland police officer has filed a $475,000 lawsuit against the city.
Police had been scouring the neighborhood for a black man suspected in a shooting when they came upon Anthony James Allen Jr., said his attorney, Ashlee Albies.
The world has been stunned over the past few days by the advent of "Ransomware;" the use of sophisticated cyber attacks on vital systems in order to (supposedly) extort capital from target businesses and institutions. I am always highly suspicious whenever a large scale cyber incident occurs, primarily because the manner in which these events are explained to the public does not begin to cover certain important realities. For example, the mainstream media rarely if ever discusses the fact that many digital systems are deliberately designed to be vulnerable.
It may have seemed that way, but there was always serious purpose. In 2008, a secret Pentagon document prepared by the "Cyber Counterintelligence Assessments Branch" foretold a detailed plan to discredit WikiLeaks and smear Assange personally.
The "mission" was to destroy the "trust" that was WikiLeaks' "centre of gravity". This would be achieved with threats of "exposure [and] criminal prosecution". Silencing and criminalising such an unpredictable source of truth-telling was the aim.
Image result for wikileaks
Perhaps this was understandable. WikiLeaks has exposed the way America dominates much of human affairs, including its epic crimes, especially in Afghanistan and Iraq: the wholesale, often homicidal killing of civilians and the contempt for sovereignty and international law.
In part one of this four part article series, I provided a background to our modern petrodollar system by explaining the "dollars for gold" arrangement that was put in place by global leaders through the Bretton Woods conference in the final days of World War II.
The article provided a brief evolution of the Bretton Woods agreement from its inception in 1944 to its ultimate demise in 1971. As detailed, in the late 1960's, this "dollars for gold" system had become unsustainable as Washington insisted upon the adoption of a "welfare state" that relied upon massive entitlements and a "warfare state" that required perpetual wars.
by Jerry Robinson
Recently, there have been many news headlines containing the words "Iran", "nuclear capability", "Syria", and "Islamic State". If you listen closely, you can almost hear the drumbeats of a fresh war in the Middle East.
As an economist, I have been trained to view the world through the lens of incentives. (I am a "bottom line" kind of guy.) And just as every action is motivated by an underlying incentive, every decision has a related consequence.
This brief article details the actions, incentives, and related consequences that the United States has created through its attempts to maintain global hegemony through something known as the petrodollar system.
Perhaps liberals still don't understand. Maybe they are blind, deaf and very dumb. Maybe ignorance is bliss.
But conservatives (like me) elected Donald Trump to drain the swamp. We have witnessed the conflicts of interest, double dealing, crony capitalism and corruption in DC at every turn, at every federal agency.
House Minority Leader Nancy Pelosi has been on the front lines of the Democrat party's war against President Donald Trump since his inauguration, except her outrageous statements have only hurt her more than the president.
Psychopathic killer Jew Israeli minister publicly calls for the Syrian leader Bashar Assad to be assassinated after unsourced media reports claimed Damascus was using a "crematorium" to cover-up mass killings. He said the "serpent's head" in Tehran should be dealt with next.
By now many people have heard about Bitcoin even if they don't use the virtual currency. As Bitcoin gains prominence people are learning more about how cryptocurrencies work as well as what makes it unique from other payment options. People are finding very creative ways to use Bitcoin, which has lead to some interesting stories and facts.
By: cyberknight
Tags:
Mega-millionaire freedom fighter Kim Dotcom has a bone to pick with the deep state after his New Zeland residence was raided in 2012 by 17 special agents.
We are witnessing an assault by the national security state and its liberal media on a President of the United States that is unprecedented.
Wild and unsupported accusations of treasonous or illegal Russian connections have been the mainstay of the news since Trump's campaign for president. These accusations have reached the point that there is an impeachment movement driven by the national security state and its liberal media and endorsed by Democrats, the American leftwing which has turned against the working class as "Trump deplorables," and luminaries such as Harvard Law Professor Larry Tribe. The Washington Post, which was not present at the meeting of President Trump with Russian Foreign Minister Lavrov, purports to know that Trump gave Lavrov US national security information.
The Russian government has offered the presstitute media a transcript of the meeting, but, of course, the pressitutes are not interested.
We the People are no longer in any degree of control over domestic or foreign policy.
This is created by the corporations, who buy politicians to craft legislation in their favor, and the American Deep State, which is constantly striving to enhance US hegemony by any means necessary, including wars; assassinations; and regime changes.
But none of this is actually in the interests of We the People, because the cold, hard reality is, wars are generally economic in nature.
And, of course, Congress Members would be driven off and screamed at by friends and families of our dead military at the memorial services they might attend, if they mentioned once their thanks to that soldiers' sacrifice, so that companies like General Dynamics; Lockheed Martin; Kellogg Brown & Root could "make a killing", literally and financially.
This... is an ugly truth, but it is the truth.
War is murder, wrapped in a lovely flag, and not created for honour, courage, or "the American way of life", whatever that is these days; it is done to expropriate foreign resources to which neither the American government nor their pet corporations have any moral right; to make sure that the governments of the countries in which those resources exist are Western-centric, even if that means regime change; and to insure that those resources are only sold in American dollars.
That is what the pursuit of war by those hubristic monsters in the bowels of power in the Unhinged, Surveilled States of America is all about these days; and apparently, they don't think they will be getting quite enough of it to satiate their greed under President Trump, so they are plotting any possible way of "regime change" here at home, to cure the problem.
Never mind what the American people wanted, and why they voted for Trump; we have become, in their minds, totally irrelevant.
And in the most peaceful, logical way possible, that attitude has to be changed.
In the "he said, she said" world of unconfirmed, unsourced political intrigue, on Friday the US went to sleep with fresh news of the latest diplomatic snafu by Trump, when the NYT reported that during his president with the Russian Foreign minister Lavrov on May 10, Donald Trump said that Comey is a "nut job" and that his firing "eased pressure" from the ongoing Russian investigation.
The exchange in question:
"I just fired the head of the F.B.I. He was crazy, a real nut job," Mr. Trump said, according to the document, which was read to The New York Times by an American official. "I faced great pressure because of Russia. That's taken off."Mr. Trump added, "I'm not under investigation."
Predictably, the alleged exchange was the only thing on the media's mind during Lavrov's press conference on Saturday, in which the Russian Foreign Minister refuted claims that he had discussed the firing of the former FBI director Comey with President Trump.
Given the nature of the industrial strength hatchet job we are seeing from the American Deep State and Democrats in Congress to demonize, and perhaps, remove President Trump from office, right now, if Lavrov has said the conversation on this subject never happened, I would strongly believe Lavrov over the lousily contrived, anonymous, and unattributed codswallop being manufactured against the President.
Clearly disappointed to have been left out of the headline heroics from Friday night (courtesy of The Washington Post and The New York Times), CNN has decided that anon-sourced perspectives on officials' feelings now warrants reportage.
The latest in the sad sage of mainstream media's downward spiral, as The Hill reports, is that former FBI Director James Comey is expected to testify that he believes President Trump was deliberately trying to meddle in the FBI's investigation of Russian interference in the presidential election, according to a report late Friday.
Despite swearing under oath that he "had never" been influenced during an investigation, and further that if he had he would have reported it immediately...
IF ever CNN has revealed itself to be "The Clinton News Network", this deplorable, non-sourced, anonymous moment is absolute proof that such a thing is true.
Last year, the Federal Register—the U.S. government's depository of rules and regulations—hit an all-time high of 81,640 pages. Among the industries that bear the greatest regulatory oversight is financials, which has seen a disproportionate amount of scrutiny in recent years, especially following the 9/11 attacks and subprime mortgage crisis.
Tags:
A campsite at Rocky Mountain National Park has received about 2 ½ feet (0.61 meters) of snow from a powerful spring storm that's moving across Colorado.
Tags:
More than 7 million voter registrations appear to be registered in two states simultaneously, according to data obtained by the Washington Free Beacon.
The new voter data was gathered from the Kansas-run interstate voter registration crosscheck program, which is used to identify "possible duplicate registrations among states."
The program began in December 2005 and conducted its first crosscheck in 2006. It is administered by the office of Kansas Secretary of State Kris Kobach, who was tapped recently to help lead President Trump's voter fraud commission.
The newest data is from crosschecks of voter registrations across 28 states that participate in the program. At least 7.2 million registrations appeared in two states at once, according to the data.
Establishment conservatives Bill Kristol and Ross Douthat have respectively gone public with their scheming to remove President Donald Trump from office.
Tags:
Journalists' brains show a lower-than-average level of executive functioning, according to a new study, which means they have a below-average ability to regulate their emotions, suppress biases, solve complex problems, switch between tasks, and show creative and flexible thinking.
The study, led by Tara Swart, a neuroscientist and leadership coach, analysed 40 journalists from newspapers, magazines, broadcast, and online platforms over seven months. The participants took part in tests related to their lifestyle, health, and behaviour.
It was launched in association with the London Press Club, and the objective was to determine how journalists can thrive under stress.
NBC News identified the man as a Turkish national, Anil Uskanil. He was involved in another incident early Friday morning that caught the attention of law enforcement, according to police at Los Angeles International Airport.
LAX police said in a statement they received a radio call around 2:45 a.m. on Friday about a passenger going through a door from the terminal concourse that led onto the airfield ramp. They said 25-year-old Uskanil, a ticketed passenger who had gone through TSA screening, was allegedly spotted by an alert contractor and detained.
Aussie taxpayers and citizens have, in the last days, been exposed to a bona fide Australian Swamp Critter. None other than the Deputy Commissioner of Taxation, Michael Cranston. He has been charged with being involved in a tax fraud perpetrated by his son, daughter and various unnamed individuals, amounting in total to around $165million.
Evidently, an additional 4 unnamed Australian Tax Office officials have also been summonsed to court to "please explain" why they too should not be sent to prison.
A gang of 5 Muslim migrants brutally raped a wheelchair-bound woman for hours, forcing their handicapped victim to suffer through the most debauched torture imaginable. Just days after police arrested the rapists, however, they were released without any charges for one unbelievably sick reason.
Sweden was shocked when national headlines revealed that a handicapped woman in her 30s was overtaken by a group of at least 5 men who had forced their way into her house over the weekend in Visby. Aftonbladet reports that the woman shared a taxi with one of the men on a ride home from the pub before the suspect asked to use her restroom. It was after she let him in that his friends burst into the home and took turns raping her for several hours.
Tags:
his course will engage students with questions about the very nature of history. Who decides what history is? Who decides how it is used or mis-used? How does this use or misuse affect us? How can the historical imagination inform literature and fantasy? How can fantasy reshape how we look at history? The Harry Potter novels and films are fertile ground for exploring all of these deeper questions. By looking at the actual geography of the novels, real and imagined historical events portrayed in the novels, the reactions of scholars in all the social sciences to the novels, and the world-wide frenzy inspired by them, students will examine issues of race, class, gender, time, place, the uses of space and movement, the role of multiculturalism in history as well as how to read a novel and how to read scholarly essays to get the most out of them.
Actual class offered by Appalachian State University!
EUROPEAN UNION LEADERS PLAN TO MOVE FORWARD WITH THE CREATION OF AN EU MILITARY HEADQUARTERS WITHIN THE NEXT FEW DAYS – AND WARN THAT BRITAIN MAY STILL BE EXPECTED TO TAKE PART, EVEN AFTER BREXIT
Tags:
Officials in Poland say a Polish tourist who died in an Egyptian resort last month may have been a victim of human trafficking and organised crime.
The Polish tourist, named in media reports as Magdalena Zuk, travelled alone to the Red Sea resort of Marsa Alam at the end of April.
Days later, she plunged to her death from a hospital window.
Egyptian security sources and medical staff say the 27-year-old woman took her own life.
There has been speculation the woman was the victim of a sexual assault by hotel staff, but Egyptian security sources have denied that she was drugged and raped.
Electroconvulsive therapy - in which a small electric current is passed through the brain causing a seizure - is now used much less often than it was in the middle of the last century. But controversially it is now being used in the US and some other countries as a treatment for children who exhibit severe, self-injuring behaviour.
Things are getting grim in Washington. Apparently the US government is on the verge of being run by Patriarch Kirill of the Russian Orthodox Church.
How else to interpret TIME's new cover picturing the White House getting swallowed by Moscow's Saint Basil's Cathedral?
The corporate media have jumped the shark on this one!
Just consider the accusations that have been leveled at the president:
He has betrayed the Constitution, which he swore to uphold.
He has committed treason by befriending Russia and other enemies of America.
He has subjugated America's interests to Moscow.
He has been caught in fantastic lies to the American people, including personal ones, like his previous marriage and divorce.
President Donald Trump?
No, President John F. Kennedy.
A Washington Post investigation revealed someone close to President Trump could be called into hearings as swirling controversy threatens to derail the Republican firebrand's political ambitions.
But while the person of interest is yet to be confirmed, insiders have claimed the President's son-in-law Jared Kushner may be implicated in the investigation.
Tags:
As usual, dear readers, far more stuff than common sense dictates be posted. But…
Please enjoy.
Just for fun, as of today, yours truly has embarked on a 30-day fast. It has been 24 hours since I last had a solid and already my tummy is growling. However, when I think of the prisoners in Palestine I am inspired, even though our goals are very different and I have better medical care. Believe me, I have starved before and one must be really driven to undertake such a thing "voluntarily". Indeed, one must really have one's back to the wall.
The Washington Post reported: A month before Donald Trump clinched the Republican nomination, one of his closest allies in Congress — House Majority Leader Kevin McCarthy — made a politically explosive assertion in a private conversation on Capitol Hill with his fellow GOP leaders: that Trump could be the beneficiary of payments from Russian President Vladimir Putin.
Some of the independent news websites included in GoodGopher:
NaturalNews.com
NewsTarget.com
TruthStreamMedia.com
ActivistPost.com
TruthWiki.org
TheBlaze.com
Twitchy.com
LewRockwell.com
PoliticalTracker.com
OffGridSurvival.com
TenthAmendmentCenter.com
TheEconomicCollapseBlog.com
Breitbart.com
Infowars.com
Trump.news
WashingtonTimes.com
GrassrootsLiberty.com
FreedomWorks.org
TheLibertyBeacon.com
IntelliHub.com
SurvivalBlog.com
TheDailySheeple.com
TrueActivist.com
WesternJournalism.com
ProNewsOnLine
DrudgeReport.com
FukushimaWatch.com
GovtSlaves.info
TheSleuthJournal.com
EyeOpening.info
LibertyBlitzkrieg.com
NoMoreFakeNews.com
NutritionalAnarchy.com
RightSideNews.com
WhatReallyHappened.com
Good Gopher is the only search engine that completely bypasses the systematic censorship of the truth that's currently undertaken by Google, Facebook, Wikipedia and other sources of corporate-controlled disinformation. It's the premier tool for finding independent information and news on liberty, natural healing, central banks, food freedom, advanced science and a multitude of other vital topics

.